Let's be real, my friend. We homeschool mommas like to turn whatever we can into an educational experience, right? With the Olympics fast approaching, we've got the perfect chance!
Tackling Phys Ed is a given because you're learning about different sports. And you can totally cover geography by learning about the different countries competing. History? No problem…just learn about the ancient Olympics. And there are plenty of notebooking and lapbooking options to practice writing. But, how about techin' your Olympics study? Have you considered ways to reach STEM standards?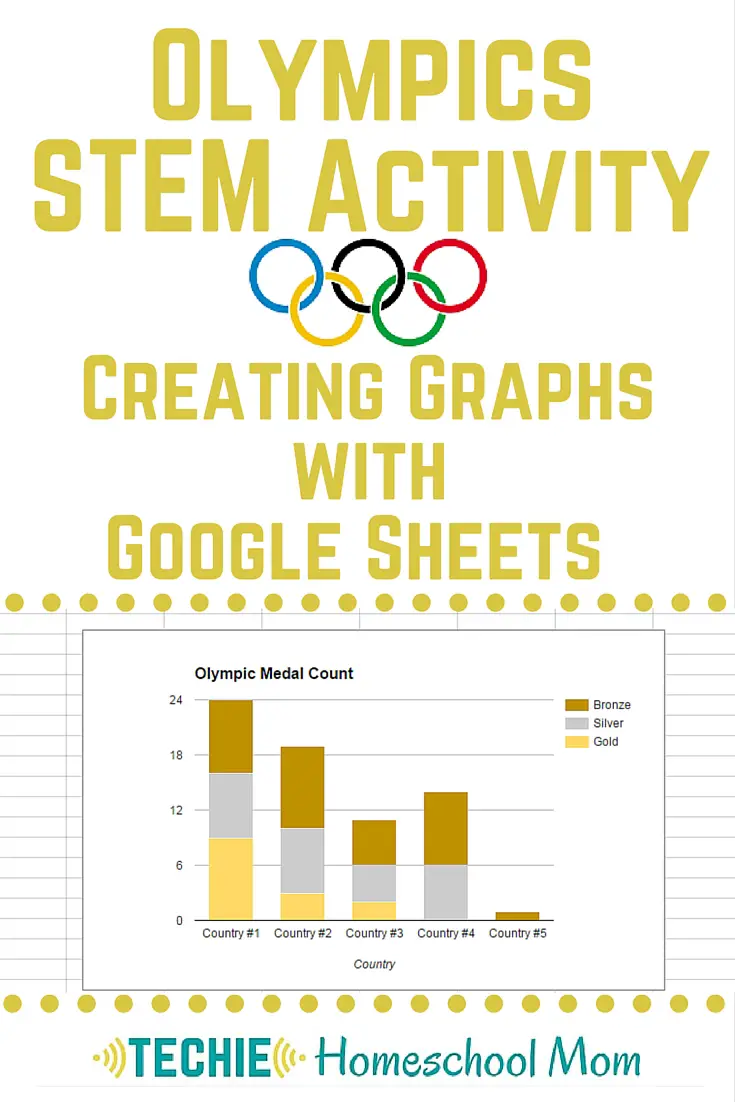 Try out this STEM activity from the Olympics Online Unit Study. By tracking medal standings during the Olympic Games, your family will learn about spreadsheets and graphs. Check it out!
To complete the activity, you'll need a Google Drive account and a basic understanding of Google Sheets. You can learn more about these webtools HERE.
To complete this project:
Sign up below to get your copy of the "Olympics Medal Standings" spreadsheet template to your Google Drive. Bookmark it so you can easily find it to update daily.
Choose at least 5 countries that you'll track medals for during the Olympics. Type them into the Column 1.
Daily check the Olympic medal count HERE.
Update your spreadsheet for the medals won by your chosen countries. Input the results in the appropriate column (gold, silver or bronze). Add onto the number each day so it shows the total medals won.
Notice how the graph on the right changes as you input data.
You can create your own graphs about the medal standings. CLICK HERE to watch a video explaining how to create graphs with Google Sheets. Then experiment with your spreadsheet to add some new graphs.
Can you think of any other spreadsheets and graphs you can make with data from the Olympic Games? Share your ideas in the comments to inspire other homeschool families.

Enroll in the Olympics Online Unit Study to learn more about the Olympic Games.
Want some digital learning tips, plus free and discounted Online Unit Studies? Sign up for Techie Homeschool Mom's email list.