Hey, just so you know ... This post includes affiliate links. That means if you use them to make a purchase, I may earn a commission. You can read my full affiliate disclosure HERE
Graduating from high school is an exciting time in your homeschooler's life. They are finally done learning at home and may be moving on to college. If your child has never been to a traditional school, they may be a little nervous and unprepared for the college world. But, that's where you come in (because advising our kids never ends, right??). Steal a few minutes with your college-bound homeschoolers attention to sit down and share these 10 tips for college success.
1) College requires digital skills
Adapting to the college way will rely heavily on digital skills. Your child may need to take some online classes or use online programs to complete assignments, collaborate with classmates over email, or upload documents to a website. If you've been techie homeschooling, your college student will adapt well to the this.
2) Get used to public transportation
If you don't live in a big city, then your child probably has never had to ride much public transportation. In college, they may have to carpool or use a bus system to get around campus. 
4) Age doesn't matter in college
Homeschoolers may have finished school early or even taken a ton of college courses before heading to college. In college, age is merely a number. There will be students earning college credit while still in high schooler, adults going back to college, and everything in between.
4) Start thinking about what you want to major in
A lot of degrees will require prerequisites and even additional courses in order for you to get the degree. Many colleges have intensive programs that require internships or other programs in order to get the degree. Make sure your child considers these when thinking about what to major in so he doesn't fall behind or waste time (and money).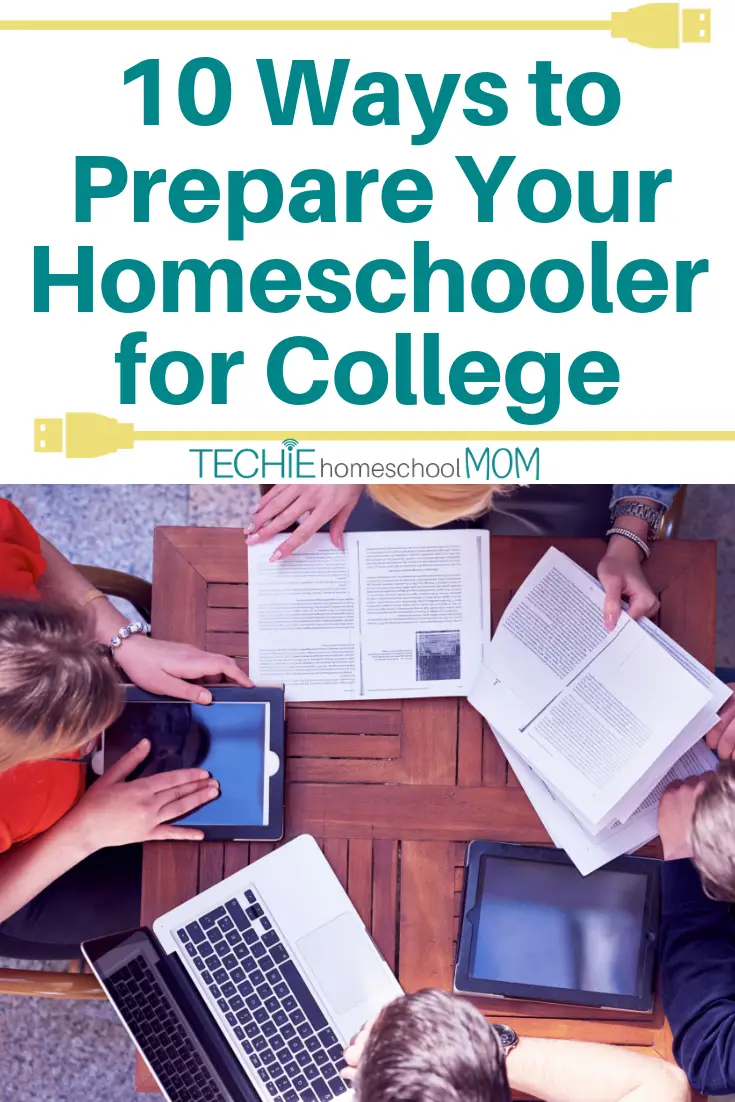 5) College is not like high school
In high school, your highly socialized teen may have been able to balance five different homeschool co-op classes and maintain a social life and sports career. In college, the classes will take a lot more work and study time. College is a much heavier workload than high school, so prepare your child for that.
6) Understand your state's dual enrollment options
Dual enrollment may be something your child wants to do if they are looking to save money, or complete certain classes that aren't available at their college. Look into the options ahead of time so you can better prepare them when the time comes.
7) Start networking with other students
Many homeschoolers aren't used to sharing a classroom with hundreds of other students. Start networking with other students who will be attending the college they want to go to, and prepare them for college life by exposing them to a university setting.
8) Spend time on the college campus
The only way you can really get a feel for college life is to spend time on the campus. If you want your child to be able to prepare for college, allow them to go for orientation or other on-campus activities ahead of time.
9) Teach your kids about time and money management
For some, college is the first time they really get the chance to be out on their own. Teach your kids about the importance of time and money management while they are at home so they can be better prepared when they get to college.
10) Remember to encourage them
College can be scary, especially if they've never visited a college campus before. Encourage your child to get involved and be there for them throughout the application and admission process.
Preparing for college will make the whole transition a lot easier for your homeschooler. Follow these tips and they'll be on their way to a successful few years at college.
Related Posts …
Must-Have Tech for Homeschooling
2017 Acer Chromebook 11.6

Apple iPad 2 16GB

Roku Streaming Stick

DOSS Touch Wireless Bluetooth Portable Speaker

Skullcandy In-Ear Noise-Isolating Earbuds


Want some techie homeschooling tips and inspiration delivered to your inbox? Sign up here for weekly-ish emails from me.
Techie Homeschool Mom is a participant in the Amazon Services LLC Associates Program, an affiliate advertising program designed to provide a means for sites to earn advertising fees by advertising and linking to Amazon.com. You can read my full affiliate disclosure HERE.