Hey, just so you know ... This post includes affiliate links. That means if you use them to make a purchase, I may earn a commission. You can read my full affiliate disclosure HERE
Robot toys are great options for kids who love experimenting with technology. Whether you purchase your child a robot kit so they can create their own or a fun interactive robot for them to play with, your kids will love getting one of these cool toys. But, what are the best robot toys and kits to get? These recommended items will make amazing Christmas or birthday gifts for your techie kids.
Meccano MeccaSpider
This cool robotic kit will encourage your kids to develop their engineering skills by constructing an intricate spider robot and programming it to play a variety of customizable games. The Meccano MeccaSpider features a variety of programmable modes and has a unique personality your techie kid will love.
Ingenious Machines Construction Crew
The Ingenious Machines Construction Crew isn't your typical robotic kit. Instead of building a droid, your kids can construct a set of fun robotic construction vehicles – a crane, forklift, bulldozer, and dump truck. With easy-to-follow instructions and remote controls, your kids will have a blast building and playing with this robot set.
Fisher Price Think and Learn Movi
With three ways to play, your preschooler will enjoy this fun robot toy. The Fisher Price Think and Learn Movi includes a ton of fun games and more than 60 different faces.
Makeblock mBot Robot Kit
This cool robot kit is made up of different modules that fit together using the included screwdriver. Younger kids will love the Makeblock mBot Robot Kit because it allows your child to explore a variety of robot functions without the necessity of excess coding.
Kamigami Robots
These adorable robotic bugs are both fun and educational. Your kids will have a blast putting them together (with a little help from an adult), and they'll have even more fun playing with them using the free companion app. In addition to skittering across the floor like a real insect, these Kamigami Robots also do cute dances and battle with each other.
Meccano Meccanoid Personal Robot
What kid wouldn't love a four-foot tall personal robot? With this cool kit, they can make their own! This comprehensive kit comes with more 1,000 parts, so it's best for older kids who enjoy tinkering. But the finished Meccano Meccanoid Personal Robot is amazing – it can be controlled using a smartphone or voice commands.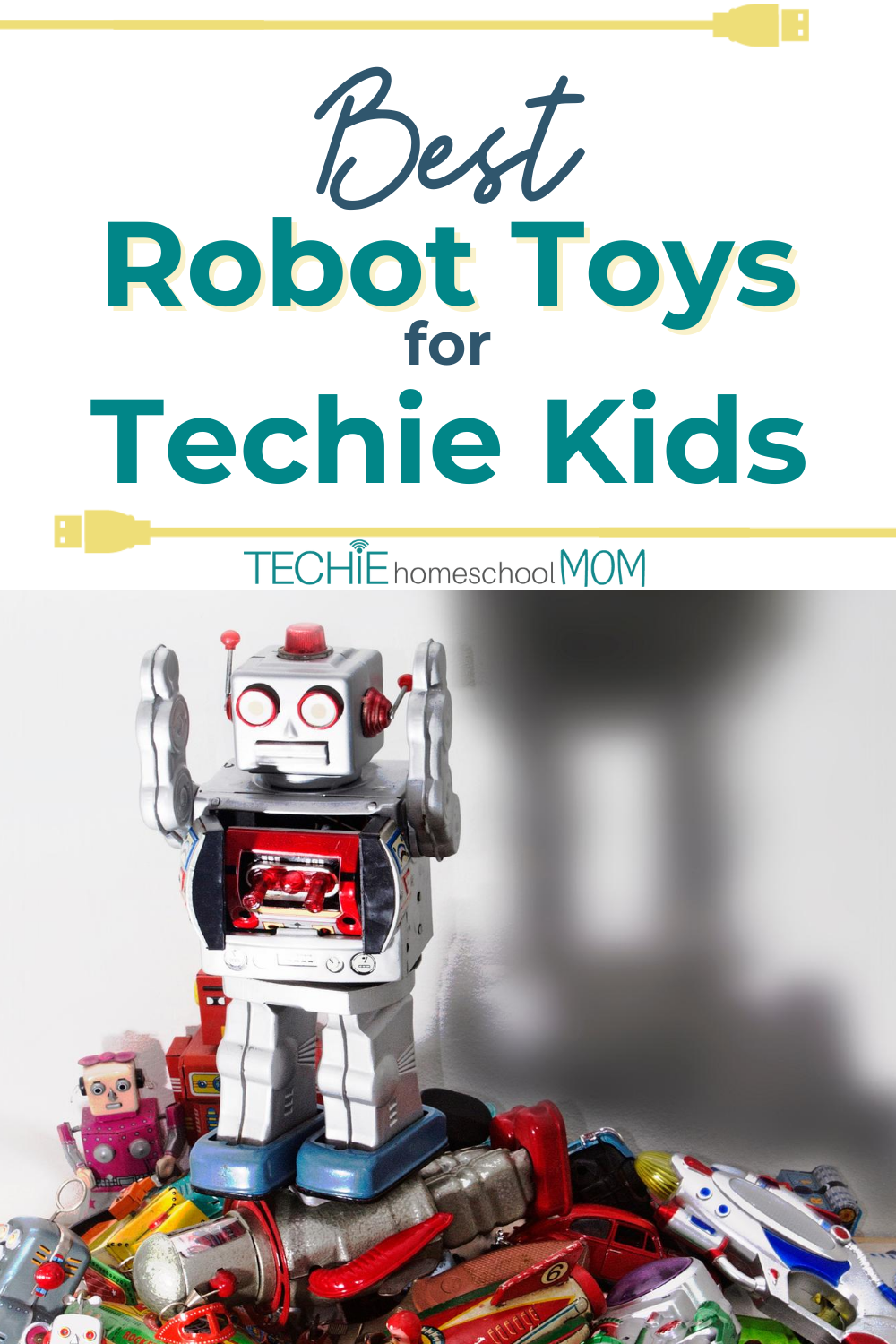 Lego Boost Creative Toolbox
Combine the fun of Legos with a robot building kit and you have the Lego Boost Creative Toolbox. The Lego Boost Creative Toolbox comes with five different robot projects and can be used with the Lego bricks you already have. Simply connect their robot to a tablet to create the code through a drag and drop-style app.
Wonder Workshop Dash Robot
Your little kid will love this fun robot aimed at kindergarten-aged children. This cute remote-controlled Wonder Workshop Dash Robot lights up and makes fun sounds, while also offering programming capabilities. And it's compatible with Lego, for an added bonus.
Tin Can Robot
While this robot is definitely not the most high-tech version on the list, it may be the most inventive. This cool Tin Can Robot will give your robot lover everything they need to turn an ordinary tin can into a functioning robot.
Star Wars Littlebits R2D2
Your kids will love the chance to build their own R2D2 robot with this cool kit. The Littlebits R2D2 model comes with clear instructions and can be customized to your kid's liking, making it a great Christmas gift idea.
Ollie Sphero Robot
With a sturdy polycarbonate shell and tough rubber tires, this outdoor robot is the perfect option for kids who love to take their tech outside. The wireless controls on the Ollie Sphero Robot will allow them to easily take this robot anywhere they go, so they can show off its cool tricks where ever their friends are hanging out.
FurReal Makers Proto Max
If you think your kid would prefer a robot pet to a droid, then the FurReal Makers Pronto Max is the robot building kit for you. They can build their own adorable pooch and then code it with personalized features and movements.

Want some techie homeschooling tips and inspiration delivered to your inbox? Sign up here for weekly-ish emails from me.
Techie Homeschool Mom is a participant in the Amazon Services LLC Associates Program, an affiliate advertising program designed to provide a means for sites to earn advertising fees by advertising and linking to Amazon.com. You can read my full affiliate disclosure HERE.