Hey, just so you know ... This post includes affiliate links. That means if you use them to make a purchase, I may earn a commission. You can read my full affiliate disclosure HERE
Technology is a great tool for all. The educational uses and possibilities are endless. And this is especially true when it comes to autism interventions. Sometimes it's difficult to access traditional therapy methods, so smart devices are a great help. Having an application on your phone would mean that individuals with autism can access education and entertainment whenever and wherever they want. But, there are lots of options, so how do you find the best programs and apps for your autistic child?
Let me help!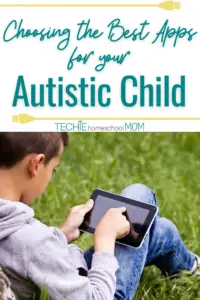 What to Consider When Choosing Apps for Your Autistic Child
When choosing an app that you will invest your time and money in, it is important to think about your child's needs. Do you want to support their reading skills at home? Or would you like them to be able to express and improve themselves through art?
As the parent of an autistic child, you have probably already learned that every individual with autism develops at a different rate. That being said, you need to seek out mobile apps that can be customized to answer the specific need of the individual. Do you want to support their reading skills at home? Or would you like them to be able to express and improve themselves through art? How about helping them develop communication skills in real-life situations? Chances are there is an app that can help.
The convenience doesn't stop there either. With ever-developing technology, advancements target a new need every day. The apps develop with their communities, learning from the people using it. And adjusting to better fit the needs of their customers.
The device you will be using also matters, as there are different types of operating systems and some apps might not support all. THIS POST from the National Autistic Society offers some great insight about choosing hardware for a child with autism.
Another thing to mention is that it is crucial that you give any learning tool for your child (techie or not) time to work. Sometimes some activities are not suited for your kid. You know your child the best. Be selective. When you land on an app, give it a good go. Have your kid try its features. See if it works for all of you.
Which Apps are Best for Children with Autism?
We wanted to gather a list of apps that are beneficial for your child in their education. Each app focuses on a certain skill, such as math, spelling or art. Some even encompass all of them.
Developed by a loving brother for his little brother with autism, Otsimo Special Education AAC has it all. The app's target audience is those with various developmental issues ranging from learning disorders to many other special needs. There are no ads, which is a big plus considering how children with autism can be sensitive to stimuli.
The app offers two separate platforms for children and parents, where children can play and parents can monitor their development. Through over hundreds of games, two being added every month, the app itself is fully customizable to the needs of the child. Caregivers and parents are also provided with daily and weekly report cards about the child's progress. It teaches reading, writing, math, drawing, counting, and much more. The practices focus on motor skills and intellectual abilities of the individual.
The app is available on App Store and Play Store. It is free to try and offers in-app purchases for premium accounts.
---

From the Otsimo team again, Otsimo Speech Therapy SLP is a new generation speech therapy as they claim. The app utilizes voice and speech recognition technology and machine learning. This makes it possible to understand exactly what the child says. Everyone experiencing speech issues could use this app to improve their speech and communication skills.
Video modelling, which is one of the methods proven to be most effective in speech therapy, is used in the app. It also teaches mimicking, articulation, and vocabulary. Its technology detects whether the word is properly articulated, and increases the level of difficulty according to the child's progress. Plus, the app is fun! Like Otsimo Special Education AAC, this does not feature ads as well.
The app is available on App Store and Play Store, is free to try and offers in-app purchases.
---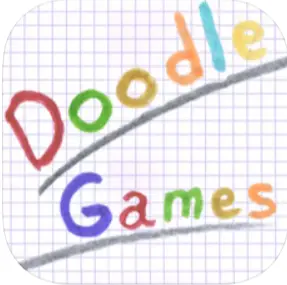 This fun drawing game will help your kid express their inner Van Gogh! Designed for all ages, this creative drawing app provides various tools, colors, and patterns for children to work with. Children who don't draw can learn how to, while those who enjoy drawing can really develop their skills. It is also good for the development of fine motor skills. Interactive and creative, this game can be enjoyed by all!
The app is available on App Store and free, offers in-app purchases for tools and colors.
---
Augmentative and alternative communication (AAC) tools are an amazing tool for individuals with autism, nonverbal children with autism, and anyone with speech problems to communicate. Utilizing AAC, Proloquo2go AAC uses real children's voices and natural sounds. It can be customized to the needs of the person, which is a great plus. You can select photos from your own device. Since it is customizable, you can adjust the complexity to your child's desire. In time, your child will learn the layout, while also improving their speech skills!
The app is available on App Store and is $249.99, offering in-app purchases.
---
This letter teaching application is a great tool for your child with autism. It teaches children about letters as well as how they relate to sounds. The child is given blank spaces and asked to place letters into those spaces with visual aid. Once the child taps on a letter, the sound of the is given. And when the sentence is completed, it is spelled. This is an amazing method to teach children the letters and words. They will expand their vocabulary in no time!
The app is available on App Store for free, with options to upgrade to a premium version.
---
Moose Math is a real mathematical adventure! The aim of the app is to teach children numbers, counting, measurement, and more. Developed together with educators, Moose Math teaches children math skills in a fun way through various activities like matching the pats or learning and sorting the shapes. It is appropriate for children between the ages of 3 to 7. Your child will learn to count while also having fun with great sounds and visuals.
The app is available on App Store and Play Store, and is free.
---
With this list of potential apps, you can start using your phone and tablet as tool for learning. Your autistic child will feel empowered and develop some important skills that will benefit them throughout their life.
Tell me – which of these apps do you think your child will love? Do you know of any other helpful apps for autistic children? Leave a comment below.
Must-Have Tech for Homeschooling
2017 Acer Chromebook 11.6

Apple iPad 2 16GB

Roku Streaming Stick

DOSS Touch Wireless Bluetooth Portable Speaker

Skullcandy In-Ear Noise-Isolating Earbuds

RELATED POSTS:

Want some techie homeschooling tips and inspiration delivered to your inbox? Sign up here for weekly-ish emails from me.
Techie Homeschool Mom is a participant in the Amazon Services LLC Associates Program, an affiliate advertising program designed to provide a means for sites to earn advertising fees by advertising and linking to Amazon.com. You can read my full affiliate disclosure HERE.