Hey, just so you know ... This post includes affiliate links. That means if you use them to make a purchase, I may earn a commission. You can read my full affiliate disclosure HERE
Anyone who hangs out with me oten knows I love using online courses for our homeschooling. One huge benefit is the video format because my kids seem to learn better from viewing videos instead of just reading text. But, I need to be discerning to choose video curriculum that is well-produced and presented by a credible, trained instructor.
In this post, Thomas Purifoy Jr. shares some tips for selecting video curriculum for your homeschool. His years of experience as a film-maker and homeschool dad qualify him as an expert on this topic. Thomas uses his expertise to create homeschool video courses at Compass Classroom.  You can learn more about Compass Classroom HERE.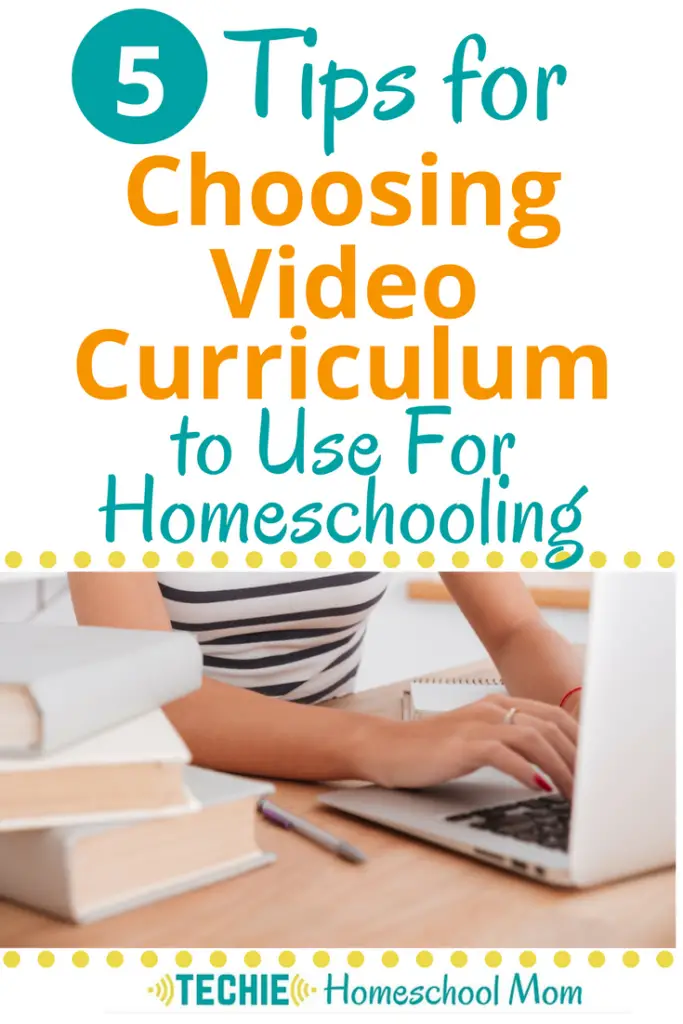 Thomas shares….
I have a lot of opinions about the way videos should be used with kids. That's probably because I'm a filmmaker by trade who has spent a lot of time studying the history and mechanics of film.
For instance, I think most contemporary films are filled with visual toxins.  I think kids should not have access to YouTube and other video sites. And I think kids under the age of 10 should not be learning from videos but from books and real people.
So why does my company, Compass Classroom, create video curriculum?  
I do think it has a specific use, but it's not a solution for everyone and everything.  It's like a toolbox: you use a hammer for hitting nails, not screwing in screws. Video curriculum should, therefore, be chosen strategically and intentionally. At Compass Classroom, we've tried to design our curriculums to solve specific problems, as have some other video curriculum companies.
… RELATED POST …
The Ultimate List of Online Course for Homeschooling
In light of that, here are 5 tips for choosing a good video curriculum.
Look for Teachers that Love their Material
This actually goes for choosing any teacher, but it does matter for video curriculum.  There's a difference between liking what you teach and loving it.  You can tell this within a few minutes of watching a teacher: loving is contagious.  It's just a subconscious vibe you get when you watch someone.
A lot of time parents are concerned about what some is saying.  That is less important than how they are saying it when it comes to video.  Whenever a teacher is taken out of a classroom and put on video, it's like the teacher's dynamism is turned down a few notches.  The difference between being in the presence of someone and not being in their presence is pretty significant. If a teacher loves his material, it carries through even on video.
 Learn with more Short videos than Long Videos
One of the mental problems with listening to a video is that you have some light source constantly bombarding your eyes.  You can't really look away and rest them in the same way that you can when you're in a classroom. A video controls what you are seeing at all times.  It's very much a "master-slave" relationship in that the person watching is completely passive in the process.
This means that it's easier to get bored and lose attention, even with engaging people.  This matters less in narrative films where there is constantly changing action and scenes; most teaching videos remain in the same location the entire time.  
Short videos are therefore preferable to long videos. By "short", I'm thinking anything less than 20-25 minutes long.  This doesn't mean that the teacher can't teach for a longer time on a subject; it just needs to be broken up to give the watching child some mental rest.  
For instance, we designed our Visual Latin product on this principle.  It has three different locations and all the teaching segments are less than 15 minutes each.  But to do a lesson, a student has to go through 3 videos interspersed with 3 things to read or write.  This actually incorporates different modalities for learning – but that's not absolutely necessary, just nice if it's available.
Ask Other Moms What Worked with Their Kids
It's nice when you can get some real-world recommendations.  We did this with "Math-U-See." Our girls were struggling with math using a different product, and we asked some moms who had used it.  A few really loved it. We, therefore, thought we'd try it out (see point 4). But we did get some great feedback on it.
This is harder to do with new curriculum but is great for older materials. One of the other great things about "Math-U-See" is that it's obvious Mr. Demme loves what he's teaching.  Furthermore, his videos are not too long. Even though the videos are pretty old now (they are on a 4:3 ratio; that's the older screen size from 1990's), they have held up since the teaching is great. "Math-U-See" has taught tens of thousands of kids (if not more) how to do math.  It clearly works.
Try it Out Before You Buy It
Look for companies that let you download a few lessons to try out a class.  We started doing this at the start with all our products and continue to do it.  Every week moms are downloading free economics lessons, history lessons, vocabulary lessons, and more.
Get a few lessons and see how they work.  After all, what one child enjoyed might be annoying to your child, or vice versa.  
Furthermore, it's hard to know how a product works without trying it.  We give away at least two full lessons, including books, etc. to let moms and kids try things out.  Or, if you can't try it out, see if the company has a return policy. We implemented a full return guarantee for moms, and I think a lot of other companies have, too.  
When my wife had to pay for things and then put it on a shelf when it didn't work, that got expensive.  Homeschooling moms often don't have a lot of money to work with, so the least we can do is to make sure that something is a good fit and not require people to pay for it if they can't use it.  
Of course, trying it out for free is even better.
If Your Kids Enjoy It, Get It
Enjoyment is such an important part of education.  If you are trying out a lesson, and you think it's great, but your children are bored with it, you may want to keep looking for something else.  Yes, there are times when they are bored with everything – it may just be their problem.
But if it is possible to find something that they like, it's certainly worth trying out a lot of different things.  We found with our history program that kids really enjoyed Dave Raymond's teaching. He actually teaches here locally near Nashville, Tennessee, and kids love him here, so it was good to see how that enjoyment transferred to video.  
In closing, I realize that video curriculum is not a perfect solution for everyone.  It's worth watching your kids to see how they respond to videos as an educational tool.  If you see their eyes wandering or they look like they aren't getting it, then perhaps you should look for a local co-op or a personal tutor.  Some children just don't retain video instruction well.
But for many kids, a video is an effective way to learn.  And it's certainly a big help to moms. The key, however, is making sure that you get something that is going to work well for both of you.
Tell me, which of these tips have you put into practice? What video curriculum have you used for your homeschooling?
… Find the Best Online Courses for Your Family …
SIGN UP FOR THE ULTIMATE LIST OF
COURSES FOR HOMESCHOOLING
Must-Have Tech for Homeschooling
2017 Acer Chromebook 11.6

Apple iPad 2 16GB

Roku Streaming Stick

DOSS Touch Wireless Bluetooth Portable Speaker

Skullcandy In-Ear Noise-Isolating Earbuds

Related Posts

Want some techie homeschooling tips and inspiration delivered to your inbox? Sign up here for weekly-ish emails from me.
Techie Homeschool Mom is a participant in the Amazon Services LLC Associates Program, an affiliate advertising program designed to provide a means for sites to earn advertising fees by advertising and linking to Amazon.com. You can read my full affiliate disclosure HERE.