Hey, just so you know ... This post includes affiliate links. That means if you use them to make a purchase, I may earn a commission. You can read my full affiliate disclosure HERE
For many parents, homeschooling is a completely new experience well beyond their knowledge, so making mistakes is all too easy. Whether you plan too much or too little, over or under-estimate your child, or treat your home like a mini schoolroom at the detriment of your child, we've all been there! Here's why you need to avoid these common mistakes homeschool parents make.
Before you start reading, I (a homeschool parent of 16+ years) have some wisdom for you … If you've made these mistakes already, don't feel like you've failed. Just know that you've joined the club of homeschool parents who are doing the best they can. We've all messed up in one way or another. I don't think there is one parent out there who hasn't thought, "Am I doing enough for my kids? Am I going to ruin them?" It goes with the territory of loving your kids enough and wanting the best for them enough to decide to homeschool.
Five Mistakes Homeschool Parents Can Avoid
1) Setting the Bar Too Low
Teacher expectation is one of the greatest determining factors in a student's performance. As your child's teacher, you always need to bear this in mind. You may think the world of your little angel, but perhaps you believe math isn't their forte or they aren't very gifted artistically.
Every parent has preconceived ideas about their child's ability, and you are no different. But for your student to reach their full potential, it is imperative that you set aside any notions you have about their abilities and go into every lesson believing that they will succeed. When you expect the best, you get the best.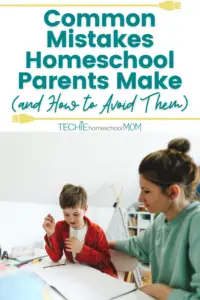 2) Teaching the Way YOU Liked to Learn
You have probably heard about the four learning styles: visual, auditory, linguistic, and kinesthetic. Most of us have one style that is our preferred way to learn. Everyone learns differently.
However, resist the natural instinct to teach your child in the way you prefer as they may well have a different dominant learning style to you. Don't expect that because you learned best when shown pictures or diagrams, that the same is true for your child. Experiment with different styles of teaching and ask for your child's input to help you figure out what works best for them.
3) Ignoring Classroom Management
Most homeschooling parents think that because they have already established a discipline system in their home, with rules and consequences, that there is no need to come up with similar strategies for class time. This isn't true. Class time needs to be separated out from your regular at-home activity.
Rules and routines specific to the classroom need to be put in place so that it is clear for both the student and teacher what is acceptable during learning time. You may want your child to feel free to explore and learn from your homeschool resources at will, but do you really want them to get up halfway through a math problem to do so? You need to make your expectations clear and hold your kids accountable for following the rules of your school.
4) Teaching One Thing at a Time
When you plan your schedule for each day, do you break up your time by subject? Reading from 8-9, math from 9-10, etc. Even though this is the way you learned in school, it's not always the best method for homeschool education.
Your child will be better able to retain all the subjects that you teach if they are interrelated. They will probably be more interesting this way too! If you design unit studies with a wider theme then incorporate math, science, reading and other subjects into it, you and your child will retain more and have more fun in the process.
For example, if you want your 7-year-old to learn about animal lifecycles, don't just teach it during science time. Use books on the topic during reading. Teach multiplication using frog legs (5 frogs with 4 legs each, how many legs in all). There are so many possibilities for exploration, learning, and discovery in each topic, the only limit is your imagination. You can even find suggestions and whole curricula designed this way online, like the Online Unit Studies I created.
5) Expecting Your Kids to "Get It" the First Time
This is a pretty basic mistake, but one that is so easy to fall into. Parents explain something new to their kids and then don't understand why it doesn't stick. The simple answer is that teaching is not just telling. If you want to be a good teacher, as we all do, you need to learn a variety of ways to teach your child.
For example, you could try hands-on learning, inquiry learning, visual aids, reciprocal teaching, and technology-based learning. You need to constantly be seeking out new techniques and tools to improve your skills as a teacher. It's a process of trial and error to find the teaching method that will make concepts stick for your kids.
Tell me – which of these homeschool parent mistakes have you made? Did you find a remedy? Comment below.
Popular "How-To Homeschool" Books
A Charlotte Mason Companion: Personal Reflections on the Gentle Art of Learning
The Relaxed Art of Eclectic Homeschooling
The Well-Trained Mind: A Guide to Classical Education at Home (Fourth Edition)
Unschooled: Raising Curious, Well-Educated Children Outside the Conventional Classroom
RELATED POSTS:

Want some techie homeschooling tips and inspiration delivered to your inbox? Sign up here for weekly-ish emails from me.
Techie Homeschool Mom is a participant in the Amazon Services LLC Associates Program, an affiliate advertising program designed to provide a means for sites to earn advertising fees by advertising and linking to Amazon.com. You can read my full affiliate disclosure HERE.