Hey, just so you know ... This post includes affiliate links. That means if you use them to make a purchase, I may earn a commission. You can read my full affiliate disclosure HERE
Welcome to the #TechieHomeschool IRL blog series. In this post, my guest Kim gives valuable tips improving communication between homeschool support group and co-op  members.
Kim is a homeschool veteran, homeschool group leader, coffee addict, sarcasm expert, and accidental blogger. Find her at The South Carolina Homeschooling Connection and Facebook.   

Let's talk about our homeschool group communications. Maybe you're a teacher in a homeschool co-op or leader of a local homeschool support group. You've got important announcements and information to get to your participants and members. There's always someone who didn't get the memo…or didn't even know there was a memo.
I've found the key to communication with our homeschool group is overcommunication. We deliver the announcements in multiple ways. We repeat and relay the information a few times. And technology plays a crucial role in this.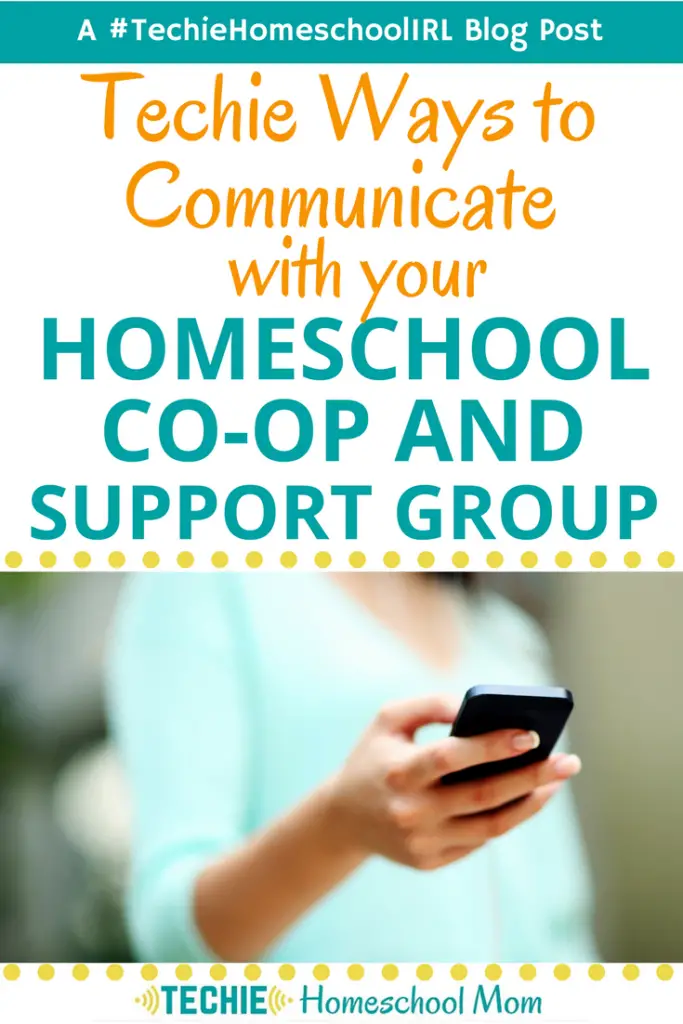 Why Homeschool Group Communications Fail
Communication breakdown happens when the recipient doesn't check their email. Or they did check it, but then they forgot right away.
Some groups also rely very heavily on Facebook to communicate. But, Facebook is inefficient at reaching everyone. Communication breaks down when a member doesn't see (or doesn't even get) the notification. Read more here: How to Adjust Your Facebook Settings
Our support group maintains a calendar on our website. These events are reposted in our Facebook group too. But, even so, there are people who don't check the calendar or didn't see it on Facebook. The co-op classes have a syllabus outline and weekly handouts with reminders about homework and supplies to bring to class. Teachers relay weekly reminders thru the Facebook group for that too. Again, there's always someone who didn't check the handout and didn't see the post on Facebook.
Techie Tools to Keep in Touch Group Members
So what do we do to relay and repeat the information? Here are three of my favorite technology tools that can help improve your homeschool group communications, too.
Email
Ok, so we can't get away from email. But, we can manage it more efficiently with this techie tool: MailChimp. Our support group has 450 families, so we can't send out an email with that many BCC's. That would get flagged as spam. But we can use MailChimp and send to up to 1,000 email subscribers for free.
You can send the email immediately or schedule it to go out at a later time. There's a sharable link to view the email online that you can repost in your Facebook group or text message.
You can create sub-group mailing lists if you have different information to relay to different classes or participants. We have a High schooler sub-group mailing list that goes out with just high school information.
You can see who has actually opened the email and resend it to just those people who didn't open it yet. And when people drop-out of the support group or co-op, they can unsubscribe themselves.
Note: Gmail addresses sort out the MailChimp delivered emails into a "promotions" folder. So, you may have to have members go look for it at first.
Text Alerts
This is one innovation that our group members asked for. They suggested that it would be so much easier to have a text alert reminder. And it has been a really helpful tool to improve our homeschool group communications.
We use Remind to manage our group's text alerts. It's free, too. There's an app, but we don't like the interface of that…it works best if you don't download the app.
You start by creating a class. We have a class with 360 participants. Not everyone wanted to be signed up for the text alerts–so we just include the ones who want to have that communication option.
You can set up sub-groups for each class too. This is a great place to post a reminder to check their email and also share the webmail online link. Also, reminders what to bring for class, homework assignments and weather updates, if the class needs to be rescheduled.
You can schedule out the text messages. So, when you wake up in the middle of the night and panic that you need everyone to bring scissors to co-op class in the morning, you type up your message and have it delivered before class in the morning…while they have time to grab a pair before heading to co-op yourself.
You can manually add phone numbers. There's a classroom code to join via text. And participants can unsubscribe when they want also.
Virtual Meetings
Find a time for planning meetings is complicated. We need that personal interaction and face-to-face time. Some things just cannot be accomplished with email or text messaging.
But, we play dueling datebooks to find a time that works for everyone. Our group has been using Google Hangouts for virtual meetings to help improve our homeschool group communications. We can schedule a 7am call with a cup of coffee and still wear our pajamas.
You can sign up for free. You can call one-on-one or add multiple people to the conversation. You can call several participants all at once. You can share your screen, which is great to do some tutoring and extra instruction between classes.
Our high school group uses this to keep up with each other between weekly co-op classes. Our field trip planning committee does a Hangout to brainstorm ideas. We have a TEDx Youth meet-up that is exclusively online meetings with Google Hangouts.
So there you have it. My favorite techie tools to help improve your homeschool group communications. The key to success is to communicate and overcommunicate. Repeat, repeat, repeat.
Tell me – What has been your experience with communication in your homeschool group? Which online communication tools have made it easier to keep in touch?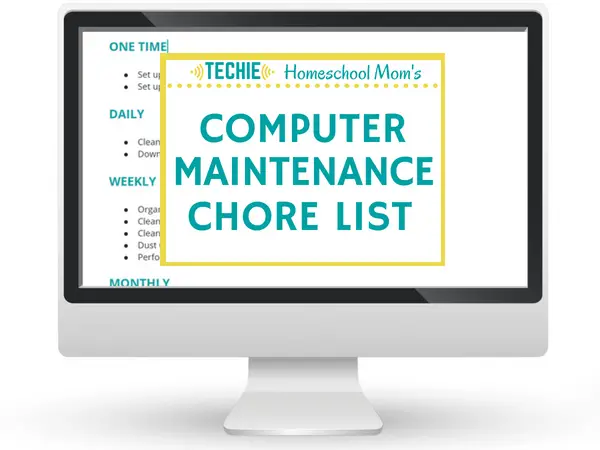 Want to keep your computers running hassle-free?
Download a list of 20+ routine tasks that will keep your computers working great.
Sign up to receive Techie Homeschool Mom's Computer Maintenance Chore List
Must-Have Tech for Homeschooling
2017 Acer Chromebook 11.6

Apple iPad 2 16GB

Roku Streaming Stick

DOSS Touch Wireless Bluetooth Portable Speaker

Skullcandy In-Ear Noise-Isolating Earbuds


Related Posts

Want some techie homeschooling tips and inspiration delivered to your inbox? Sign up here for weekly-ish emails from me.
Techie Homeschool Mom is a participant in the Amazon Services LLC Associates Program, an affiliate advertising program designed to provide a means for sites to earn advertising fees by advertising and linking to Amazon.com. You can read my full affiliate disclosure HERE.