Hey, just so you know ... This post includes affiliate links. That means if you use them to make a purchase, I may earn a commission. You can read my full affiliate disclosure HERE
Teaching children to read is one of the first subjects many homeschooling moms tackle with their little ones. For some it's exciting, while others feel the weight of responsibility just thinking about it. But I have some good news! Learning to read doesn't need to be stressful for you or your children. With the Hooked on Phonics® app, you'll have another great tool in your teacher's toolbox that's both effective and fun.
How to Get Your Children Ready to Read
1) Read aloud to them.
One of the best things you can do to get your little ones ready to read is to read to them. By reading aloud, you are doing so much more than sharing a story together. You are:
Helping your children associate the idea of reading with connectedness and warmth

Showing them the relationship between the physical words and the stories that they convey

Naturally teaching language arts skills such as grammar rules and sentence structure
2) Create a literature-rich environment.
Set books around the house in baskets. Let them see you reading. Talk about their favorite books. All of these simple actions will show your children that you value reading in your home.
3) Go to the library together and let them choose books.
Yes, even if they can't read them yet! Young children love to pick out their own books. And libraries offer so much more than the opportunity to check out books! Story times, crafts, and other activities can become a weekly part of your homeschool schedule.
4) Watch for signs of readiness
.
Do they pretend to read on their own? Are they asking you to teach them to read? Do they already know some sounds and letters? Are they beginning to understand the connection between the two?
There's no need to push kids who aren't ready. And that's one of the reasons I'm so impessed with the Hooked on Phonics® app.
Learning to Read with the Hooked on Phonics® App
When your children are ready, the Hooked on Phonics® app will be a great resource for you and your kids.
Hooked on Phonics® Learn to Read builds a strong foundation in both phonics and other reading skills. Every kid is unique, including in the way they learn to read. Learning styles and preferences are primarily classified as visual, auditory, or kinesthetic (hands-on, or experience-based). Because of this, the multi-sensory approach used in the program appeals to all three learning modalities to help grow readers.
In addition to being multi-sensory, Hooked on Phonics® uses a four-step approach in each of its lessons: learn, practice, read, and celebrate.
But even if you don't choose to use their full program, the Hooked on Phonics® app will be a great supplement to whatever reading program you choose.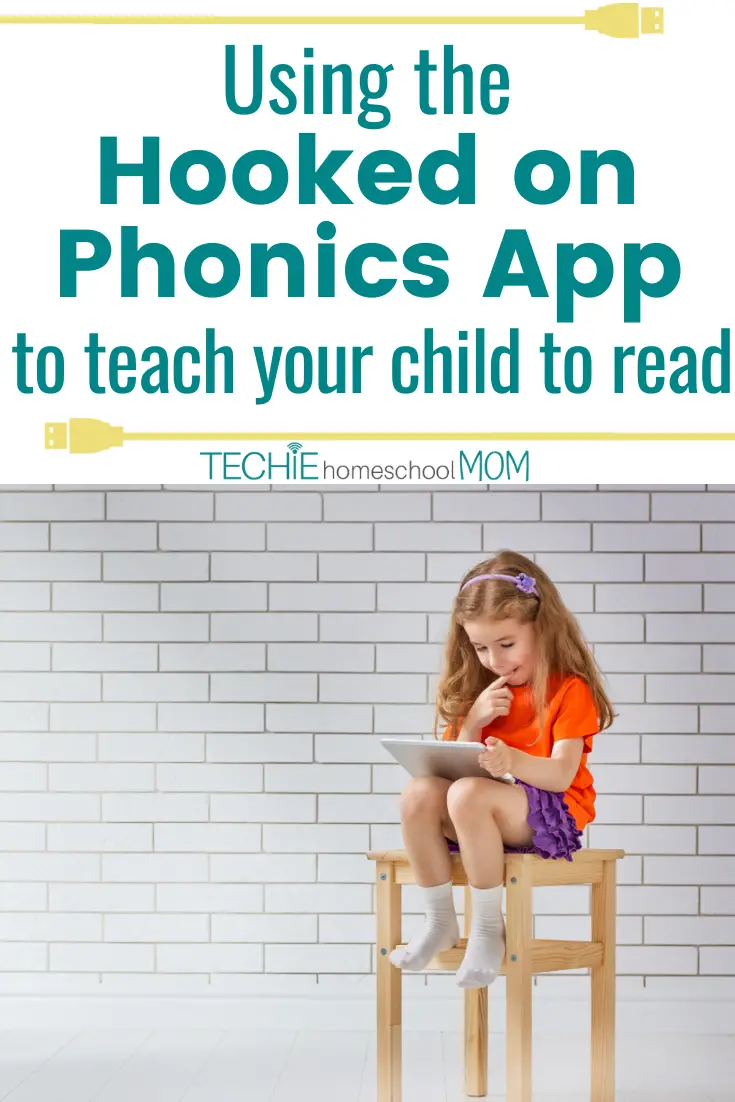 How the Hooked on Phonics® App Works
Like their complete reading program, the Hooked on Phonics® app uses a multi-sensory approach to teaching and reinforcing reading skills. Students see animated videos of songs and books, listen to the letters and sounds in both spoken and song form, and interact by playing games and turning pages.
When you install the app, you will be able to register up to three children. It works across all of your devices, too! There are two different worlds: Pre-reader World and Learn to Read World.
Pre-reader World
For pre-readers, the games and songs focus on letter recognition and teaching kids the sounds those letters make. Once you enter this world, you'll find four different tabs.
Library.

Includes 12 simple phonics-based books. Children see the words on each page of the book, and when they click the top-right icon, they'll hear the words read to them. As each word is read, it turns the color red.

Games Room

. 6 different, fun games teach and reinforce letter recognition. Kids will love the fun animation as they play the games!

Music Room.

Do you remember songs from your childhood and youth? It's no secret music is a powerful learning tool. The Hooked on Phonics® app combines lively songs with cute animation your kids will love to sing along with at home or in the car. There's a song for every letter in the alphabet that teaches both the letter names and sounds they make.

Rewards.

Students earn rewards for the more lessons they complete. The app keeps track of all of it so you don't have to.

Learn to Read World
Like the Pre-reader World, the Learn to Read World also has four different tabs, but the focus shifts as students begin to learn to read.
Library.

There are an amazing

108

short, phonics-based books on the app for your children to read to themselves or out loud to others. By pressing the icon at the top they can hear the story while watching the words turn red as they are read.

Games Room.

Your young readers will play 20 different games designed to help them learn to put the sounds and letters they learned in the Pre-read World together to form words. They'll even practice spelling.

Music Room.

8 songs keep kids entertained while teaching them to read a variety of words. These songs have catchy tunes you'll probably find yourself singing too.

Rewards.

Like the Pre-read World, students can earn rewards as they complete more and more lessons.
Why You'll Want to Try the Hooked on Phonics® App
Learning to read can be fun for kids. You don't have to feel stressed! Instead, you can enjoy watching as your kids excitedly show you how they can "read all by themselves."
With the Hooked on Phonics® app, your kids will have access both at home and on the go. Homeschooling families are busy. But by using the app, your youngest learners can enjoy reading, playing games, and listening to the songs even when you are traveling or waiting for an appointment. It's versatile, thorough, and FUN!
But don't take my word for it. You can CLICK HERE and try it for Just $1 and see if your child likes it (and more importantly if you like it) And you can cancel at any time.
When you sign up for the app, you'll receive a sample set of their reading program including two phonics readers, Steps 1 & 2 Workbook, and a set of stickers. Good deal.

RELATED POSTS:

Want some techie homeschooling tips and inspiration delivered to your inbox? Sign up here for weekly-ish emails from me.
Techie Homeschool Mom is a participant in the Amazon Services LLC Associates Program, an affiliate advertising program designed to provide a means for sites to earn advertising fees by advertising and linking to Amazon.com. You can read my full affiliate disclosure HERE.