Hey, just so you know ... This post includes affiliate links. That means if you use them to make a purchase, I may earn a commission. You can read my full affiliate disclosure HERE
In today's day and age, the phrase "screen time" is almost always followed up by the question "how much?" Given that technology is ubiquitous in our society, being concerned about the amount of time your child spends with screens is totally valid. However, there's no one-size-fits-all answer when it comes to the topic of screen time for kids. It's imperative that you keep a flexible mindset when it comes to making decisions about how much screen time is OK for your child.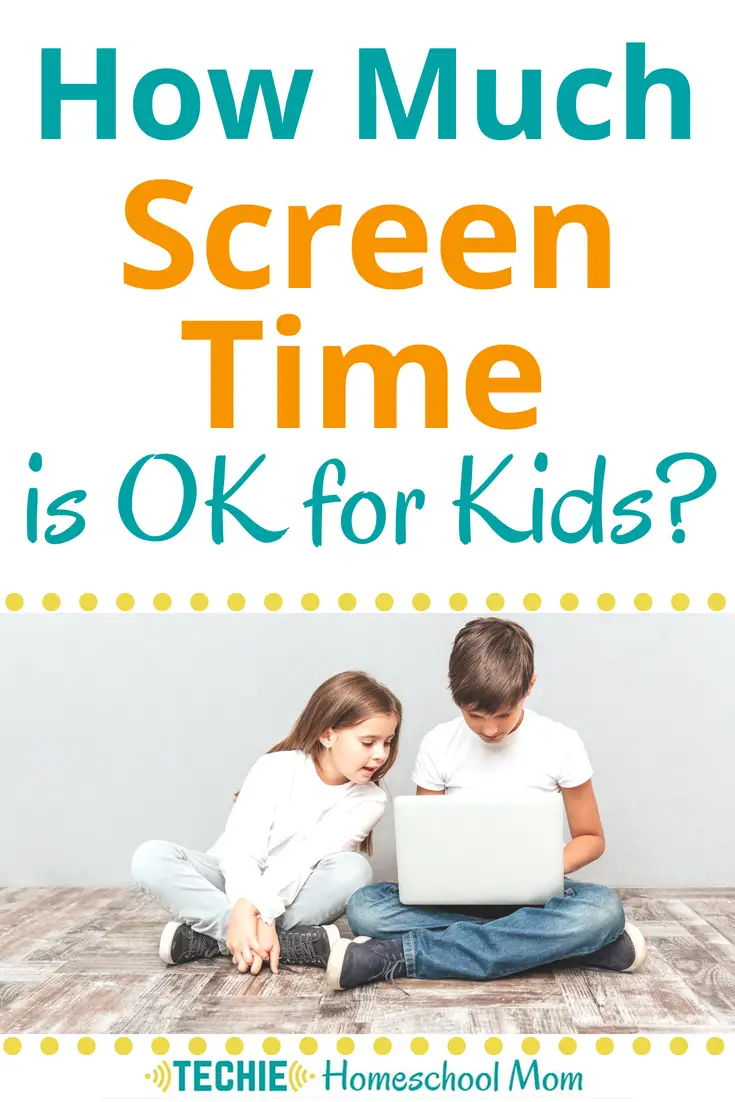 Things to Consider When Managing Screen Time
1) Every child is different.
This may sound like an obvious statement, but it's a commonly overlooked one when it comes to the discussion of screen time. Just as you wouldn't want your child's pediatrician to give him or her a generic recommendation when it comes to their health, you shouldn't expect your 7-year-old to follow the exact same screen time protocol as every other child in their age bracket.
Unfortunately, the desire for a cut-and-dry approach to screen time has been encouraged for years by organizations like the American Academy of Pediatrics (AAP) which, back in 1999, published its 2×2 policy that recommends no screens in the first two years, and no more than two hours a day for children older than the age of two. While the organization has since revamped its policy to be much more flexible, the one-size-fits-all attitude still prevails. Instead of falling into this pattern of thinking, we instead encourage you to ask yourself: how is my child currently spending his screen time? Does my child have a lot of trouble from disengaging from technology? How does he or she usually consume technology — is it through Kindle, laptop, or television? Use these answers to customize guidelines for your child instead of conducting a Google search to see what everyone else is doing.
2) Tech time is a great bonding opportunity.
Today's kids were born into a world of technology. So it's inevitable that being a stickler about the amount of time they spend using screens will create some tension between your children and yourself. You're essentially asking them is to limit one of the main ways they connect with others, entertain themselves, and learn.
Instead of fighting against the inevitable reality of technology, try leaning into it. Technology can actually provide a great opportunity to connect with your children by have a discussion about how they spend their screen time, and what can be done to make it a productive session instead of a mindless one. Then, together, you can decide which approach works best for family. The AAP's most recent recommendations encourage this mindset as well: "What's most important is that parents be their child's 'media mentor.' That means teaching them how to use it as a tool to create, connect and learn." Similarly, NPR reporter and screen time expert Anya Kamenetz is a huge advocate of using screen time as a bonding moment, or what she calls "joint engagement." She stresses the importance of making screen time a collaborative process with the kids instead of making it a solo venture. So don't miss out on this unique opportunity to bond with your children!
3) Online activities open a lot of doors.
Usually, the mindset behind limiting screen time has a lot to do with the fact that many parents view screen time as a negative thing. But what if you reframed the way you view screen time? Don't just view it as an opportunity for your children to text, watch television, and play video games. Try seeing it a way to open more doors to learn and connect with others in a productive manner.
For instance, maybe your daughter grew up loving to play with Legos but has since turned her attention to the iPad in her free time. Enroll her in JAM's Build Anything With Lego Bricks course to merge her existing interest in Legos and screens into a productive learning session. She will use "the screen" to find projects and watch tutorials. Plus, she'll share her creations and get inspired by other student's projects. Through the course, she is practicing digital social and collaboration skills she will use in future education and employment.
Your kids' screen time becomes productive with any of JAM's online courses. Topics include animation, Minecraft, cooking, singing, inventions, and drawing. You can sign up for a 14 days of free access to them all HERE.
Consider this….
If you treat screen time as a bad thing and enforce strict rules of less than one hour of screen time per day, you're treating it as a scarcity. When this happens, your child may feel that one hour is the only opportunity they have to "unwind" and spend his or her allotted time mindlessly watching television instead of exploring and creating. A few years ago, we instituted an unlimited tech time policy and it changed our family for the better. It's amazing how less important something becomes when it's readily available. 
I encourage you to reconsider your attitude about screen time for kids. It's not all bad. Technology isn't going away. It's up to parents to model a healthy attitude about it.  When we teach our kids that tech is a tool and not a toy, there's a greater chance that they will grow up to be digitally responsible adults.

Tell me, what thoughts has this post sparked in your head? Have you adjusted your mindset about screen time for kids?
Need some help managing your family's screen time?
Download a set of tech time guidelines and tailor it to your family's needs.
Sign up to receive Techie Homeschool Mom's Family Tech Time Guidelines
Recommended Reading for Techie Homeschool Moms:
 The Tech-Wise Family: Everyday Steps for Putting Technology in Its
 Hands Free Mama: A Guide to Putting Down the Phone,
 Hands Free Life: Nine Habits for Overcoming Distraction, Living Better,
 Parenting in the Age of Attention Snatchers: A Step-by-Step Guide
 Apps All Parents Should Know
Related Post

Want some techie homeschooling tips and inspiration delivered to your inbox? Sign up here for weekly-ish emails from me.
Techie Homeschool Mom is a participant in the Amazon Services LLC Associates Program, an affiliate advertising program designed to provide a means for sites to earn advertising fees by advertising and linking to Amazon.com. You can read my full affiliate disclosure HERE.