Hey, just so you know ... This post includes affiliate links. That means if you use them to make a purchase, I may earn a commission. You can read my full affiliate disclosure HERE
Welcome to the #TechieHomeschool IRL blog series. In this post, my guest Sara, a self-professed tech challenged mom, shares how she has nurtured her daughter's techie interests.
Sara Jordan Panning is a homeschool mom to three creative girls, ages 8, 10, and 16. She has been blogging at Embracing Destiny since 2008, where she shares their adventures with literature-rich, Charlotte Mason-influenced, delight-directed learning.

Technology has touched nearly every aspect of our lives. From daily planning to online courses to ebooks, it's everywhere. Love it or hate it, we all need to address it somehow. As a somewhat tech-challenged mom, I've learned that it is possible to homeschool high-tech kids. I'll share a few things I've learned along the way that may help you gain some confidence, too.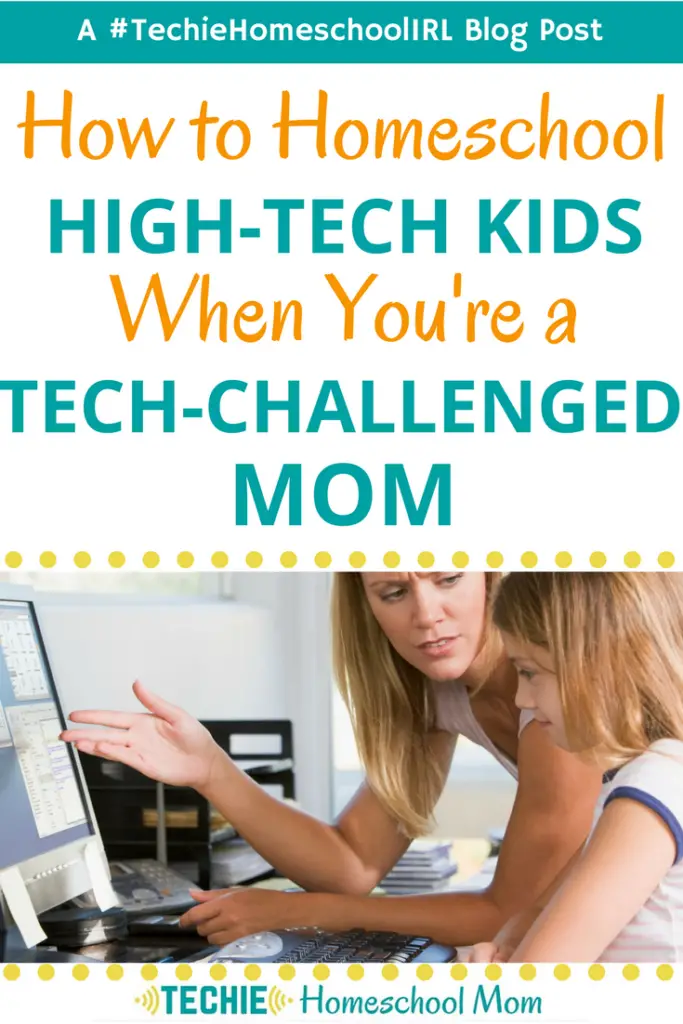 Let them experiment with different kinds of tech
My eldest daughter, now 16, was drawn to creative projects using technology from an early age. She began using Crayola Art Studio (think PhotoShop and Illustrator combined for kids) when she was seven. I was impressed by all that she could create! That really sparked her interest in digital art. From there, we tried different kinds of software and online options to let her create art. She has become proficient at Canva, PicMonkey, Gimp, and Publisher. These are great skills for a future career as well!
Letting her experiment with different tech also helped me to grow more comfortable with it because I could learn right alongside her. This made it more fun for both of us, plus I gained skills that help me with blogging today.
Don't be intimidated
I love books. And by that I mean real books. I didn't think I could ever get used to ebooks on my Kindle, but I've learned the benefits. As a blogger, I've had to explore my way around tech to a certain extent, even though it's not my first choice of things to do. These things were definitely intimidating at first for a tech-challenged mom, but I recognize the importance of getting past that intimidation so I can homeschool my high-tech kids. They are truly digital natives, able to navigate tablets and computers like it comes naturally from an early age. Rather than fearing it, I've come to embrace the tech and let it work for us rather than being a slave to it.
Now all three of my daughters have Kindle Fire tablets that they use frequently to read books and play educational games. They have become valuable tools in our homeschool.
Don't feel like you need to have all the answers immediately
It's okay to admit you're tech-challenged when you're homeschooling high-tech kids. When my eldest daughter announced that she wanted to learn coding and scripting, my tech-challenged fear kicked in again. But I don't know anything about coding and scripting! And my daughter wants to design games and become a web developer! Where do I start?
Even if you're a tech-challenged mom, I'm willing to bet your research skills have been finely honed just from homeschooling. You're probably accustomed to looking for the answers you need when it comes to lesson planning, making your own unit studies, finding curriculum, and even meal planning. Just put those same skills to use when researching the answers to your high-tech kids' questions.
Since we take a literature-rich living books approach in our homeschool, I found books that encourage girls to explore STEM. Some of the books we've read include:
Girls Who Code: Learn to Code and Change the World by Reshma Saujani
Ada Byron Lovelace and the Thinking Machine by Laurie Wallmark
Grace Hopper: Queen of Computer Code by Laurie Wallmark
Girls Think of Everything: Stories of Ingenious Inventions by Women by Catherine Thimmesh
These are a great way to provide real-life examples of women who have pursued their interests in technology and made an impact in that field.
My daughter has become interested in blogging because she sees me doing it. When she began asking questions, I was able to point her to great resources even when I couldn't give her the answers directly about CSS and HTML. She recently read Blog Design for Dummies for fun. I'm so glad that I can provide the resources she needs and encourage her interests this way.
Outsource when necessary
When researching answers for my daughter, I found numerous opportunities for online courses for her. She has completed two courses from Youth Digital, learning how to design 3D games. She has taken courses through Udemy, School of Game Design, and utilized free resources like Scratch and the student versions of Unity, Maya, and 3D StudioMax.
Remember that just because you may feel tech-challenged, it doesn't mean that you can't find exactly the courses and resources your high-tech kids need to succeed with their studies. Part of homeschooling is knowing when you should outsource certain subjects to give your kids the best educational experience tailored to their individual needs.
My best advice for how to homeschool high-tech kids when you're a tech-challenged mom is this: Don't let your tech-challenged fears hold you back from providing the opportunities your high-tech kids need to pursue their interests and talents.
Replace traditional research reports and shoebox dioramas with interactive, media-rich student projects.
Discover 25 free apps that will turn your kids into techie creators.
Download Techie Homeschool Mom's List of 25 Free Apps for Creating Student Projects
Tell me, are you tech-challenged? How do you nuture your kids' techie interests?
Recommended Reading for Techie Homeschool Moms:
 The Tech-Wise Family: Everyday Steps for Putting Technology in Its
 Hands Free Mama: A Guide to Putting Down the Phone,
 Hands Free Life: Nine Habits for Overcoming Distraction, Living Better,
 Parenting in the Age of Attention Snatchers: A Step-by-Step Guide
 Apps All Parents Should Know
Related Posts

Want some techie homeschooling tips and inspiration delivered to your inbox? Sign up here for weekly-ish emails from me.
Techie Homeschool Mom is a participant in the Amazon Services LLC Associates Program, an affiliate advertising program designed to provide a means for sites to earn advertising fees by advertising and linking to Amazon.com. You can read my full affiliate disclosure HERE.