Hey, just so you know ... This post includes affiliate links. That means if you use them to make a purchase, I may earn a commission. You can read my full affiliate disclosure HERE
Welcome to the #TechieHomeschool IRL (In Real Life) blog series. In this post, my guest Dachelle shares why her family listens to audiobooks as part of their homeschool literature study. She offers some great advice to get you started streaming audiobooks, too.
Dachelle is a homeschooling mom of 3 in the South. She loves chocolate and has been known to hide it from her children. She can often be found reading a good book (or even sometimes just an okay book) and enjoying a jar of Nutella — don't judge. She blogs at HideTheChocolate.com when she's not planning and creating online book clubs at Literary Adventures for Kids. You can find her on Facebook, Instagram, Pinterest, Twitter, and, occasionally, YouTube (she has an innate fear of live video!).

Where do you stand in the physical book versus digital book debate? It's a big deal with bibliophiles worldwide since eReaders were introduced. Do you enjoy the smell and feel of crisp paper as you snuggle up on the couch to read or do you prefer to listen to audiobooks while making dinner? It seems that as technology keeps developing new reading products, those of us who love books will just have more options to feed our habit.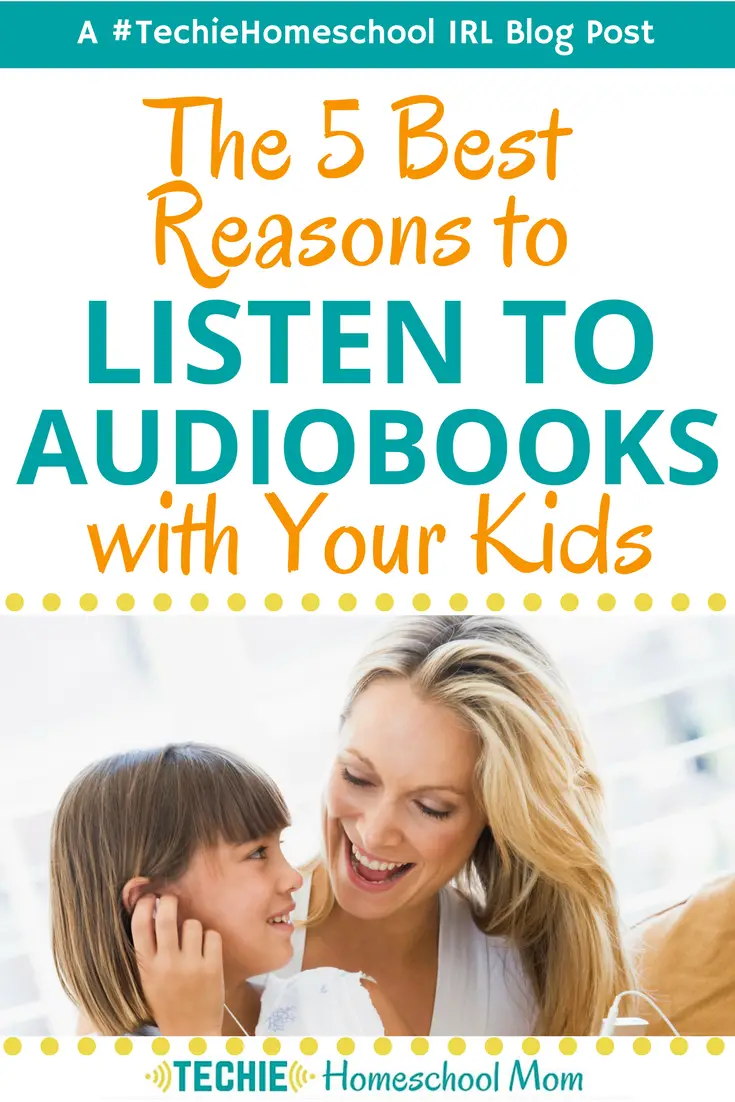 Confessions from a hard-core bibliophile: I listen to audiobooks. (gasp!)
I will never read ebooks. I like the feel of the book in my hand.
That was me about five years ago, before I discovered how convenient it is to download a book at a moment's notice (or when I forget to pick that one up at the library that I need – like – now). I now consistently download 10 or more eBooks a month.
I will never listen to an audiobook. I need to read a book to really get into it.
This was me our first year of homeschooling, before I discovered how much more productive my life is when I can use my hands (and eyes) to do other things while reading. We now listen to at least one book a month.
… RELATED POST …



Why Your Kids Should Read Ebooks
Life is better when we listen to audiobooks
Now, don't get me wrong, I am in no way saying that all our homeschooling troubles were resolved with the invention of audiobooks. What I am saying is that I was able to carve out a few minutes each day that were calm, pleasant, and anticipated by everyone in our homeschool.
5 ways listening to audiobooks has made our homeschool better
Listening to audiobooks saves time
When we are listening to audiobooks in our home, we are almost always doing something else with our hands, eyes, and feet. Lunchtime is an excellent time for audiobooks. We are all sitting around the table together eating and listening to one of our favorite books (This is not a good choice when reading "How to Eat Fried Worms." Ask me how I know.). The kids love it because it's a break from "regular school" and it's entertaining. I love it because I get to eat my lunch in relative peace.
Listening to books in the car is a terrific way to get in school time while trooping your kids all over the county to archery, art, book club, poetry teatime, music, ballet, etc. We spend at least two hours in the car each week listening to books. We've even dubbed it carschooling. The same kids who always wanted to watch a movie on trips are now begging to listen to Wonder.
Chore time is another good time to listen to audiobooks. If you want your kids to do chores without complaining, bluetoothing your device to an external speaker has proven to work at our house. We turn up the volume on our favorite book and all work together to clean up the kitchen. No one complains, or they are "shushed" by their sibling who can't hear the story. (Honestly, I don't know why I didn't think of this earlier. It would have saved me a lot of nagging over the years).
Streaming an audiobook can save your voice (and eyes)
Family reading time is one of my favorite parts of the homeschool day, but sometimes my voice just can't take all the reading, especially when I'm reading several books at the same time. Audiobooks have saved my voice more than once. And, as evidenced by my new lovely progressive lens eyeglasses, my eyes sometimes need a little break, too. When the audiobook is streaming, I'm actually experiencing a little "mommy self-care" (it would be better with chocolate, but I will take what I can get).
Audiobooks can save your life and limbs
This point was brought up by my 12-year-old. She is notorious for walking while reading, even down the stairs. She is committing herself to "No Walking While Reading," and has decided audiobooks are the answer to her problem.
Listening to books online helps young and struggling readers
I'm going to tell my age here, but my oldest loved to listen to books on cassette tapes and CD while he followed along with the book. We had tapes and books all over the house. He wasn't old enough to read the books entirely on his own, but it gave him a sense of accomplishment to listen to the books as he flipped the pages.
Sometimes, you just need to take a break from the stressful things in life. Kids feel the same way. Sometimes reading is just hard. Being able to listen to a book can give kids a little break from work and allow them to just enjoy the story for what it is.
Listening to audiobooks can be fun
When you pick out an audiobook, check out the narrator. A good narrator can make or break an audiobook. Some narrators are so good that we are laughing out loud as if we were right there in the book. We love listening to Christopher Paul Curtis books, like Bud, Not Buddy because of his fabulous choice of actors. A boring narrator can kill even a good book. For the most part, narrators/actors add those lively characterizations that bring books to life and make them fun for the whole family.
Adding a little adventure to a book
I am most definitely a fan of all forms of books, not just audiobooks. My house is overrun with books. They are on shelves, in baskets, stacked on desks, on the floor, on chairs…. Audiobooks and digital books are giving me a little more space to walk (and sit) in my house because I simply can't part with books!
Books are so important to our family that I started, and currently run, three different book clubs for my kids with our local homeschooling group. We spend all month in literature studies that culminate in a huge book club party. You can learn so much more from a novel than just the story. You can go on tangents that explore history, science, language, cultures, math, poetry, and more.
And, just as technology has opened a new window to reading, technology has created a new way to enjoy literature studies. There are so many terrific resources out in the digital world that you can use to enhance a novel. When I was planning The Birchbark House book club, we spent numerous hours researching and learning about the native people of North America. We delved into mathematics and physics when we were reading A Wrinkle in Time. To put it simply, whole new worlds were introduced to my kids (and myself) by reading a book.
If you want to enrich your child's studies, take the time to invest in the research or make your life easy and let me do it for you. It is a passion of mine. I love creating book clubs and am now sharing ours in an online book club unit study. I created Literary Adventures for Kids to help homeschool moms find a stress-free way to add a little adventure to their homeschool.
For Techie Homeschool Mom readers, you can use the code TECHIE to receive 20% off the book club of your choice. Just click the picture below to open up a whole new world to your kids.
Tell me – how have you used audiobooks for your homeschooling? What have been some of your favorites?
Related Posts

Want some techie homeschooling tips and inspiration delivered to your inbox? Sign up here for weekly-ish emails from me.
Techie Homeschool Mom is a participant in the Amazon Services LLC Associates Program, an affiliate advertising program designed to provide a means for sites to earn advertising fees by advertising and linking to Amazon.com. You can read my full affiliate disclosure HERE.