Hey, just so you know ... This post includes affiliate links. That means if you use them to make a purchase, I may earn a commission. You can read my full affiliate disclosure HERE
New & Improved Homeschool Unit Studies
What's not to love about homeschool unit studies? You can choose topics that interest you and cover multiple subjects at once. They work great for families with a range of ages and learning styles. And unit studies lend themselves to a more experiential education with hands-on project-based activities.
We've been homeschooling with unit studies for over 12 years. However, as much as I love unit studies, for the past few years, I've been disappointed with the format of traditional unit studies.  I need to gather and/or purchase lots of additional resources. I end up with tons of paper and projects cluttering my home when the study is done. Often the suggested projects seem like "busy work" and are not relevant to the way my kids learn. I also find that many unit study guides and ebooks are out-dated, recommending obsolete print materials or broken and "old school" weblinks.  And navigating a unit study from a webpage can be confusing.
I've wanted a more "modern" unit study, something updated that meets the needs of my "digital native" children. [Learn about the needs of digital learners HERE] 
Since the kids want screen time, wouldn't it be better to do a unit study primarily on the computer, something that's in an online course format?  
And wouldn't it be better if we didn't need to deal with outdated, broken and potentially unsafe weblinks?  
How much better would it be if the kids could easily access video tutorials for projects without getting distracted by cat videos on Youtube?
Or better yet…what if our kids did more digital projects and presentations, learning skills they will need later in life?
I couldn't find what I wanted, so I created unit studies in a new format for my family. And now I am sharing Online Unit Studies with your family.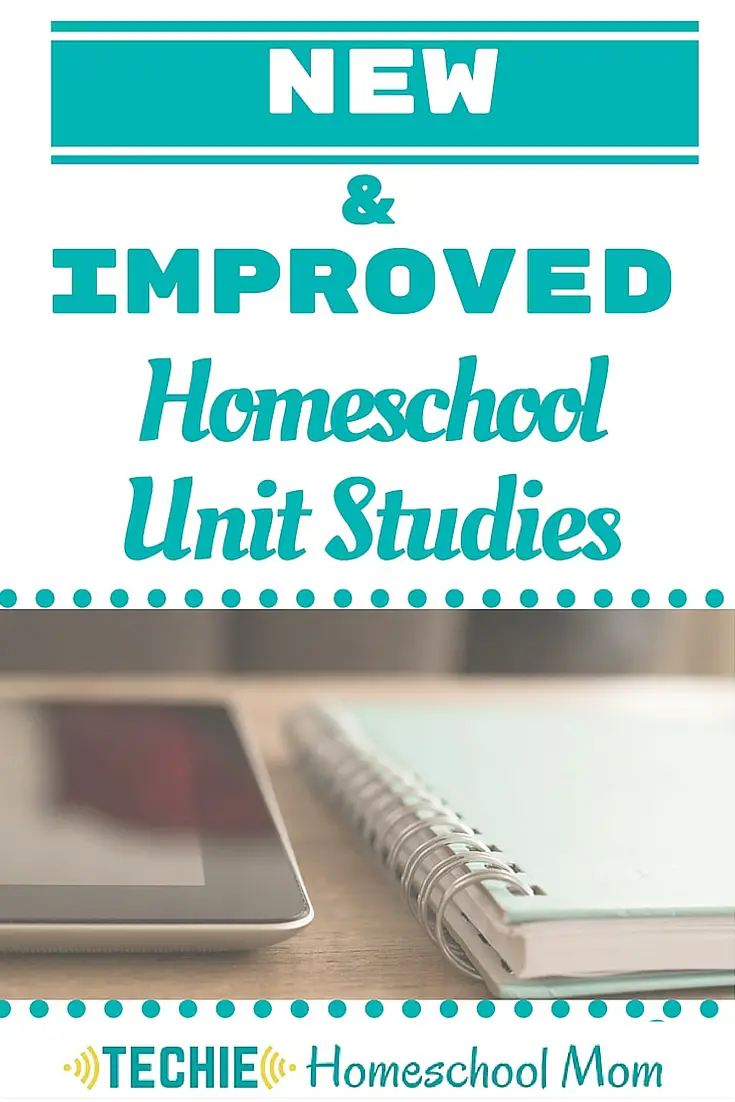 Why Are Online Unit Studies so Great?
Online Unit Studies are cloud-based eCourses for homeschoolers. You simply enroll in courses, and whenever you log in, you will see each course you've ever purchased…they never expire, they never go away. Just click on your current course.
Next, just click on your current lesson. Scroll through the lesson, click to watch the videos and click on the links to access websites. Go through the lesson at your own pace,  then click the complete and continue to move on.
You'll find lots of hands-on or digital projects in Online Unit Studies for a highly interactive learning process. There are even discussion boards and BookClubs where you can connect with other homeschoolers.
How about you? Do you think a new and improved unit study format is needed? What are your thoughts about Online Unit Studies?


Want some techie homeschooling tips and inspiration delivered to your inbox? Sign up here for weekly-ish emails from me.
Techie Homeschool Mom is a participant in the Amazon Services LLC Associates Program, an affiliate advertising program designed to provide a means for sites to earn advertising fees by advertising and linking to Amazon.com. You can read my full affiliate disclosure HERE.