Hey, just so you know ... This post includes affiliate links. That means if you use them to make a purchase, I may earn a commission. You can read my full affiliate disclosure HERE
Every homeschool mom (techie or not) needs a support network where homeschooling parents can get encouragement and information. You may get this from a group of close friends or a local homeschool support group. But nothing tops the wealth of information for home education than annual homeschool conventions. But, attending a convention in person may not be doable for you. However, there are much fewer limitations to attending a homeschool convention online. Have you ever considered this techie way of getting support?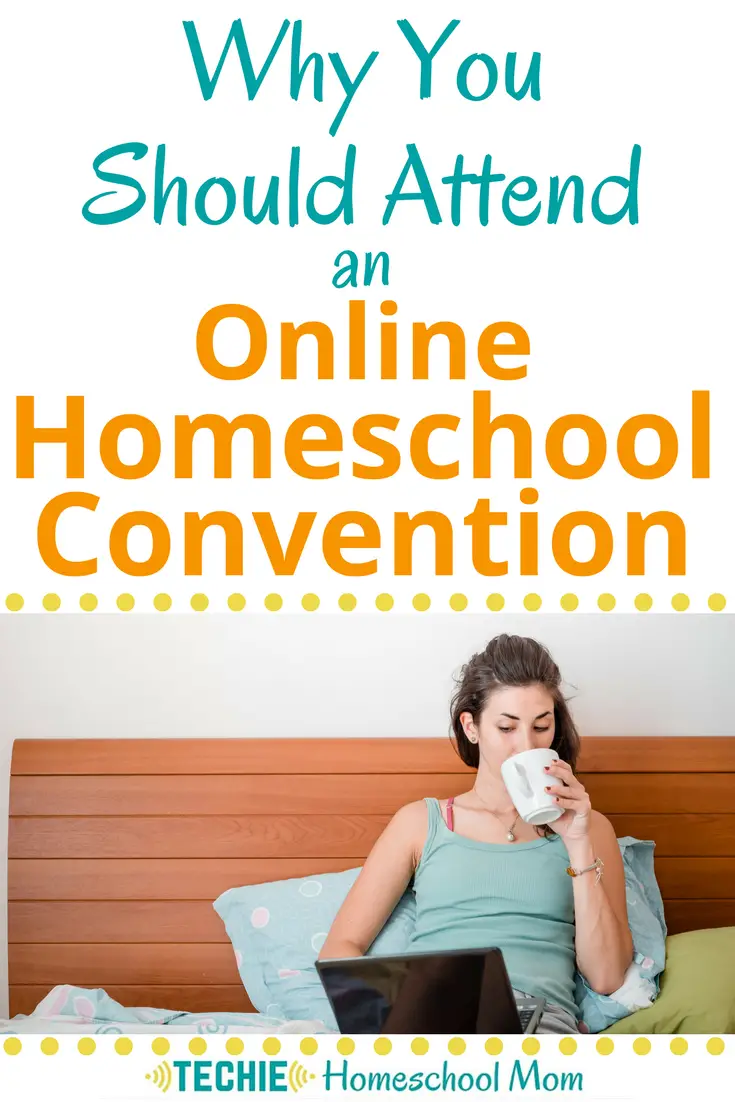 Why Attend Homeschool Conventions?
Homeschool conventions offer two key components: encouragement for the journey and information to carry out that vision. A traditional homeschool convention usually includes speakers who lecture on a variety of topics, plus a vendor hall full of all kinds of homeschool curriculum, supplies, and resources.
Speakers may talk about the practical aspects of homeschool life, such as how to reach a struggling reader or how to teach a difficult math concept. Other lecture topics may include how to avoid homeschool burnout or what to do when the kids won't listen to your guidance.
Many parents look forward to the annual opportunity to step away from the day-to-day grind of the actual homeschooling to refresh their vision. Meeting with other like-minded parents and getting the tools they need to carry on their work helps them to feel refreshed and ready to head back home and continue their mission to educate their children at home.
But what if there isn't a homeschool convention near you? Or, what if travel, hotel, registration cost, or even just childcare logistics make an actual homeschool convention an unrealistic idea?
What is an Online Homeschool Convention?
Online homeschool conventions (aka summits) are growing in popularity. They're hosted by a variety of different groups, organizations, and homeschool influencers.
They usually offer a mix of pre-recorded video talks and live video chats, interviews, or even panel discussions. You can register ahead of time and be notified by email when sessions are available or about to go live.
Many times speakers at online conferences offer bonuses such as printable worksheets or handouts to go along with their lectures. If they sell products or courses, they may also offer conference attendants a special discount code or price.
Many online homeschool conventions are actually free to attend. And if you want to be able to download or have ongoing access to the video lectures, a discounted price is usually offered during the duration of the conference.
What's so Great About Online Homeschool Conferences?
You might think of online homeschool conventions as a plan B – a backup option if you can't attend an in-person homeschool convention. But there are actually quite a few advantages to this format over the traditional approach.
First, if there's one thing all homeschool moms have in common, it is the fact that we're usually the primary caregiver for our children. Online homeschool conventions allow you to "attend" while continuing to care for them. You can watch a video presentation with your earbuds in while they have quiet reading time and you're nursing the baby. You can catch up on sessions in the evening snuggled in bed in your pajamas. You can even "attend" while doing the dishes!
There's no need to get dressed up or pack catalogs, notebooks, or other supplies into your rolling cart. You can even pause in the middle of recorded sessions if you want to follow up on a website or resource recommendation before you forget.
Finally, because the conference organizers do not have to pay for physical meeting space or travel and accommodations for speakers, online conferences can offer much more variety in topic and presenters. Special niche groups who might not have enough local reach to manage a conference could find a following with a global audience. You'll also have the opportunity to hear from speakers who are still very much in the trenches of homeschooling and not available for much travel.
List of Online Homeschool Conventions
Not all homeschool conventions happen annually, so double check each website to find out about their upcoming events and find out which past conference events are available for purchase. Join their mailing list to get updates when registration opens.
Online Parenting Conferences
What online conferences have you attended? Did I miss any? Leave me a comment and I'll keep this list updated.
Recommended Reading for Techie Homeschool Moms:
 The Tech-Wise Family: Everyday Steps for Putting Technology in Its
 Hands Free Mama: A Guide to Putting Down the Phone,
 Hands Free Life: Nine Habits for Overcoming Distraction, Living Better,
 Parenting in the Age of Attention Snatchers: A Step-by-Step Guide
 Apps All Parents Should Know

Related Posts

Want some techie homeschooling tips and inspiration delivered to your inbox? Sign up here for weekly-ish emails from me.
Techie Homeschool Mom is a participant in the Amazon Services LLC Associates Program, an affiliate advertising program designed to provide a means for sites to earn advertising fees by advertising and linking to Amazon.com. You can read my full affiliate disclosure HERE.