Hey, just so you know ... This post includes affiliate links. That means if you use them to make a purchase, I may earn a commission. You can read my full affiliate disclosure HERE
There may come a point when you realize that you need a little extra help teaching concepts to your child. And it's nothing to feel ashamed about! Even the best educators around may need some extra help, especially if you're homeschooling high school – after all, it's probably been a while since you studied most of the subjects. It makes sense to seek out resources to fill in the gaps. Fortunately, there are many online educational resources that can help you. One example of these resources is online tutoring sites.
Now, I know what you're probably thinking.
"Tutoring is so expensive!"
"Our schedule is so crazy, I don't know how we'd find the time to meet up with a tutor."
These are both very valid concerns. When you have limited funds and time, accommodating a tutor can seem impossible. When it's a LOCAL tutor, especially.
However, the beauty of online tutoring surpasses those of local tutoring in a few critical ways.
Benefits of Online Tutoring Services
More Pricing Options
When you hire a local tutor, your chances are going to be a lot more limited- especially if you live in a small town where there may only be one or a few tutors available. When that's the case, you often find yourself paying whatever they charge because you don't have any other choice OR you opt out of tutoring altogether.
However, because of the beauty of the internet, when you use an online tutoring site, you have way more options. That means if tutor A is too expensive, you can check out tutor B. If tutor B is more affordable, but still not quite within your budget, you can look into working with tutor C. And on and on until you find the best fit for your budget.
More High-Quality Options
The same issue that you have with finding a tutor that fits your budget needs can repeat itself when trying to find one that fits your quality needs. After all, if you're paying for a tutor to help your child learn, you want to be sure that they can actually help your child learn. I think we can all agree that not all tutors come with the same levels of teaching experience, teaching styles, or (let's be honest) patience levels. You want a tutor that is a great fit for YOUR child's needs.
With the variety of online tutoring services available, you can shop around until you find the tutor that will be best able to help your child master whichever subject they need help with. You can also easily find tutors who are truly experts in their subject area rather than settling for tutors who may only have a working knowledge of the subject. In fact, if you need to, you can assemble a team of specialized tutors.
Convenience
As homeschoolers, we often have a lot of things to squeeze into our week. Between lessons, co-ops, and extracurricular activities, it can be hard to also make time to meet up with a local tutor. When you opt for online tutoring, this isn't as big of a deal because you can find tutors all over the world who can hop online with your child at a time that is convenient for both of you. Also, because it's all online, you don't have to rush to meet them somewhere, use up gas money, or even change out of your PJs. Whether your child is most alert in the early morning, has free time in the afternoon, or likes studying in the quiet night hours, chances are you can find a tutor who can accommodate YOU.
Real-time or Asynchronous Tutoring
Another cool thing about online is that you can find tutors who will meet up with your child in real-time OR who can offer asynchronous services. This means that if it really doesn't fit your schedule to meet up with a tutor in real-time, your child can submit their work and questions online and their tutor can respond at a different time. It can be helpful to get the tutoring your child needs without them having to be online at the same time.
Use of Technology
As my last point, online tutoring often means that the tutor has access to technology that makes learning easier and even more fun. They can use a variety of tools that allow them to accommodate many different learning styles. For example, they can use interactive whiteboards, videos, chat functions, and file-sharing tools.
How to Find a Tutor
Not sure how to get started finding a tutor? Here are a few things to ask yourself:
Which subjects does my child need help with?
Of course, one of the first considerations is what does your child need help with. This will help you determine what kind of tutor you need to look for.
How does the tutoring service match students with instructors?
If you are using an online tutoring site that employs or subcontracts a lot of tutors, then you should find out exactly what they do when matching tutors to students. It may also be worth finding out how many students a tutor is assigned at any given time.
Does my child work better 1-on-1 or as part of a group?
While some kids may require 1-on-1 tutoring, others may do better studying in a group setting. There are tutors available who do both.
Does my child have any special needs?
If your child has any known special needs, especially any type of learning or behavioral diagnosis, it's important to keep that in mind when searching for a tutor. You will want one who is able to meet your child's special needs.
How does the tutor communicate with students?
Another important consideration is how the tutor will communicate with your child as well as how often. You want a tutor that is reliable and communicative.
Best Online Tutoring Websites
Here are five of the best online tutoring site…
I'll kick off this list with my personal favorite – WyzAnt. My husband and I love it because it's so customizable. We not only get to choose a private tutor that best fits our children's needs, we also get to choose when to meet and how much to pay. You tell them which subject(s) your child needs help with, choose from a list of highly vetted experts, and then pay just for the time you need. Their online learning tool makes it easy to share files and write on a board – just like in a classroom. The text editor allows the tutor and our child to edit documents in real time. Screen sharing makes it easy to share presentations. They also have a free app so your child can get the help they need, wherever your family is.
One big advantage of WyzAnt is their Good Fit Guarantee. With it, you never pay for tutoring unless you find a good fit! Save $20 on your first lesson with coupon code TAKE20. 
If you prefer knowing that your child's tutor is a fully credentialed teacher or subject expert, Skooli will set your mind at ease. They offer tutoring in 70 subjects, which takes place in a virtual classroom. In addition to your child's scheduled learning session, they also offer on-demand services. They even have a mobile app for tutoring on-the-go. With features like video chats, digital whiteboards, instant messaging, file sharing, techie kids will be in heaven. They also have safety features such as tutor reporting, profanity filters, and session recording that ensure that tutors and students are on their best behavior. The trade-off for this online tutoring service, though, is that they are a bit pricey. However, they offer a satisfaction guarantee to make trying their service practically risk-free.
If you've done any research into online tutoring services, Tutor.com is probably one that was at the top of the results list. With highly qualified tutors available 24/7, it's a great resource for getting your child help when they need it. They cover over 80 subjects in the fields of Math, Science, English, Studies, Foreign Language, and Business. They also offer SAT/test prep and learning support for students taking Advanced Placement (AP) courses. One cool thing is that they offer everyone the chance to sign up for a free tutoring session to see if it's a good fit for your child. After that, you can choose one of four payment plans, including a pay-as-you-go option.
Club Z! has tutoring services available for students from kindergarten through undergrad on hundreds of subjects, including test preparation. Not only do they use some great online tools in their virtual classrooms (digital whiteboard, video and audio chat, file sharing, etc), they also record all of the tutoring sessions for review later. They also have in-person tutoring options at over 400 locations nationwide. One thing to consider is that they do not offer on-demand tutoring – all sessions have to be scheduled in advance. So
If you have a child with special needs who needs tutoring, I recommend checking out SpecialEdTutoring.com. Not only is the curriculum designed specifically for those with learning disabilities, every one of the tutors has a degree in Special Education. They also offer one-on-one tutoring designed especially for homeschooled students. They are able to either design a curriculum for your child or work with the curriculum your family uses.
These online tutoring websites will help you get the most from your tutoring and homeschool programs- at all ages and grade levels. I hope you find the one that best fits your family's needs.
Must-Have Tech for Homeschooling
2017 Acer Chromebook 11.6

Apple iPad 2 16GB

Roku Streaming Stick

DOSS Touch Wireless Bluetooth Portable Speaker

Skullcandy In-Ear Noise-Isolating Earbuds

Tell me… what has been your experience with online tutoring sites? What tips do you have for other readers?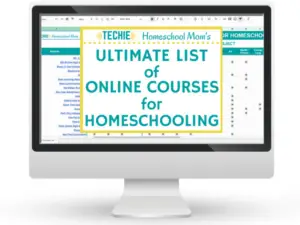 Discover 150+ websites that offer homeschool e-courses, categorized by subjects, grade level, course format and more.
Download Techie Homeschool Mom's Ultimate List of Online Courses for Homeschooling
Related Posts

Want some techie homeschooling tips and inspiration delivered to your inbox? Sign up here for weekly-ish emails from me.
Techie Homeschool Mom is a participant in the Amazon Services LLC Associates Program, an affiliate advertising program designed to provide a means for sites to earn advertising fees by advertising and linking to Amazon.com. You can read my full affiliate disclosure HERE.