Hey, just so you know ... This post includes affiliate links. That means if you use them to make a purchase, I may earn a commission. You can read my full affiliate disclosure HERE
It's the norm nowadays for multiple family members to have their own mobile phones. As you start adding kids to your plan, the cost o your plan can increase at an unexpected rate. The cost to have a family plan cell phone can be in the hundreds, leaving many families wondering how they can save and keep a plan that fits their budget. These tips will help you find ways to save on your family mobile phone plan.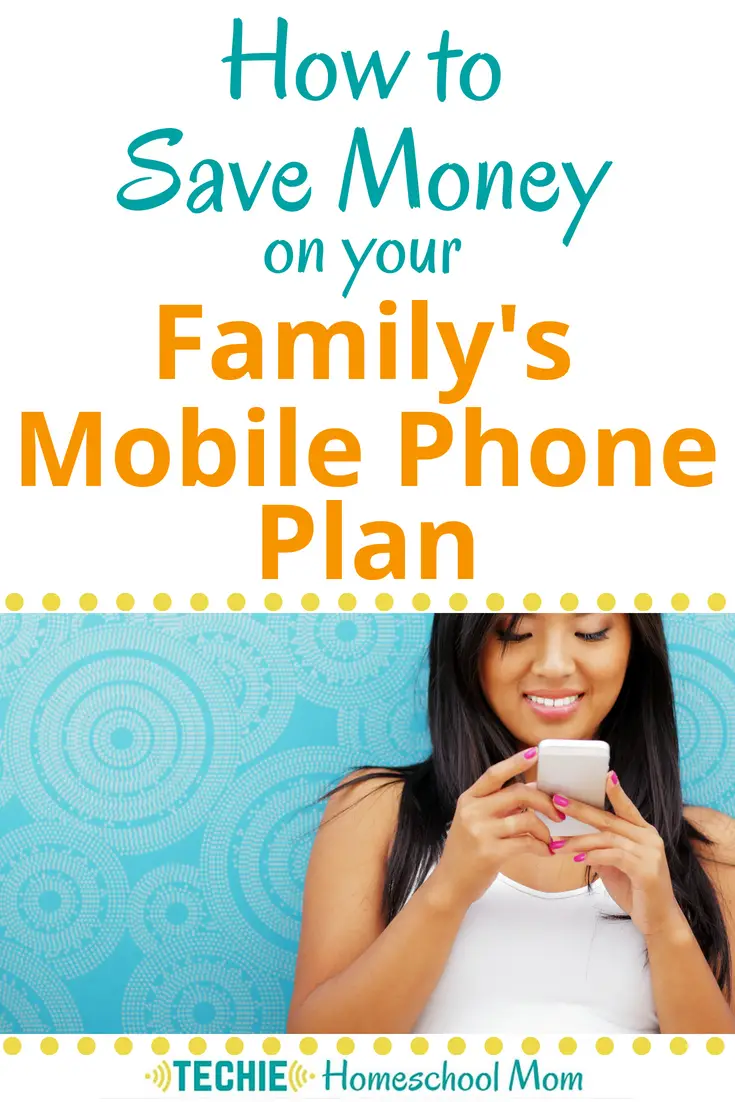 8 Tips for Saving on Your Cell Phone Bill
1) Do Your Research and Shop Around
Don't feel like you have to stick with the carrier you've used for years. There may be a better plan to accommodate new family members entering the realm of mobile phone use. LifeWire shares the 8 Best Family Cell Plans to Buy. Maybe one of these will be a good fit for your family's mobile phone plan.
2) Always Negotiate
Don't assume that the sticker price on anything (including mobile phone plans) is set in stone. Often times a cell phone carrier may have a promotion or fee waivers available for both long-term and new customers. Ask your cell phone carrier about recent promotions or waivers that you can take advantage of.
3) Get Rid of Unnecessary Extras
Take a moment to review your monthly cell phone bill. Have a look to see if you're paying for any unnecessary extras. Call your carrier and ask them to explain what each fee on your bill is. Remove those unnecessary extra fees from your plan so that you are able to lower your cell phone bill quickly.
4) Opt-out on Insurance
The monthly or annual cost of cell phone insurance is an extra unnecessary expense, especially if you're being savvy and not purchasing really expensive phones. More often than not families are paying for cell phone insurance and never use it. That's money best left saved for other areas of life.
5) Learn to Love Wi-Fi
There's a reason you're able to connect our cell phone to Wi-Fi. It helps reduce data usage which naturally starts to lower your cell phone bill. If you're on a limited data plan then you'll certainly want to watch your data rates by using Wi-Fi whenever it's available. Check with your phone dealer about limit data usage on your children's phones.
6) Don't Write Off Unlimited Data Plans
If you are homeschooling on the go, you are going to use lots of data. Oftentimes, an unlimited data plan will save you money (vs' having to pay overage charges when you go over your plan limit). When we switched to an unlimited data plan, I felt lots more freedom to have my kids do their homeschool work while we were out and about.
7) Consider a Prepaid Phone Plan
Lastly, there are many prepaid mobile phone plans on the market that you can easily switch to while keeping the same cell phone number. When you're ready to add more family members to your cell phone plan, you may want to consider trying a prepaid or no-contract cell phone first to lower your cell phone bill.
8) Buy Your Phone Outright
Many people don't realize you that you don't have to lock into that payment plan for a new fancy phone everytime you change providers. Shop around for the best deals on an unlocked phone that you can then add to your mobile phone plan. When it's time for your child to get their first phone, don't invest in the latest and greatest. Purchase them a refurbished past generation phone. Or hand-down one of your old phones. If your child really wants an expensive phone, let them prove that they can take care of it and give them chances to earn money to buy it themselves.
Best Way to Purchase Refurbished Phones
Gazelle is the nation's leading consumer electronics reCommerce site, providing an easy, fast and safe way for consumers to get cash for their used electronics or buy certified pre-owned devices. Gazelle pays you cash for your used gadgets when you're ready to get new ones – cash you can use towards a new certified pre-owned device on Gazelle. In essence, Gazelle rewards people for approaching consumption in a smart, environmentally responsible way. Rather than discard a device you no longer value or use, Gazelle provides original owners with an opportunity to exchange it for cash and then put that cash towards a certified pre-owned device.
Since 2008, Gazelle has paid out more than $200 million for unwanted technology and bought and resold more than 2 million devices, helping consumers upgrade to the latest technology. It truly is a win-win-win business. Gazelle buys high-end, used consumer electronics, and sell it to those who otherwise couldn't afford buying new. It's called reCommerce, and Gazelle helped pioneer the category. Gazelle is recognized by an A+ Better Business Bureau rating and a 9.5/10 Reseller Ratings review average. Visit Gazelle today, and see what your device is worth or buy a certified pre-owned device!
Top Picks for Refurbished Unlocked Smartphones from Gazelle
Google Pixel XL 32GB

Galaxy S8 64GB

iPhone 5s 64GB

iPhone 7 128GB Unlocked

Related Posts

Want some techie homeschooling tips and inspiration delivered to your inbox? Sign up here for weekly-ish emails from me.
Techie Homeschool Mom is a participant in the Amazon Services LLC Associates Program, an affiliate advertising program designed to provide a means for sites to earn advertising fees by advertising and linking to Amazon.com. You can read my full affiliate disclosure HERE.