Hey, just so you know ... This post includes affiliate links. That means if you use them to make a purchase, I may earn a commission. You can read my full affiliate disclosure HERE
If you want just one source for homeschool materials for all your kids, then a subscription to SchoolhouseTeachers.com is a necessity. With over 400 online course options, preschool all the way up to high school, you can homeschool your entire family. Plus you'll have access to other support services, like planning guides, recordkeeping templates, and transcript advice.
Schoolhouse Teachers is developed by the same people who create The Old Schoolhouse Family Education Magazine, a widely-beloved trade magazine written specifically for homeschoolers. It's a great source of encouragement and inspiration. It's also a great way to stay up-to-date on best practices and growth trends in the home education sector. You can buy the current issue at stores like Barnes & Noble, Target, Walgreens, and Kroger. Or, in true techie homeschool fashion, read both current and past issues digitally (one of the many perks for Schoolhouse Teachers members).
As online education has become more and more popular, The Old Schoolhouse realized that there was a growing need among home educators. In this digital age, they wanted to make sure that homeschoolers were keeping up with the times by providing homeschool parents a way to homeschool online. Thus, SchoolhouseTeachers.com was born!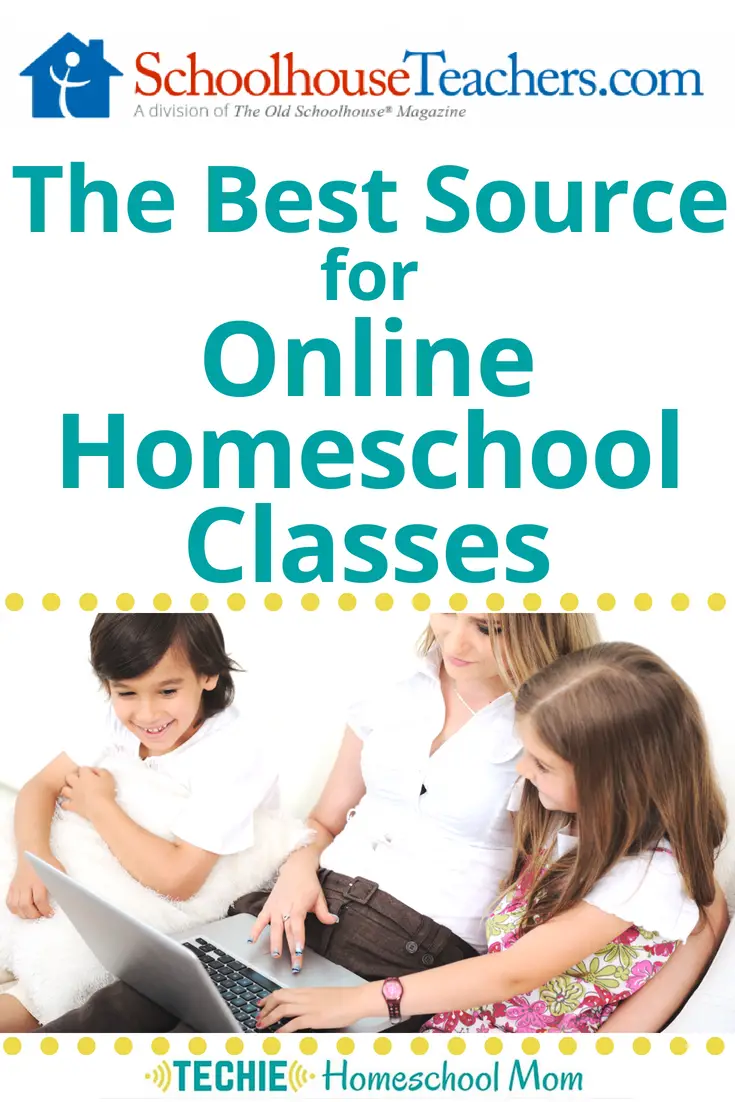 Schoolhouse Teachers equips you with all of the tools you need to homeschool your kids – all in one place and all for one low monthly cost. It features hundreds of self-paced courses that you can use for your entire family, from pre-k through high school. There are even several classes for the parents!
10 Reasons Homeschoolers Love SchoolhouseTeachers.com
1) Perfect for busy moms (and dads)
I don't know about you, but when I'm choosing a homeschool curriculum to use, I want it to be busy mom-friendly. Meaning I don't want to have to go hunting for things to supplement the lesson and I don't want to have to spend a lot of time prepping and reading ahead. I want to be able to just pick it up and teach. I can honestly say that the courses offered on Schoolhouse Teachers get the job done. On their website you can find lesson plans for most of the courses you can take (more on those later) and they are going to be working on updating this for all of the courses.
2) Customizable Homeschool Materials
While I LOVE having a done-for-you curriculum that I can just pick up and get started, I also appreciate that Schoolhouse Teachers has made their lessons flexible and customizable so that I can easily adapt it to fit my family's needs. Every family is unique, so there's no such thing as one size fits all. I think it's brilliant that they've managed to toe the line between creating lesson plans for you and making sure you can adjust where necessary.
3) "Core" Courses
As home educators, we want to make sure that our kids can, at the very least, hold their own when compared to their public school counterparts. We also want to make sure that they have the coursework they need to pursue higher education, should that be the path they choose to take. With that being said, it's critical that our kids take the traditional "core" academic classes. With Schoolhouse Teachers, you don't have to worry about that! There are, (according to the most current course catalog):
50+ Language Arts courses (including literature, several writing courses, American Folklore, African American Literature, World Literature, and Research Skills)
10 Foreign Language courses (including Spanish, French, Latin, and ASL)
60+ History/Geography/Social Studies courses (including Native American History, the Renaissance, American History, World History, Fashions in History, Economics, and Classical Mythology)
25+ Math courses (including Pre-Algebra, Algebra 1 and 2, Geometry, Precalculus, Trigonometry, and Statistics)
45+ Science classes (including Biology, Chemistry, Earth Science, Astronomy Anatomy, Physics, Life Science, Marine Biology, and Geology)
6 Preschool Core Courses (including Arts & Crafts, Social Studies, Language Arts, Numbers/Patterns/Cognitive Skills, and Motor Skills)
4) Elective Courses
In addition to the core subjects, there are also MANY additional subjects that your family can take. There are:
10 Art courses (including Discovering Art History, Drawing with Realism, Elementary Art, Digital Art, Everyday Easels, Art and History, and Studio Art for Teens)
35+ Bible courses (including Bible Studies for Kids and Preteens, Christian Discipleship, Theology, Worldview and Philosophy, Character Traits, Missional Living and Discipleship, So You Want to be a Pastor, and Stewardship of God's Earth)
6 Drama/Speech courses (including Public Speaking, Advanced Public Speaking, How to Write and Produce a Play, Reader's Theater, and Simply Shakespeare)
10+ Music courses (including Music Theory 1 and 2, Composing with the Masters, Family Music for Preschoolers, Music/Voice, Guitar, and Violin
10+ Nutrition/Health/Fitness Courses (including Family Fitness, Family Nutrition, Health 101, and Preventing and Responding to Emergencies)
25 Electives (including Accounting, Architecture, Business Plan Creation, Filmmaking, Cooking, Home Economics, Homesteading, Graphic Design, Photography, SAT?ACT Math Test Prep, Social Justice, Starting a Micro Business, Leadership, Logic, and Money 101)
5) No Added Fees
Another thing I love about Schoolhouse Teachers is that they don't hit you with extra fees and surprise add-ons. Your one monthly or annual payment covers ALL of the things they have to offer.
6) No Textbooks to Buy
I also appreciate that I don't have to go out and buy a whole bunch of books or supplies to supplement their curriculum. Obviously, you will need some supplies such as pen and paper. And if you take electives such as photography, violin, guitar, or art, you can't expect for them to provide you with the instruments or art supplies. However, you don't have to worry about surprise costs.
7) Great for Big and Small Families Alike
When you have a big family, homeschooling costs can add up. Especially if you have to buy separate supplies and pay for separate memberships for each child. Fortunately, with Schoolhouse Teachers, you don't have to worry about that. Whichever plan you chose, you can use it for your ENTIRE family.
8) Recordkeeping Made Simple
Every person who becomes a member gets access to at least the Silver AppleCore Recordkeeping program (Gold level is available when you buy an annual membership). This program makes it easy for you to create and store your child's courses, grades, and overall transcript. You can keep these for your records as well as print them out as a PDF when necessary. You can also access dual enrollment options if your high schooler is also taking college courses. AppleCore also calculates your child GPA for you!
"AppleCore is very easy to use and produces a report card and/or transcript for your student records. Just set up your student profile (one for each student) and click 'add year' (example: 9th grade). Click 'add courses' to start adding the courses your student is taking. There are dropdowns under general categories for selecting specific courses, so a quick click adds each course. For scheduling and indicating the duration of each class, you can select fall, spring, summer, or full year. As each course is completed, log in and enter the grade and the number of credits earned. You can print a report card if you wish, but I just kept saving the information and added new courses each year throughout the high school years. There are even dual enrollment options if your child is taking college courses during high school. AppleCore calculates the cumulative average and credits, and when I had finished, I clicked 'Transcript.' After a few clicks, a document like the sample linked above was produced. I printed the transcript and put it in his diploma folder for reference."
9) Added Support
Whether you're a newbie, a veteran, or something in between, Schoolhouse Teachers has built-in support to help make your life easier. If you or your child is struggling with a concept, the Focused Learning Center is there to provide you with resources, tools, and tips to get past any common obstacles. For example, if your child is struggling with reading, the Literacy Center contains a series of downloadable and online books broken down by age/grade level. Strategies you can use, info on the different reading levels, help for struggling learners and children with special needs, and additional literacy resources. You can also call them during their business hours or use their live chat option at the bottom of the website.
In addition to these resources, they also offer 35 courses (and other resources) just for parents. There are courses to help you with certain age groups and different parenting situations, various homeschooling methods, learning styles and special needs learning, marriage and family, organization, running a business, and more.
To take the support even further, they even have a monthly meal plan on the website! The meal plan includes recipes (including vegan and gluten-free options) and will carry you throughout the entire year so that you don't have to worry about meal planning on top of everything else.
10) Computer/Technology Courses
Of course, I couldn't leave without talking about the techie course options that they offer. If you're looking to teach (or learn) some new tech skills, they definitely have some great options available. Here are the current course offerings that you should check out:
How to Use Microsoft Word

How to Get Started with Microsoft Excel Functions

Internet Entrepreneurship for Teens

Podcasting to Change the World

Web Game Design

SQL Service Beginner Course

Digital Art and Product Designs

Image Editing and Creation

Introduction to Graphic Design

Photography

Media Socialization
I hope that this has shed a bit of light on why SchoolhouseTeachers.com is the best place to find online homeschool materials. I'd love to hear which SchoolhouseTeachers features you like best. Leave a comment to share.
Related Posts

Want some techie homeschooling tips and inspiration delivered to your inbox? Sign up here for weekly-ish emails from me.
Techie Homeschool Mom is a participant in the Amazon Services LLC Associates Program, an affiliate advertising program designed to provide a means for sites to earn advertising fees by advertising and linking to Amazon.com. You can read my full affiliate disclosure HERE.