Hey, just so you know ... This post includes affiliate links. That means if you use them to make a purchase, I may earn a commission. You can read my full affiliate disclosure HERE
How often do you deal with needing to get a child where they need to be online? Wouldn't it be nice to avoid the dreaded… "Mom! I can't log in" or "Mom! He's using the computer I need to use." or "Mom! Where do I go next?" or "Mom! She closed all my windows."  All this can be avoided if you sync your devices.
Is your homeschool in sync? No, I don't mean do you bust out the old CDs and jam to the '90s boy band (although that may be necessary on some rough homeschooling days).
Have you SYNCHRONIZED your homeschool so that every child is able to pick up any device to access their homeschool lessons and resources without a lot of work from you.
Sounds pretty techie, right? It really isn't.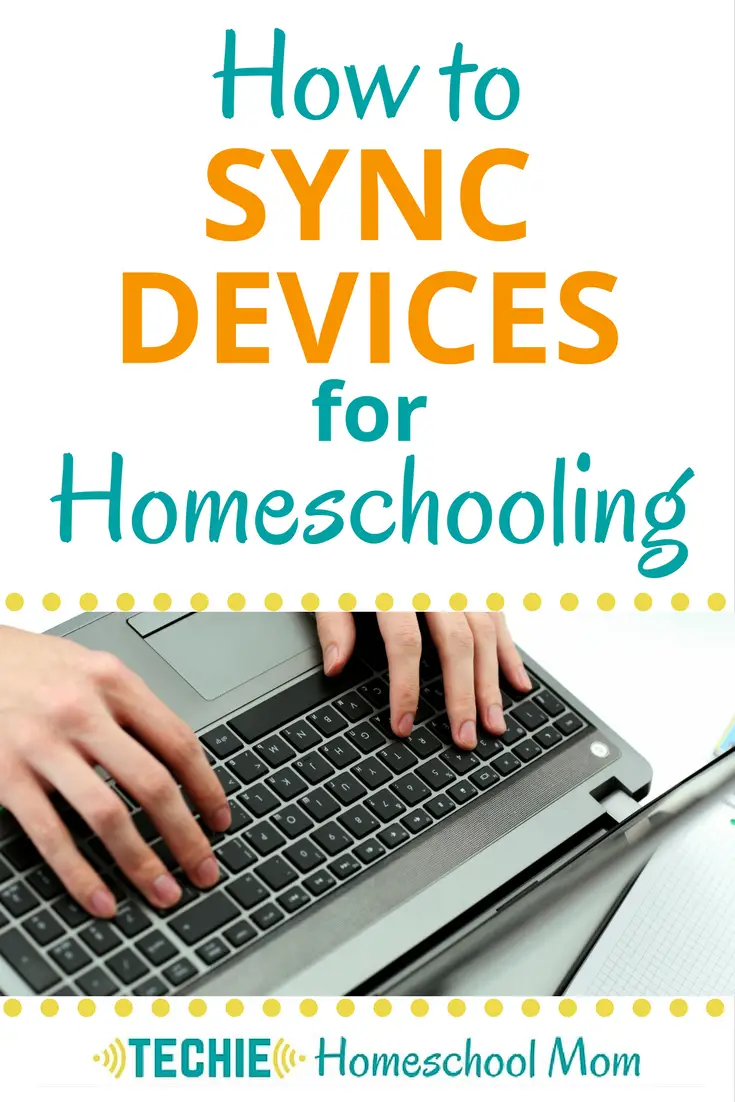 Why You Need a Synchronized Homeschool
Awhile back I shared about getting your homeschool in sync during a Facebook Live. Here's the replay….
CLICK HERE to download the Synchronized Homeschool Checklist I mentioned in the video.
The 1st Step You Should Take to Synch Devices
The first step to synchronizing your homeschool is creating a digital identity for every computer-using homeschooler in your family. The easiest way to do this is with Google accounts.
I know some people have loyalties (or aversions) to certain services. But Google is a major player (the major player) and worthy of your consideration. It's free, it's universal and it's consistent, three attributes that are appealing to homeschooling families.
Why is it foundational to have a Google account for each techie homeschooler? Because of that "S' word that will save you a ton of techie hassles…Synchronization. When you set things up on one computer, it will be the same on others. And on mobile devices. Your prize for syncing devices is that any child can pick up any computer or mobile device and be able to access their digital learning content.
I teach how to do this in Techie Homeschool Mom's Guide to Digital Homeschool Organization. I'm giving you free access to that lesson now so that you can…
Learn how to create Google accounts
Stay within the parameters of Google's minimum age
Discover the limitations with "Supervised User" Google accounts
Set up passwords that are safe, yet easy to remember
I even address the safety concerns of giving a child their own Google account. CLICK HERE to watch the lesson.
Trust me, if you want to reduce some of the frustrations that come with techie homeschooling, taking this first step to sync devices is key.
More Steps towards Device Synchronization
After creating those digital identities, you'll need to…
Set up and share Drive folders with each child
Grant printer access to all your users with Cloudprint
Create user accounts on your computers and laptops
Customize Chrome accounts
Install Google Backup & Sync for each user
Organize your files in Google Drive
Share Google Drive files
Don't freak out if all that seems a bit beyond your techie abilities. I've got this all laid out in more detail in a "Synched Homeschool Checklist" and would love to send you a copy to download.

Recommended Reading for Techie Homeschool Moms:
 The Tech-Wise Family: Everyday Steps for Putting Technology in Its
 Hands Free Mama: A Guide to Putting Down the Phone,
 Hands Free Life: Nine Habits for Overcoming Distraction, Living Better,
 Parenting in the Age of Attention Snatchers: A Step-by-Step Guide
 Apps All Parents Should Know
Related Posts

Want some techie homeschooling tips and inspiration delivered to your inbox? Sign up here for weekly-ish emails from me.
Techie Homeschool Mom is a participant in the Amazon Services LLC Associates Program, an affiliate advertising program designed to provide a means for sites to earn advertising fees by advertising and linking to Amazon.com. You can read my full affiliate disclosure HERE.