Hey, just so you know ... This post includes affiliate links. That means if you use them to make a purchase, I may earn a commission. You can read my full affiliate disclosure HERE
Thanks to my guest, Holly, for sharing how her family uses techie homeschool resources to enhance the classical method of homeschooling. Holly is a full-time homeschool mom and also works outside the home full time. She has homeschooled her three kids since kindergarten, with two already graduated.  You can learn more about Holly's experiences at her blog, Full-Time Homeschool Mom.

Our journey of homeschooling with the classical method started 22 years ago with my oldest son and later our two younger kids. It was a lot harder back then (especially since we only had a 14.4k modem). But I know my homeschooling adventure would not have survived year one without technology because I worked a full-time job during my kids K-12 education.
Thankfully technology advanced fast and things got better every year. When we added started using more digital learning resources, our classical homeschooling became easier once we started using technology. It really made things easier for me to homeschool my children while I worked a full-time job outside the home.
I would like to share with you why technology is a must for homeschool, as well as how I've used digital learning to its fullest during for the Classical method of education.
What is Classical Education?
Classical Education follows the Trivium model but there are different opinions on how classical education should be executed. There are also different opinions on what grade levels are in each stage.
Typically, there are three stages in the Classical Education which are:
Susan Wise Bauer of The Well Trained Mind said "A classical education is more than simply a pattern of learning, though. Classical education is language-focused; learning is accomplished through words, written and spoken, rather than through images (pictures, videos, and television). "
The Grade Levels of Classical Education
The grammar stage is all about absorbing information and memorization of facts. For us, the grade levels are 1st to 4th grade. Focus is reading to absorb information and flashcards for memorization of facts.
The logic stage is all about asking why questions. Along with asking the questions, they see the cause and effects of what they learned in the grammar stage. The grade levels we used for this stage is 5th to 8th grade.
The rhetoric stage is all about writing and speaking as students apply what they learned in grammar and logic stage. The focus of the rhetoric stage is writing papers to persuade the reader to believe what they have written. The grade levels for the rhetoric stage is 9th to 12th or the last four years of high school.
Our Tailored Classical Homeschool Curriculum
There are several books written by Classical Education experts. We chose The Well Trained Mind by Susan Wise Bauer and Jessie Wise for our "Bible" of classical homeschool education.
In the WTM books, there are Classical curriculum recommendations which we followed about 90% of the time. I try to use more online classes while following Classical Education because of working a full-time job outside the home which I have shared below.
The Well Trained Mind books suggest having a block schedule for Science and History. I've got the unique situation of working a job away from home, so this is how I've set up our block schedule:
As you can see Grammar, Reading and Math were done every day. History and Science on a different day for only two days a week. We did Latin 3 days a week and Logic two days a week but on different days.
This schedule worked for us because we do what I am needed for in the mornings. The rest of the subjects are either digital learning or subjects my kids can do on their own. I'm gone in the afternoons because of my work hours starting at 2:00 pm.
We get up early and start right away. Every morning we spend four hours on schoolwork together while I'm home. We take a break at 12:30 to eat lunch and do chores until I leave.
In the afternoon, digital learning begins as well as on-their-own learning. This is where technology has proved helpful in keeping things running smoothly in my homeschool.
Tips for Incorporating Digital Learning Into the Classical Method
It's a blessing to live in the age of technology, especially if you need help with teaching certain subjects. For me, it was so helpful because I can delegate certain subjects I do not want to teach or do not have time to teach due to having a full-time work schedule.
Here are my tips on how to incorporate digital learning into classical method:
Find out what subjects you need help with the most
Ask other classical educators what online classes or digital learning resources they like
Join the Classical Homeschool Educators group on Facebook
Well Trained Mind authors have a forum you can join to ask questions about digital resources and online classes
Once you figure out what digital resources or online classes you'll use, then you can incorporate those into the classical method. I try to use resources that are from classical education publishers or authors.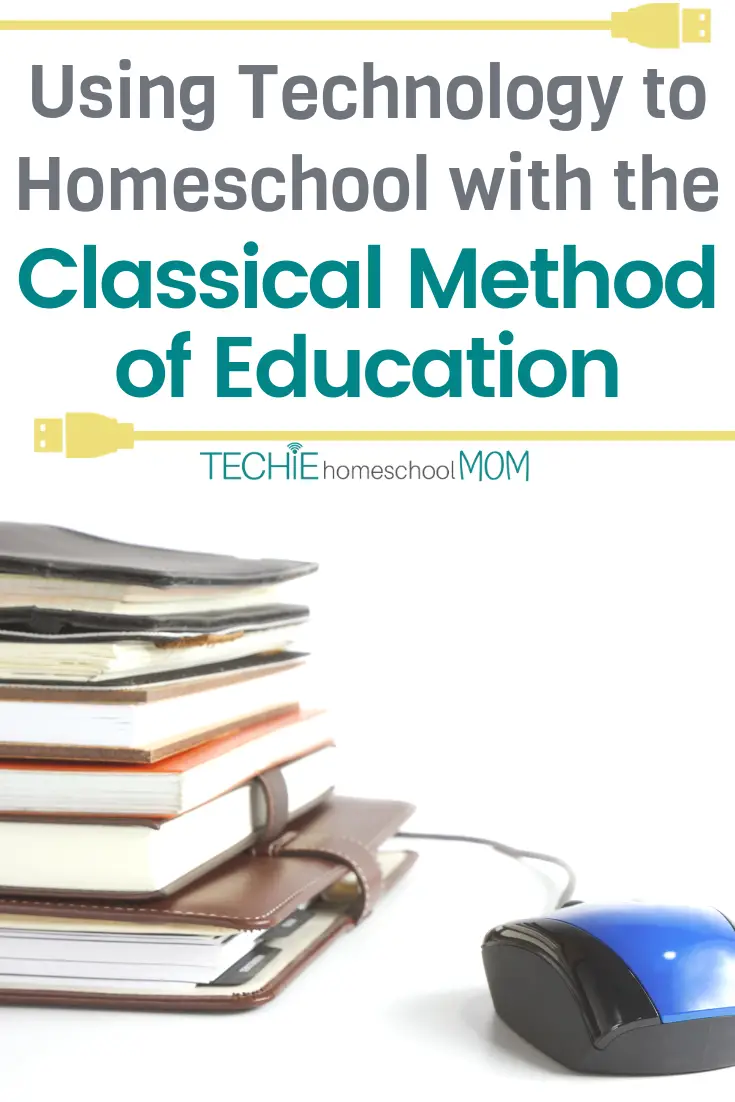 What if there is a resource that is not based on the classical education method?
You can still use the resources from non-classical resources. You may have to adjust the materials that fit the Trivium.
For example, I used a very solid Biology textbook for high school. It is a traditional method of studies. It came with a workbook and lab book that I didn't use or need. I only used the textbook, then I added assignments such as outline the chapter readings which is part of the Classical Education method.
In each unit of Biology, I had my kids write a topic of study they learned in that unit which follows the Classical Method of learning. What about vocabulary? If they do not know the word, then they will do a flashcard for the terms.
For the lab part, I used what format The Well Trained Mind recommends for labs instead of the publisher's lab book. I wanted to follow the classical method as closely as possible even though I was using a traditional curriculum.
Specific Techie Resources We Used for Classical Education
We used several online classes and digital learning resources for our homeschool, although I had to outsource several subjects due to my full-time job. It was very important to us to keep with the Classical Education Method, so that's why the online resources were so helpful.
Here are some examples of online learning we used in our homeschool.
Live classes
For our classical education, Latin was required so I used a Classical Education teacher for this. Magistra Sheppard offers a live online classroom with other kids you get to "meet" virtually. I didn't have to sit with the kids for this and it allowed me the necessary downtime I needed to survive my homeschooling adventure. They were on their own with the Latin class and this was done through Google Hangouts where you can actually talk to the teacher and kids.
High School Math was also in a live class online. It was in a group of 6-8 kids in a virtual room with the teacher, and my children got to socialize with many kids during this time. They also "meet" each other in the room by chatting with each other and the teacher in the chatbox. Only the teacher is speaking and has control of the class.
Psychology class was another live class, and they did it through Zoom where everybody saw each other and chatted. One day a week they had a lesson from the teacher in the live class and then discussion afterward.
DVD classes
Logic (The Art of Logic) and Grammar (Analytical Grammar) were DVD-based homeschool curriculum and self-paced.
Self Paced Online classes
Art, Unit study and Elementary/Middle School Math were self-paced online classes.
The Online Unit Study by Techie Homeschool Mom is an online self-paced course. We used Christmas Around the World and Christmas Traditions during December for fun. I applied the Classical Education method to these two studies. It was very easy to modify them to fit the Classical method.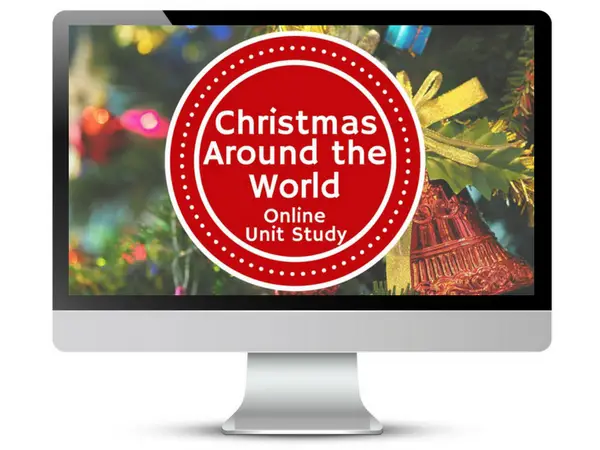 Christmas Around the World Unit Study covers Geography, Literature, and hands-on projects. For Geography, there are 10 countries covered during this unit. One literature book and one project for each country. It was a lot of fun doing this unit in December.
We also used the Famous Artist Vol 1 Unity Study. This program was neat to go through because it touched all the senses and you feel you are visiting an art museum by watching the videos in the course.
There are also hands-on projects throughout the course. A huge bonus for me was you can comment throughout the course and have conversations with other people taking the course even though it's self-paced. You can read THIS POST to learn by why we love to use Online Unit Studies for homeschooling.
Here are the courses we used from Techie Homeschool Mom:
The bonus part of the Techie Homeschool Mom's unit study is you buy once and you can use it repeatedly with your kids. It's an affordable way to homeschool and very easy to modify for your Classical Homeschool Education.
I used CTC Math for our elementary and middle school math which is a self-paced online math course. Here is a link to my post about this course to read further.
I love the self-paced lessons because I can schedule this anytime where the live classes are scheduled by the teacher. Sometimes we had to work around the class schedule if it was in the morning.
Apps we used to keep on track
There are three apps I used to stay on track while working a full-time job. The apps I use are Trello, Google Calendar, and OneNote. All three apps are accessible on laptops, tablets, and smartphones. If I'm at work, I can keep an eye on my children's work through these apps.
Trello
I totally love this app! I use Trello to plan my kid's lessons and assignments. They can leave comments for me if needed and Trello will alert me. Here are examples of how we use Trello.
Trello app can be used on desktop, laptops, tablets, and smartphones. It is an internet-based app so you do need internet to run this app. Another feature I like about Trello is the powerups. You are provided with 1 free power-up on the free plan.
I use the power-up for the Calendar so I can assign due dates which will send my daughter an email telling her she has an assignment due soon. There is a power-up for Google Drive which I would love to use but you have to have an upgrade paid plan to have more than 1 power-up. So for Google Drive, I would just email my daughter the link to Google Drive and activate sharing.
You can check out Trello HERE.
Google Calendar
I use Google Calendar for everything I plan. I schedule online live classes through Google Calendar, then my kid's calendar on their phone or laptops. I am able to keep track of when the live classes are scheduled.
I also schedule chores, field trips, projects due, assignments from the live classes, doctor appointments and more. My kids have access to my calendar so they know what is going on each week. I also put my work hours on the calendar.
Onenote
Do you like notebooks? Then you'll love OneNote, a digital notebook. It woks best on a desktop or laptop but you can access it with your smartphone. The smartphone is limited use for Onenote meaning you can open it and look at your kid's OneNote, but you can't type into it on the smartphone.
In The Well Trained Mind, it's recommended to have a notebook for certain subjects. We tried the paper version of the notebook, but it didn't work for us because I wasn't able to access it at work. With Onenote being digital I can access from wherever I am with my smartphone if the kids need me to look at the OneNote to help them.
Here is how I use OneNote. It's set up like a binder and you have tabs.
This is my son's notebook. The top tabs are the divider tabs and the right-hand side are the pages in the tab you have open currently. Below we are in the Science tab. You can upload worksheets into your digital notebook. In the example below, I decided to upload a science worksheet to show you what it would look like.
OneNote is free depending on if you have Office on your desktop or laptop. I never had to buy it separately because it came with my office package for the laptop. If you don't have the Office package then you do have to purchase OneNote.
If you're considering the Classical method of education, but wonder if you can still use tech, let me emphatically say, YES you can! Techie homeschooling has been especially invaluable since I've been working outside of the home. I not only did it with one child K-12 but all three. One graduated from college with four degrees and the second is in the process of doing the same thing. My youngest is finishing 12th grade and will soon be starting her career in art.
Tell me – how do you think you can add more technology into your Classical Homeschool? Do you have any other recommendations for techie homeschoolers? Comment below.
Related posts:
Recommended Reading for Techie Homeschool Moms:
 The Tech-Wise Family: Everyday Steps for Putting Technology in Its
 Hands Free Mama: A Guide to Putting Down the Phone,
 Hands Free Life: Nine Habits for Overcoming Distraction, Living Better,
 Parenting in the Age of Attention Snatchers: A Step-by-Step Guide
 Apps All Parents Should Know


Want some techie homeschooling tips and inspiration delivered to your inbox? Sign up here for weekly-ish emails from me.
Techie Homeschool Mom is a participant in the Amazon Services LLC Associates Program, an affiliate advertising program designed to provide a means for sites to earn advertising fees by advertising and linking to Amazon.com. You can read my full affiliate disclosure HERE.