Hey, just so you know ... This post includes affiliate links. That means if you use them to make a purchase, I may earn a commission. You can read my full affiliate disclosure HERE
Welcome to the #TechieHomeschool IRL blog series. In this post, my guest Kim shares the role technology plays as she homeschools high school-aged sons.
Kim is a homeschooling mom to three teenage boys, a 16-year-old and 15-year-old twins. She blogs about homeschool and health at 3in15makes5.

When I first talked to my husband about writing this article, he said, "We don't use that much technology in our homeschool." Then I started rattling off everything we are using. We were both surprised at how much we actually use technology in our high school. We have three teenage boys in 9th and 10th. I think it is especially important to use technology to homeschool high school because it trains them to become more independent with studies.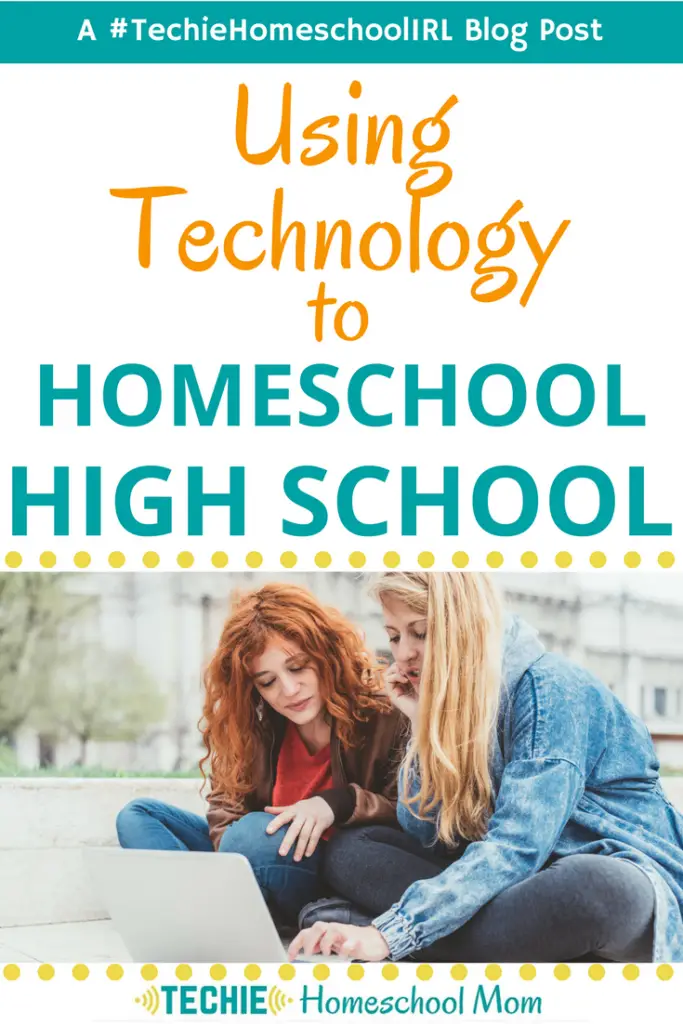 How Technology Has Changed
Technology has come a long way. A typical high school senior was born around 2000. He has seen a lot of new technology in his lifetime. Technologies that have been introduced since 2000:
Apple iPod – 2001 (although now obsolete)
Bluetooth wireless headsets – 2002
Facebook – 2004
YouTube – 2005
Apple iPhone – 2007
Mobile apps – 2007
Hulu & Netflix – 2007
Apple iPod touch – 2007
e-Readers (Sony was first in 2004) including the Kindle (2007)
Apple iPad – 2010
Chromebook – 2011
Apple Watch – 2014
The boys' first exposure to technology (besides TV) was when we got our first iPad. They were able to play a few games on it, including Angry Birds. I tried to include a few apps that were "educational," like Stack the States, Stack the Countries, Mad Math, Peterson Bird Field Guide, StarMap 3D, and NASA TV.
When the boys were younger, I was leery of using too much technology. I didn't want them to be overwhelmed, nor did I want them to become obsessed. There are so many teens glued to their phones. We didn't want that happening to our boys. They were limited to no more than 30 minutes a day, and they had to ask permission before using the iPad.
How We Use Technology to Homeschool High School
We now own a few computers, iPads, and iPhones (non-activated that work on wi-fi only). Each boy also has a Kindle e-Reader. Since they are older, we have slowly integrated technology into our day-to-day routine. This includes online classes, research, reading, writing, foreign languages, and video editing.
Online Classes
Online classes are becoming more common. And there are some great ones out there, free and paid. The sites we are currently using include:
Online Unit Studies – We have a couple of courses from Techie Homeschool Mom. We just finished the Solar System Online Unit Study. The boys have always had a fascination with stars, so this was a great course to take. I like having so many resources at the click of a button. There's no need for me to research.
SchoolhouseTeachers.com – We have been members of this site for many years. They have so many classes to choose from, and they are continuing to add classes. Core subjects, as well as plenty of electives, are included. This year we are working on the Foundations for Teens Bible course. It contains many different videos with accompanying worksheets.
Foundations in Personal Finance – This is a course by Dave Ramsey teaching teens all the different aspects that are involved in finance. Topics include credit cards, loans, debt, saving, budgeting, and more. We are about halfway through the program. I think the boys have learned a lot. I'm noticing they are considering a little more before they decide if they want to buy something or not.
Drive Through History Adventures – a yearly subscription site that offers three different courses, Bible (The Gospels), American, and Ancient Histories. We have completed the Bible History class, which we really liked. We can't wait for their Acts to Revelation class to come out. The boys will be completing the American and Ancient Histories lessons throughout this year. I also liked that there was an app for the iPad for this course. (You can also access Drive Through History Adventures with your Schoolhouse Teachers membership)
Research
Gone are the days of a trip to the library and searching the card catalog to find a book. Nowadays all of the information and more is just a click away. Google has become the go-to for finding information. Want to know how far the earth is from the sun? Just google it. Yes, Google has now become a verb.
When I was in school, I remember having to look up things in an encyclopedia. Now there is Wikipedia, an online encyclopedia with information on just about everything. Since it is free and editable, you do have to be careful with the content. It's possible that there may be incorrect information.
The boys use the Internet to research any topic. This gives them many different references to cite for their reports. All from the comfort of our home. Sometimes I miss the old way of performing research, but the Internet makes it so easy.
Reading
Another change over the last few years is that we are using more eBooks in our curriculum. A few of our favorite sites for finding free ebooks include:
archive.org (which includes books, music, movies, and more) -these are usually older items that are in the public domain
ereaderiq.com/freebies/ – the most popular freebie books on Amazon from the previous 24 hours (this can be hit and miss to find educational books, but they are there)
gutenberg.org – another site with books that are in the public domain
bookbub.com – you can sign up for a daily digest which gives current specials on Amazon, Barnes & Noble, Apple, Google, and Kobo
Writing
A few years ago, I had the boys take a typing class. It was time for them to learn more than just to hunt and peck. Since then, they have been using Google Docs to write assignments. The oldest has also decided to take some of his old free-writing journals and type them up to possibly sell as an ebook.
Foreign Languages
For the past two years, the boys have been using Rosetta Stone to learn Spanish. We tried it when they were younger, but they weren't ready for it. Now they are really enjoying it. We have all five levels and load one level on the computer at a time.
We have also used Memoria Press for Latin. I think it is important for the boys to learn Latin so that they will have a better understanding of our language and the roots of words. The Latin class includes a DVD (which we watch on the computer attached to the tv with a cable) as well as a pronunciation guide CD (which we downloaded onto an iPad).
My sister has used Homeschool Spanish Academy, an online program, for her two boys. There are also other online options for different foreign languages.
Math and Science Study Aid
We still like using books for our Math and Science classes. However, we do use Khan Academy as a study aid. Khan Academy offers many free online classes, lessons, and practice. This is a great resource, especially in high school, to help students that might be struggling with specific subjects. My twins are working on the Geometry and Biology sections, while my oldest is working through Algebra 2 and Chemistry.
Video Editing
The boys have started a YouTube channel. Now they are busy taking videos with an old iPhone. Then they are using video editing software to make a cohesive video. They have learned all of this on their own.
Technology is all around us. It is becoming necessary for everyone to know how to utilize it. Gone are the days of simply reading a book or mindlessly watching a show on tv. Now we are bombarded with smartphones, tablets, computers, etc. And as long as we teach our children how to use it and not abuse it, I think it will continue to be very beneficial. Especially for us in the next few years if the boys decide to take online college classes.
Tell me – how do you use technology as your homeschool high school?
Must-Have Tech for Homeschooling
2017 Acer Chromebook 11.6

Apple iPad 2 16GB

Roku Streaming Stick

DOSS Touch Wireless Bluetooth Portable Speaker

Skullcandy In-Ear Noise-Isolating Earbuds


Want some techie homeschooling tips and inspiration delivered to your inbox? Sign up here for weekly-ish emails from me.
Techie Homeschool Mom is a participant in the Amazon Services LLC Associates Program, an affiliate advertising program designed to provide a means for sites to earn advertising fees by advertising and linking to Amazon.com. You can read my full affiliate disclosure HERE.