True confession time….When I was a young, idealistic homeschooling mom with three kids, I dissed traditional school. However, one day, my mom offered this advice. "You shouldn't badmouth school in front of the girls because someday one of them may need to go to school."
My initial reaction? "My kids go to school? NEVER".  What did my mom know? She had never homeschooled…she didn't understand the "evils" of traditional school…these are my girls (not hers) that she's talking about.
But, my mom's words resonated.  And the advice sunk in. And I realized I shouldn't speak badly about institutional education in front of my kids.  Really, I shouldn't bad-mouth ANYTHING, period, because it leads to a spirit of judgement and condemnation. So, I stopped speaking negatively about traditional school.
Now, fast forward about 10 years.  I had become a wiser, more seasoned homeschooling mom. Mike and I were solid in our mission for homeschooling.  
To guide our girls to love God and others well and much
To nurture a love for learning and pursuit of purpose
To teach our girls HOW to learn and equip them with the tools needed for self-education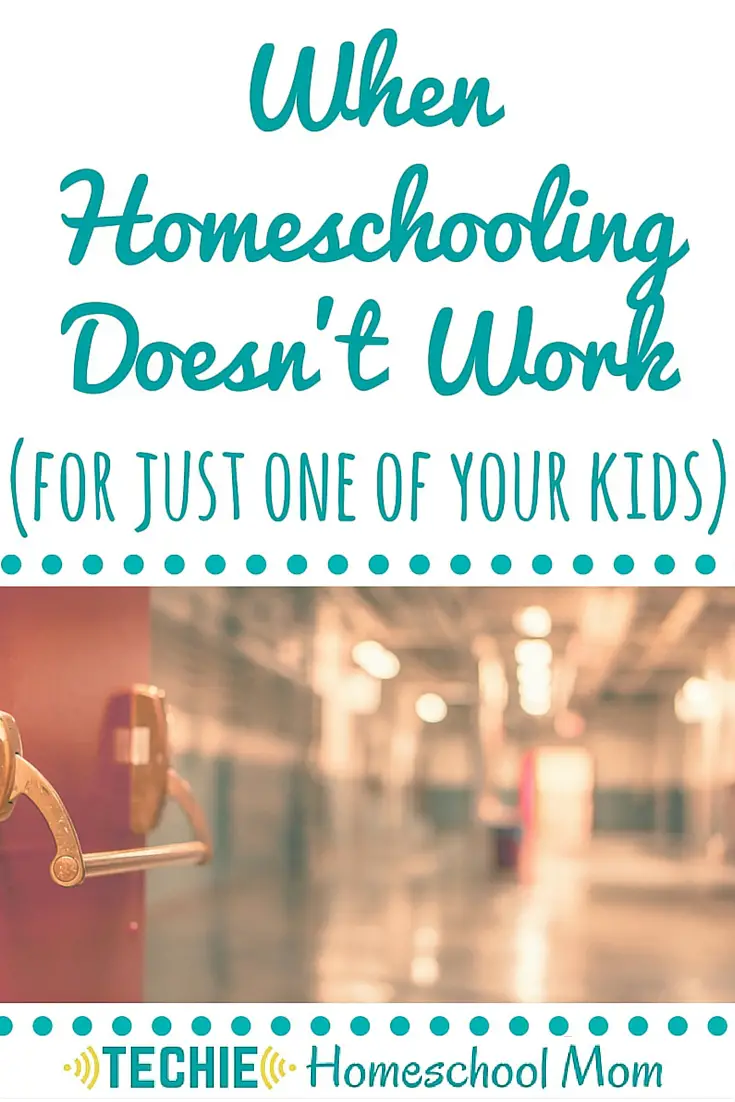 We were educating five children, ranging from 6-16. I was no longer working and could focus more attention to our homeschooling. We were even enrolling our 16-year-old daughter in college (Sounds impressive, right. Not really. We won't pay for her college education, and she can get a 2-year degree plus her high school diploma for free through a state program).
All seemed good, except for one big problem. You see, every day it was becoming more apparent that one of my children was not benefiting from home education. (Gasp!). We weren't reaching our goals for homeschooling. Learning at home was not "the best" for Karissa. And it was a hard pill to swallow.
You may be wondering "Why? How could this happen to such a strong steadfast-in-her-conviction homeschool mom?" Well, my friend, I am going to leave you wondering on that one. Maybe I'll share more details when my daughter is ready for me to. But let me share this… due to Karissa's and MY designs (our temperaments, personalities, etc), we weren't loving each other as best we could during learning times. I was unable to nurture her love of learning and she wasn't learning HOW to learn.
Making the Big Decision
I asked God for a big dose of wisdom and started to explore other options for her education. Clear discernment from God was crucial in this decision.
I didn't feel public school was a option because I still wanted some control over what my daughter learned. Luckily, since I live on an island with only three private schools, I didn't need to explore too far. I started my research by checking out the schools' websites. and had a Goldilocks experience.  "This one is too liberal"…."This one is too rigid"…."This one is just right!"
The big deciding factor was that the "just right" school stated right on their website that they have flexible programs for homeschoolers. I knew I wanted to partner with a school that understood and appreciated what we were (and had been) doing at home. I also admired that the school encouraged self-paced learning, with the teacher as more of a guide than an instructor.
I visited the school twice, once with Karissa, before enrolling her for 3 hours in the morning four days a week. While at school, she does math, writing and reading. Then, when she gets home she joins us for family learning time.
Her school is a bit more "schoolish" than my preferred methods of education , but, duh!, it is a school so what did I expect. And, admittedly, the structure and routine is just what my daughter needed. In fact, when her aunt asked her, "What do you like best about school?", Karissa's reply was "The routine."
How It Has Turned Out
I have been amazed by Karissa's growth, not just in intellect, but also character.  She is receiving (note the word "receiving" as in accepting someone's guidance) the math and writing instruction she needs for this stage of her development. She is learning that, in the "real-world", she needs to respond appropriately when she is instructed and corrected. She has a healthy outlet for her strong leadership skills now that she has 14 classmates to lead. And I believe her love of learning has been sparked because she is more motivated for self-education at home.
More importantly, my relationship with Karissa is being restored. Our negative interactions have decreased. I no longer spend my mornings trying to avoid a blow-up (either hers or mine), but am able to focus on guiding my other girls. Karissa and I have precious one-on-one time in the car on the way home from school. We all genuinely miss her when she is gone, and she feels loved when she comes home.
All this to say…
If your homeschooling style and rhythm don't work for one of your children, and you are considering enrolling him/her in school, be encouraged. God has a plan and purpose for your children. Consider Proverbs 16:9…"We can make our plans, but the LORD determines our steps." (NLT). Back in the day, Mike and I made our plans for our girls' education and we were gung-ho homeschoolers. But, God's direction is best.
Remember our three motivations for homeschooling?  To teach our girls how to love well, To instill a love of learning.  And to show them HOW to learn.  Well, God has been faithful to reveal how those goals are being met for Karissa through steps other than homeschooling.  
Are you struggling with homeschooling one of your children and wondering if enrolling them in school is a good choice? Leave me a comment. I would love to personally encourage and pray for you.
Helpful Parenting Books
Parenting is Heart Work
The Explosive Child: A New Approach for Understanding and Parenting Easily Frustrated, Chronically Inflexible Children
Boundaries with Kids: When to Say Yes, When to Say No, to Help Your Children Gain Control of Their Lives
Say Goodbye to Whining, Complaining, and Bad Attitudes… in You and Your Kids
Good and Angry: Exchanging Frustration for Character in You and Your Kids!
Related Posts

Want some techie homeschooling tips and inspiration delivered to your inbox? Sign up here for weekly-ish emails from me.
Techie Homeschool Mom is a participant in the Amazon Services LLC Associates Program, an affiliate advertising program designed to provide a means for sites to earn advertising fees by advertising and linking to Amazon.com. You can read my full affiliate disclosure HERE.