Hey, just so you know ... This post includes affiliate links. That means if you use them to make a purchase, I may earn a commission. You can read my full affiliate disclosure HERE
** This is a sponsored post. I received this product or compensation for review purposes only and was compensated for my time. I was neither asked nor required to share a positive review; all opinions are my own. READ HERE for more information.
Every techie homeschool needs an online homeschool planner. I had read so many good things about Homeschool Planet that I jumped at a chance to write a formal review.
I love the flexibility of homeschooling and typically take a DIY approach to our home education. I create my own unit studies, switch up our 3R resources pretty often and have been known to call off our designated "learning time" to go explore outside or stream educational shows all day. [RELATED POST: How We Homeschool: Our Daily Routine] 
But I've grown into this. As a mom of 5, the Type-A part of me has needed to learn to keep my options open so I could adjust to changes in the plan. Otherwise, I'd be a constant stress case because, as every homeschool momma knows, changes happen!
That's why I work more on establishing routines than schedules for my family. My innate "get-'er-done" tendencies creep up when there's a schedule. And I forget that life is about the journey, not the end. And I push everyone too hard to stick with the plan. And nobody is happy. Establishing routines (vs. schedules) is a nice middle ground for me.
All this to say, when I first looked at Homeschool Planet, I thought it seemed way too rigid for my family. Really, inside the driven, goal-oriented me was geekily excited seeing all those detailed lesson plans laid out day-by-day (with checkboxes to boot).
But my reformed "I-will-be-flexible" self panicked. What if life happens and I don't stick with the plan? What if we get behind and all those undone lessons are staring me in the face?
So, when I was given the opportunity to try out Homeschool Planet for free, I had a chance to see if the planner is as rigid as I thought.
Guess what…..it's not!
Setting Up a Homeschool Lesson Planner for Flexibility
First off, you can set up Homeschool Planet to only assign lessons for days you want. You can designate start and end dates for your school year, plus tell the program which days of the week to share assignments. Plus, you can override those settings for each particular subject.
Secondly, (this is where I felt tons of relief), Homeschool Planet has this nifty button where you can reassign missed work to another day and push everything else back. And, if you've got a  super industrious learner, they can work ahead and Homeschool Planet will move other lessons forward. All with a click. Pretty cool!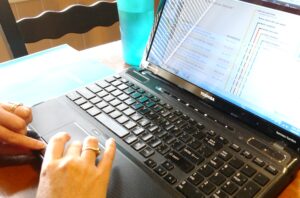 Overview of Homeschool Planet
The reschedule capability isn't the only impressive thing about Homeschool Planet.
You can add visible notes for your student, and/or hidden ones for yourself. With the addition of either a cell phone or an email address, you can choose to send a digest that outlines the daily or weekly schedule and notes to your student's cell phone or email. No more "I didn't know!" or "I forgot!" excuses! Parents can choose to receive a digest as well, which includes a summary of all students' assignments. Working with the grading feature allows you to easily keep track of student progress, and makes pulling a transcript together easy-peasey.

A recent addition to the program – the Lesson Plan Marketplace – is a true gift to homeschool moms. Daily lesson plans for specific curricula can be added to your schedule, again with a simple click. You can find the list of them on their website, and they are working to add even more in the future.
The use of helpful widgets adds a host of additional features, too. These small windows allow you to add "to-do" lists, "shopping lists", and complete research within Homeschool Planet for looking up recipes, school-related info, products, information or daily encouragement quotes, and more.
Thankfully, if push comes to shove and you're stumped on managing all these features, or any others, they have an extensive-but-not-overwhelming bank of tutorials to get you back on track.
Is This Homeschool Planner a Good Choice for You?
There are a few reasons I won't be switching to Homeschool Planet from my current method of planning. I already have a tool called Trello set up to share assignments with my girls. And, being the geek I am, I like to customize universal planners and productivity apps to fit our way of doing things.
However, I highly recommend Homeschool Planet for you if you…..
Want a "done-for-you" homeschooling planning solution

Need to report detailed lesson plans to your local authorities

Like to microplan

Understand the value/price of a well-designed planning tool

Will use the preloaded lesson plans

Are disciplined about following up and adjusting as needed
But don't take my word for it. Try it out for yourself with a 30-day free trial.

Want some techie homeschooling tips and inspiration delivered to your inbox? Sign up here for weekly-ish emails from me.
Techie Homeschool Mom is a participant in the Amazon Services LLC Associates Program, an affiliate advertising program designed to provide a means for sites to earn advertising fees by advertising and linking to Amazon.com. You can read my full affiliate disclosure HERE.