Citing Sources: How to Teach Your Kids This Valuable Skill
Hey, just so you know ... This post includes affiliate links. That means if you use them to make a purchase, I may earn a commission. You can read my full affiliate disclosure HERE.
Do you remember learning about citing sources in your writing classes growing up?  And are you now teaching your kids this skill in your homeschool (or you will be in the future)?
I'm sharing a post today from Judy Nelson, who is an author, writer and editor who has won many awards and recognitions in the academic writing field. She is offering some great tips on how to teach citing sources in our homeschools.

A child studying from home might have more flexible lessons, do assignments faster and understand lessons better due to tailored attention. Writing lessons will help your child learn grammar and research skills from an early age.  
You want to make sure your child learns what to do when they use sources from other authors in their writing. This can begin as early as grade one, starting with the basics and advancing as they advance to the next grades. There are several ways you can help your child learn about citing sources.
Let them have an idea of what citing is all about
The early graders might not deeply comprehend what citing is all about but if you give them an idea from an early age, they will keep developing knowledge until they grab the whole concept and the styles involved. Your child needs to learn about citing sources because after they grow up, they will remember to give credit to other authors and they will have an easy time writing essays in college. 
Your child may read a storybook and they desire to use the story in their language lessons. Ask the child to note the book they got the story from, even if it's just the title of the book. As they advance, you may ask them to note the book and the page. 
By the time they get to the third grade, they should be able to note the book, author, year published, and page. From grade four, the child will have learned to cite different sources correctly and you might start preparing teaching kids citing using advanced citation strategies, using citation tools and formats.  
Let your child practice citing
From learning the alphabet, numbers, colors, and sounds, every child needs to practice until they understand. This same principle will work if you help your child to practice citing. 
You may begin by asking them orally after reading a book something like what is the book called? Or who wrote the book? Which page did we read? and so on. Later on, begin to ask them to write and explain to them why it is important they write the title of the book or author, page, and so on. 
As students develop writing skills at various levels of education, they should also develop citation skills and learn to cite in any format they may be asked to use. The student may start with the basics and keep advancing until they perfect their writing and citation skills. There is also online help available for students who want to make citation work simpler. One good example is the PDF citation generator MLA style from EduBirdie and it's perfect for all your academic work. Apart from the citation generator, you can also use experts help from this site to write all your writing assignments. 
Teach them the value of citing
Information can come from any type of source like magazines, videos, books, online, and so on. Whether your child is a first or fifth grader, there is a reason why they will choose to use a photo they saw in a book, words they heard from a politician or something they read from a book for their written work. 
They may get high marks because of that, but the truth remains they didn't originate the idea. This is where the value of citing comes in and your child should learn that using someone else's information as their own is wrong. 
Instead, they should be sincere and indicate the information was not directly from them but someone else. They will be happy in the future when they see other people citing their original work and this is a virtue your child must learn the earliest.  
Do not introduce citation styles until your child has learned the basics
It can be exciting to teach your child the various citations styles and how to use them, but you might be giving them too much information before time. It will be like introducing algebra to a child who hasn't learned counting 1-10. 
You will eventually introduce this topic about citation styles to them, but keep testing them until you are certain your child is ready for the topic. Concentrate on all the basics and keep advancing because you will be redeeming your precious time and energy when you introduce any topic at the right time.  
Research helps write original work
As your child advances, introduce to them the importance of carrying out research work. Let them know it is the foundation of perfect writing and also the best to understand that the authors spent many days researching before publishing the work. If this kind of mentality grows deep in them, they will always give value to citing.  
Conclusion 
Your child will not learn every detail about citing sources in a single year, but you can take them through the process bit by bit. Instead, introduce the topic at 1st grade and start with the basics, and then keep advancing in each grade. Let them not just learn about citing, but teach them why they need to cite, when, and the citation tools available online.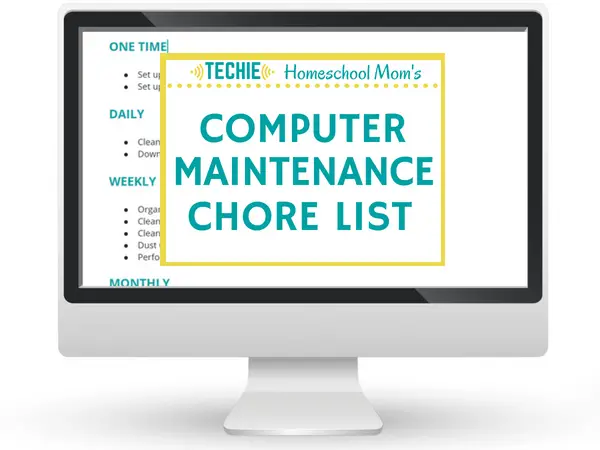 Want to keep your computers running hassle-free?
Download a list of 20+ routine tasks that will keep your computers working great.
Sign up to receive Techie Homeschool Mom's Computer Maintenance Chore List
Related Posts

Want some techie homeschooling tips and inspiration delivered to your inbox? Sign up here for weekly-ish emails from me.
Techie Homeschool Mom is a participant in the Amazon Services LLC Associates Program, an affiliate advertising program designed to provide a means for sites to earn advertising fees by advertising and linking to Amazon.com. You can read my full affiliate disclosure HERE.