Hey, just so you know ... This post includes affiliate links. That means if you use them to make a purchase, I may earn a commission. You can read my full affiliate disclosure HERE.
So, you've got a Kindle (or are considering getting one), but don't know what all you can do with it for homeschooling beyond reading. When Kindles first came on the scene, they were primarily just a digital reader. But now, with the Kindle Fire line, you can do so much more. Learning the many ways to use Kindle for homeschooling will benefit your family's home education.
Incorporating Kindles into your homeschooling routine has many benefits, starting with ease of use. They are one of the most economical tablet options out there, especially when Amazon offers a deal. Kindles are pretty durable when you use a protective case. You can set parental controls to limit the access to online content and set time limits. It doesn't have all the capabilities of an iPad or high-end Android tablet, but it's a great starter tablet for your child.
What Type of Kindle to Buy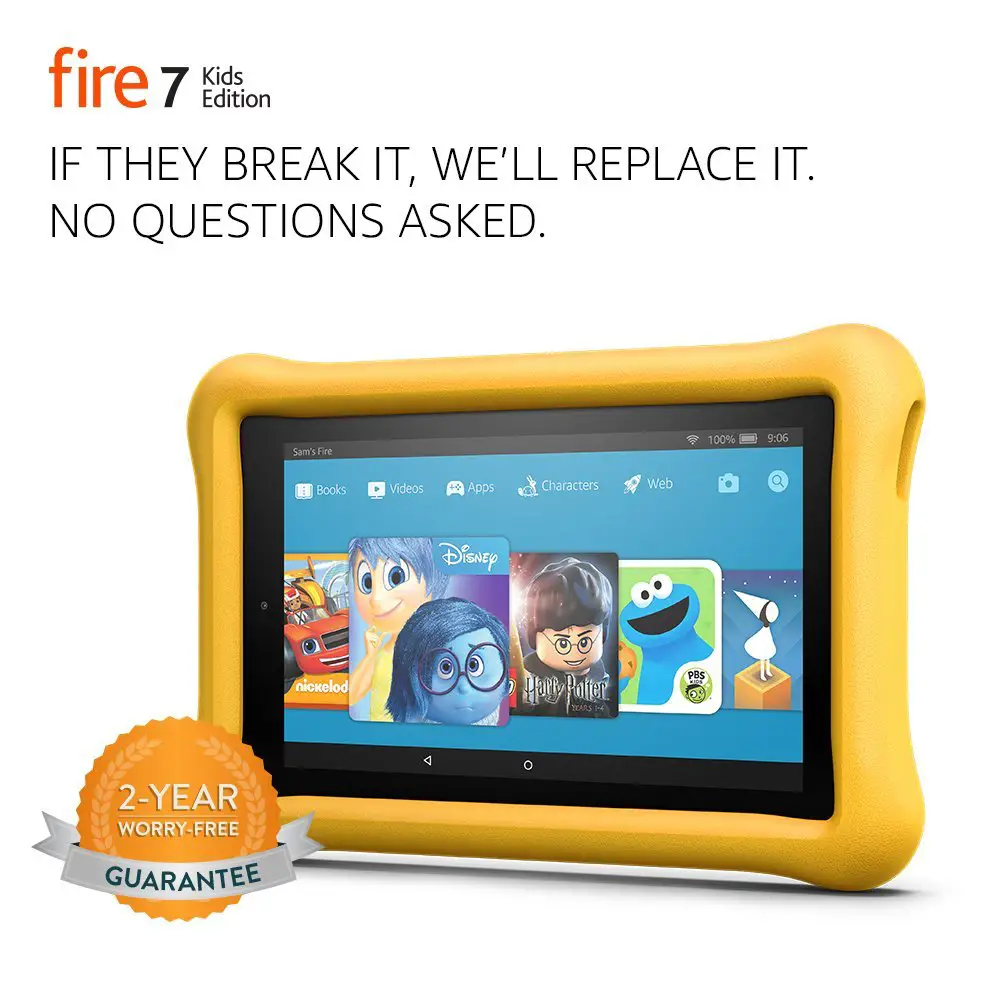 The Kindle Fire is your best choice amongst the Kindle line. While other Kindles are premium eReaders, the Fire is more functional and will fit your homeschooling needs better. The tablet which comes with a reliable Wi-Fi, better audio, a bigger battery that can last for over 7 hours, a better storage space, a personalized play store works well as a color ebook reader perfect for you and your kids.

The Kindle Fire has a bright screen, loudspeakers, a large micro SD storage and adequate parental control to help you check what your kids watch on the internet. It also offers Amazon Prime members free access to a lot of videos, music and other web content with their subscription. Try Amazon Prime 30-Day Free Trial
Kindle Fire comes in four different colors which are black, yellow, blue and red and measures 0.4 by 5.0 by 8.4 inches and 13 ounces just the size of a paperback. It also has a plastic shell protection that can withstand average drops, an important feature when being used by kids. However, if you kids are using in predominantly, I recommend the Fire Kids Edition with protective case.
5 Reasons a Kindle Fire is Best for Home Education
There are a lot of benefits attached to making use of the Kindle Fire over other types of Kindle, and they include the following.
It is an excellent video viewing device – Although the Kindle Fire has a smaller screen size, it remains a superb video viewing device.  It is also linked directly to Amazon's Instant Video store, where you can either buy or rent videos. Amazon Instant Video Store has a wild selection of old and recent movies, videos and TV show that you can choose from. You can either choose to stream live directly or download and view later.
Large Storage Space – Amazon Kindle Fire comes in 16 and 32GB models which have 12.24GB free and a micro SD memory card slot. You can choose to store your contents and apps downloaded from its personalized store on the memory card.
Dual speaker – The Kindle Fire also has dual speakers that are big and produces the right stereo sound in landscape mode. It gives a better-defined audio sound that you can not get from similar tablets.
Good digital book reader – The Kindle Fire is the best digital book reader you can have. It is much better for reading digital books and magazines even more than the IPAD; this perhaps is due to its size. You can choose to hold it with one hand and just flip through the pages using your thumb.
A fast browser – Kindle Fire has a Fire Silk browser that is very fast and functional. Its online store is also organized and more accessible to browse through than the official Android Market.
Ways to use Kindles for Homeschooling
Ebooks
Kindles give you easy access to hundreds of books anywhere, anytime. Having access to a wide variety of reading material encourages reading because it's easier to find something your child is interested in. You don't need to just rely on Amazon's Kindle Store for finding ebooks. You can find books through your library or use Epic's app to access their kid-friendly ebook selection. Also, you can use the Send to Kindle extensions to save any .pdf file to our Kindle library.
Audiobooks
Audiobooks help to improve listening skills. Listening to someone else read as they follow along helps kids learn new words and they learn how to focus better as they listen to the storyteller.
Online Homeschool Materials
Having online access makes it easy to turn your Kindle into a learning tool that can help your child learn and grow academically. You can use your Kindle's default browser or install another to use all your online homeschool resources.
Educational Apps
Apps help make learning easier and more fun for kids and there are many options available. You can find educational apps in the Kindle App store. But, you aren't limited to just those. Any Android app can be installed using the instructions HERE.
Scheduling
Install the digital tool you use to keep your family's calendar and schedule, and your kids can access it from the Kindle. You can also install the app you use to share student assignments, even if there isn't a Kindle version. CLICK HERE to learn how to install any Android app on your Kindle Fire.
Tips About Using Kindles from Techie Homeschool Moms
We've chatted about Kindle usage in Techin' Your Homeschool, a Facebook community of homeschool families. Here are some great tips from the group.
"Search for free books on Amazon. I have a huge library on mine that I've paid little to nothing for. Look for some kindle Facebook pages or groups, and they'll alert you to free deals, too. You'll find good textbooks on Kindle, too, periodically. The hunt is fun!" – Kerri
"I use it for educational games like Stack the States, books, and reading PDFs to name a few things. If you follow Read Aloud Revival you'll often get good audiobook deals." – Linda
"Check to see if your library supports Overdrive Media – tons of books and audiobooks to borrow. You can also add the Library Extension to your Google Chrome browser on a PC, then configure it for your library and it will tell you if the book that you're looking at on Amazon is available at your library". – Kelly
"We use our kindle fires for games, streaming music, streaming videos, and educational websites like Always Ice Cream & Clever Dragons. We love the portability– my kiddos can take their Kindle to the dining room and watch a documentary on Discovery Education or an art class on Craftsy." – Jen
"As I have some early/struggling readers, I love to use the Kindle app with Whispersync for audiobooks, as it highlights the words as it reads aloud (Audible recordings, so great quality)." – Gwendolyn
How about you? How do you use your Kindle for homeschooling?
12 Kindle Education Apps for Homeschooling
BrainPOP Featured Movie
Duolingo: Learn Languages Free
Dictionary
Stack the States
Odd Squad: Blob Chase
Mobile Observatory
Math Blaster HyperBlast 2 HD Free
World of Goo
Zoombinis
SCRABBLE
DragonBox Elements
Stack the Countries
Thinkrolls 2 – Logic and Physics Puzzles for Kids
Geography Drive USA
Reading Trainer
Related Posts

Want some techie homeschooling tips and inspiration delivered to your inbox? Sign up here for weekly-ish emails from me.
Techie Homeschool Mom is a participant in the Amazon Services LLC Associates Program, an affiliate advertising program designed to provide a means for sites to earn advertising fees by advertising and linking to Amazon.com. You can read my full affiliate disclosure HERE.