Hey, just so you know ... This post includes affiliate links. That means if you use them to make a purchase, I may earn a commission. You can read my full affiliate disclosure HERE
Welcome to the #TechieHomeschool IRL (In Real Life) blog series. In this post, my guest Jill shares how to use iPads to encourage digital learning in your real-life homeschool.
Jill Camacho blogs at Autism Homeschool Mama. She is a Christian, veteran, mom to two boys, and creator of social skills & homeschooling resources. You can check out all her homeschool products HERE.

How to Use an iPad
to Make Learning Fun
Have you been thinking there has got to be a better way to use iPads in your homeschooling? Well then, I've got great information for you on how to use an iPad to rock your homeschool world! One of the major benefits of homeschooling for our family and many others is the fact that our schedules are so flexible and location independent. You can travel anywhere at almost any time. It can be hard though lugging curriculum around.
With a few easy hacks and apps, you'll better understand how to use an iPad for homeschooling. Read on, and you're all set for the flexibility you've dreamed of, using your iPad!
… RELATED POST …

How to Use Your Kindle for Homeschooling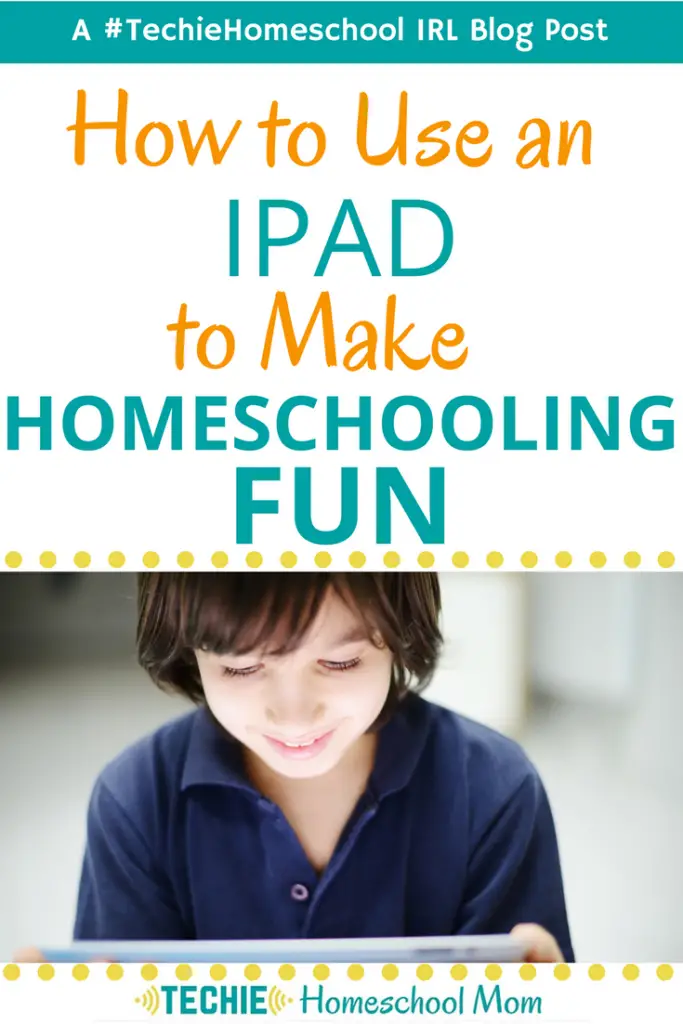 Why you should consider using an iPad for education
First, the flexibility that an iPad provides educationally is tops. You can use an iPad anywhere and if you don't like an app, simply delete it. Not to mention Beth's unit studies work on them too!
Secondly, this can keep things more fun for kids. Notebooking may be more enjoyable an iPad for a lot of kids, for example. They associate it with something they consider fun.
Lastly, of course, we are living in a digital world. We need to prepare them for their futures as such. Yes, they probably already know how to operate an iPad in general… but with the apps I share below, they'll actually be learning skills they'll need in adulthood. Using an iPad for education is a no-brainer!
Three key iPad features for Homeschoolers
I've discovered three key iPad features to help you homeschool with iPads more easily and safely.
The first is Guided Access. Guided access has been the biggest lifesaver in my iPad life! It allows your kids to use the iPad while keeping them where they belong. They can't go in or out of apps, they can't answer emails or leave crazy messages on social media. Nor can they delete important files or photos.
In addition to Guided Access keeping them exactly where they should be and out of exactly where they shouldn't be, it also has a helpful timer feature. I've created a tutorial to show you how to turn on and use these features. Just check out the YouTube video below:
An additional feature you may want to know about with the iPad is the restrictions settings option. I provided an overview in the video above if you'd like to learn more. It may be something you're already aware of; but in case you're not, you can block access to almost anything. You can prevent any in-app purchases from being made, turn off the Internet, and set content restrictions based on age and maturity.
Another reason for using iPads for education is that they are easily rechargeable and portable. Being small in size, they travel well in the car and are really easily chargeable. You've got the built-in car chargers, of course, but you can also use something like a power bank if you are on the go outside the car. Another option? Simply save your work and switch to a different iPad or iPhone that's already charged!
Recommended iPad apps for education
Duolingo & Tiny Cards
If you're wondering how to use an iPad to help learn a foreign language, I've got two top picks: Duolingo and Tiny Cards. They're free and super easy to start up. They feature fun illustrations and can take you all the way to being fluent.
Apps with an honorable mention include Endless Spanish and Google Translate. Endless Spanish is beyond adorable, offers an immersion option, but only goes so far and requires in-app purchases to really get a whole lot out of it.
Google Translate is great for when you're stumped on translating something. I live that you can even translate written words with your camera! If it's in your budget to purchase endless Spanish, I recommend using a combination of all four.
Scratch, Scratch Junior, and Puffin Browser
Scratch is an app available from MIT. It's essentially a beginner version of their online visual coding program, Scratch. It's good for those just starting out with coding, or very young kids getting their feet wet.
One thing about using Scratch with older kids, however, is that it uses flash player. This means that you can't use Safari for Scratch on the iPad. There's no Scratch app in the App Store either. Similar companies who also use visual coding language have apps in the app store, but in my opinion, they have hefty subscription fees. Scratch is free and fairly easy to use, you just need a device that allows flash.
This is where Puffin comes in. Puffin is an alternative mobile web browser that allows flash player.
To learn how to use Scratch on your iPad or iPhone, check out this YouTube video:
Google Slides
If you do any kind of notebooking, or you've been thinking about it, this is a great app to check out. Google Slides is free and it's not too hard to learn either. This will save you a ton of paper (great for the environment) and keep your house a whole heck of a lot less cluttered. For those who hate to write with pen and paper, digital notebooking is a nice break. Finally, it's also a really great skill that will serve them well into adulthood!
Audible
Audible is a personal favorite of mine. I listen to a ton of books and it's great for your children as well. The best thing about Audible is that you can purchase different subscription levels. You end up purchasing your audiobooks for a substantial amount below retail. Don't like a book? You can return it!
Epic!
Epic!, an online library of ebooks and videos for kids, is a favorite for both my children and myself. It's really great for struggling readers and avid readers alike! We think they have such a good range and variety of books on this app. There are read to me books, read-along books, picture books, chapter books, informational books (think National Geographic, and classics. It provides a weekly reading log for your records, it's completely safe and free of ads.
Tiny PDF
The last app I'm sharing with you is called Tiny PDF. This app allows you to open PDFs to perform what is called a "markup." If you usually use a lot of worksheets and want to go paperless, this is a winner. Or perhaps you just enjoy traveling lightly? It may be difficult for some kids so you'll have to try it out and see. However, some kids will find it much easier. Open PDFs within the app, use a stylus to write in answers and save the final edits.
Now you know how to use an iPad like a pro homeschooler!
Tell me – What's been your experience with using iPads for home education? What apps do you use? Which of the recommended apps are you going to try?
Related Posts

Want some techie homeschooling tips and inspiration delivered to your inbox? Sign up here for weekly-ish emails from me.
Techie Homeschool Mom is a participant in the Amazon Services LLC Associates Program, an affiliate advertising program designed to provide a means for sites to earn advertising fees by advertising and linking to Amazon.com. You can read my full affiliate disclosure HERE.