Thanks to my guest, Jenivieve, for sharing how her family uses techie homeschool resources to educate a child with sensory issues, specifically sensory integration disorder (SID). Jenivieve is a homeschooling, work from home mom, of three beautiful children. Her mission is to document her creative parenting techniques and homeschooling skills to inspire others to take the plunge. Part of her mission is the help dispell the general myths and stigmas that are held about homeschooling. For more, visit her website Homeschool Educational Resources.
Hey, just so you know ... This post includes affiliate links. That means if you use them to make a purchase, I may earn a commission. You can read my full affiliate disclosure HERE


Educating any child is a challenge–that is, educating them adequately. Any warm body can provide handouts, coloring activities, or even decent books. But to truly engage a child on a level that is meaningful and impactful is the lightning in a bottle that we strive for.
Today's children come with a host of additional hurdles to jump. Many have Sensory Processing Disorders or have been diagnosed with Spectrum Autism Disorder. They literally take in the world differently, and no two children with sensory issues are alike. Teachers in brick and mortar classrooms are required to have a working knowledge of which disorder a child presents with. This understanding doesn't only extend to ESE teachers, but to general education teachers as well because many of the children who fit into those categories are mainstreamed.
My husband and I are two former teachers who decided to homeschool before we had children, while we were still teaching. We now work from home and have been homeschooling for five years. Both of our boys have sensory issues, but are complete opposites of each other. It has been a blessing to work one-on-one with our children to learn and grow with them. We're able to cater to their needs and meet their educational requirements in unique ways that likely would not be available in any brick and mortar school.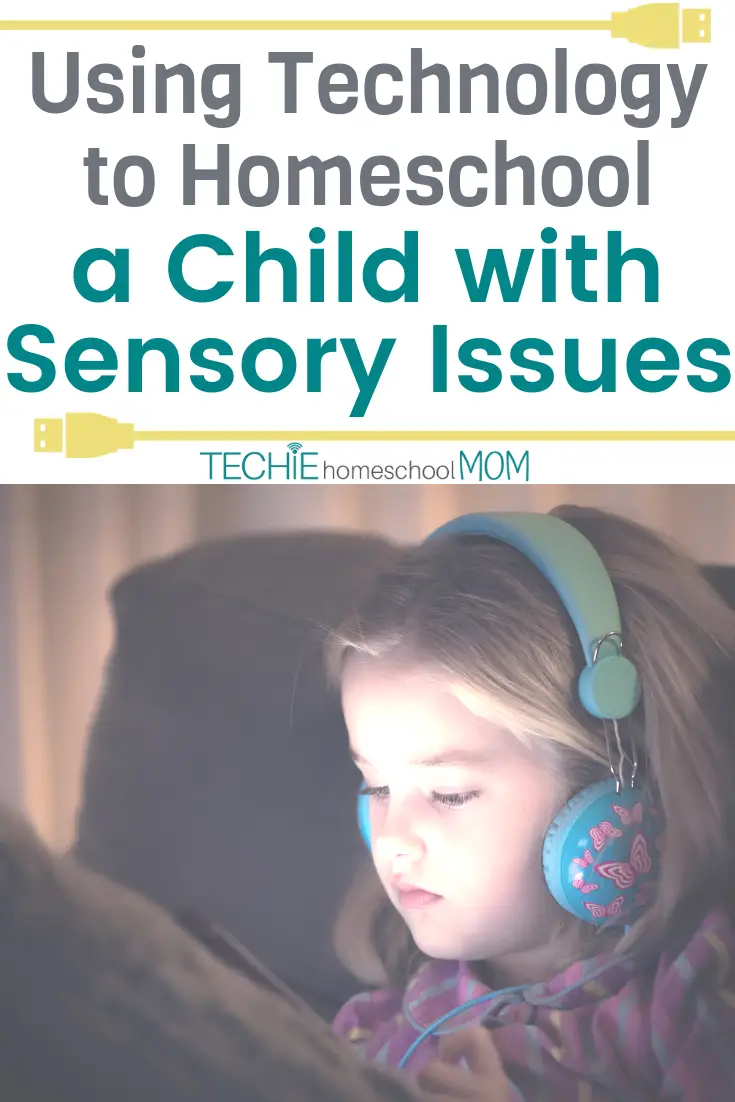 The Homeschool Advantage for Kids with a Sensory Disorder
There are some obvious advantages that homeschooling parents have when educating their own child who may have Sensory Integration Disorder:
You understand your child better than anyone, including how their sensory issues affect their learning
You've spent plenty of time with your child and know their cues
You can space out the curriculum to prevent meltdowns or overstimulation
Your homeschool workspace is quieter and more isolated than a busy classroom
You can take breaks at any time and rethink your approach should your student begin to struggle
With all of those extra advantages, it should be easy, right?
Absolutely not.
But there are some approaches that have been proven to work. It all comes down to planning, planning, planning.
Every Sunday I sit down and plan our week. I work around my sons' learning interests and styles, I ease up in areas they are frustrated with and work on different approaches. I try to allow them to learn in ways they love while also meeting the state requirements.
It also helps immensely to keep track of your child's work by creating a portfolio. Some great advice can be found in THIS ARTICLE explaining how to make a homeschool portfolio.
Consider Your Child's Interests and Struggles When Lesson Planning
The term "high interest" is thrown around very often in SLC (small learning community) meetings in the public school setting–and for good reason. If a child already has a strong knowledge base about a subject, they will learn more about it with less prying.
With enough creativity, you can morph nearly any "interest" into a lesson that fulfills even the most rigorous standards-based requirements.
This is where the Internet is so helpful.
If my child expresses an interest in the topic, we have all the information we need right at our fingertips. Whether it's websites, videos or online courses, we can find answers to all the questions, digging deep into topics my son is passionate about.
For example, our son is obsessed with history, particularly the Second World War–but he hates writing. Even with his vast knowledge of the war, getting him to synthesize information in the written form is frustrating for both teacher and student.
He's extremely articulate, so we allow verbal responses in place of written (but not entirely). The point is that he understands the material and can process it (synthesize) and provide a thoughtful response to questions.
His struggles with Sensory Processing Disorder causes him to lose patience with the writing process, so once we have received satisfactory answers verbally, we ask him to write selected things out one sentence at a time–even one day at a time. If we forced him to sit and write before he had the stamina, he would get extremely frustrated and even begin to meltdown.
His sensory disorder causes him to become distressed with the monotony of staring at the paper, pencil in hand. We have implemented technology which has been very beneficial. We allow him to write in Microsoft Word or Google Docs. He loves being on the computer and we can get more out of him with this modification.
Sure, public school children are required to write an entire essay in one sitting, and we are working toward that. His speed has increased. We steadily required two sentences a day, then three, until a five to seven sentence paragraph was achieved in a single day. This modification and accommodation of the lesson actually worked–and his confidence was boosted as a result.
Only a homeschooler could be given such a self-paced option, one that allowed him to figure it out one step at a time.
Our little sensory seeker is a late bloomer. He is very immature. While his brother was reading by 5 and in chapter books by 7, he is now 7 and was still struggling with letter sounds at the start of 2nd grade (we started last month). It has been a slow process, But we firmly believe in letting each child learn at their own pace; it is WHY we homeschool. We are not under anyone's time constraints. There is no pressure.
We recently bought the lifetime plan of the Hooked on Phonics app. He loves it! It is part of his daily routine and guess what? We now have an emerging reader!!! And our pre-k child is learning quickly with it as well.
How to Modify Lesson Plans for Your Child with Sensory Issues
Use your intimate knowledge of your child to tailor your lesson plans with useful accommodations and modifications.
We have two different types of SPD children in our household:
Sensory seeker – he loves to get his hands dirty, play with slime, jump off things, wrestle, feel hot and cold sensations, make a mess, etc.
Sensory avoider – he prefers order and neatness, does not like loud noises, hates being startled, and must feel in control and safe at all times.
The yin-yang dynamics of our children force us to plan our lessons in drastically different ways for each child.
For example, if we were working on measurements, our sensory seeker would love to get covered in flour mixing up a batch of cookies. He would gladly read the numbers on the box to be sure each ingredient was mixed-in correctly. Teaching basic fractions using 1 ¾ cups of water was no problem.
The hustle and bustle of the busy kitchen might be a trigger for our sensory avoider. So the same lesson in measurements would be better conducted in a quieter, more organized environment. We would give him a jar with marbles, and allow him to place each one in with a satisfying PLINK until the correct amount was reached, marking his answers down at his own pace.
A more in-depth look at my approach to teaching my sensory avoider can be found in the article Homeschooling Sensory Processing Disorder Kids 
Consider Year-Round School for Easier Pacing
One of the absolute beauties of homeschooling is the ease of pace. There is no reason to increase the anxiety level of your child because you are under the gun with time.
Year-round school solves many of the problems we struggled with, but still allows time for vacation or extended breaks. SPD and SID children have off days, and the last thing you want is for them to be turned off by learning–so don't force it!
Here are just a few of the advantages of year-round school:
Allows the student to work at their own pace
Gives the flexibility of random "off days" or even "off weeks" if the child is struggling
Allows you to stretch out lessons and build things up one step at a time
Makes learning less of a chore
Increases time to revisit lessons that weren't done satisfactorily
To soothe themselves, SPD or SID kids can benefit from certain toys to use in between learning times. A great list of examples can be found in the article Best Toys for Sensory Processing Disorder.
To quote a previous entry I wrote on the subject: "The best teacher in a classroom of thirty can't hold a candle to even a mediocre homeschool parent who sits one-on-one with their child. After all, individual time is the Mecca that many teachers yearn for."
Take it easy on yourself. There will be tears, laughs, frustration, and amazing breakthroughs, but in the end, you will get through the material.
Take a moment to remind yourself that you are equipped to homeschool your child with sensory issues, and that your child will be forever grateful for your effort.

RELATED POSTS:

Want some techie homeschooling tips and inspiration delivered to your inbox? Sign up here for weekly-ish emails from me.
Techie Homeschool Mom is a participant in the Amazon Services LLC Associates Program, an affiliate advertising program designed to provide a means for sites to earn advertising fees by advertising and linking to Amazon.com. You can read my full affiliate disclosure HERE.