I know my limits, and learning foreign languages is one of them. That's why I'm thankful to know Anne Guarnera, a foreign language study expert and today's guest blogger. Anne writes about language learning for homeschoolers at Language Learning at Home.  She's a fellow "techie homeschool mom" with a PhD in Spanish, and she is currently raising and educating her two sons bilingually in the suburbs of Washington, DC. For more tips and encouragement about foreign languages and cultural learning, sign up for Anne's newsletter here!
Hey, just so you know ... This post includes affiliate links. That means if you use them to make a purchase, I may earn a commission. You can read my full affiliate disclosure HERE


Did you study a foreign language as a student? Perhaps then, like me, you remember some of our "old school" language learning tools: heavy textbooks and workbooks, stacks of flashcards, maybe even cassette tapes with listening exercises. And while those tools worked fine back then, today's students are lucky to have many more resources at their fingertips.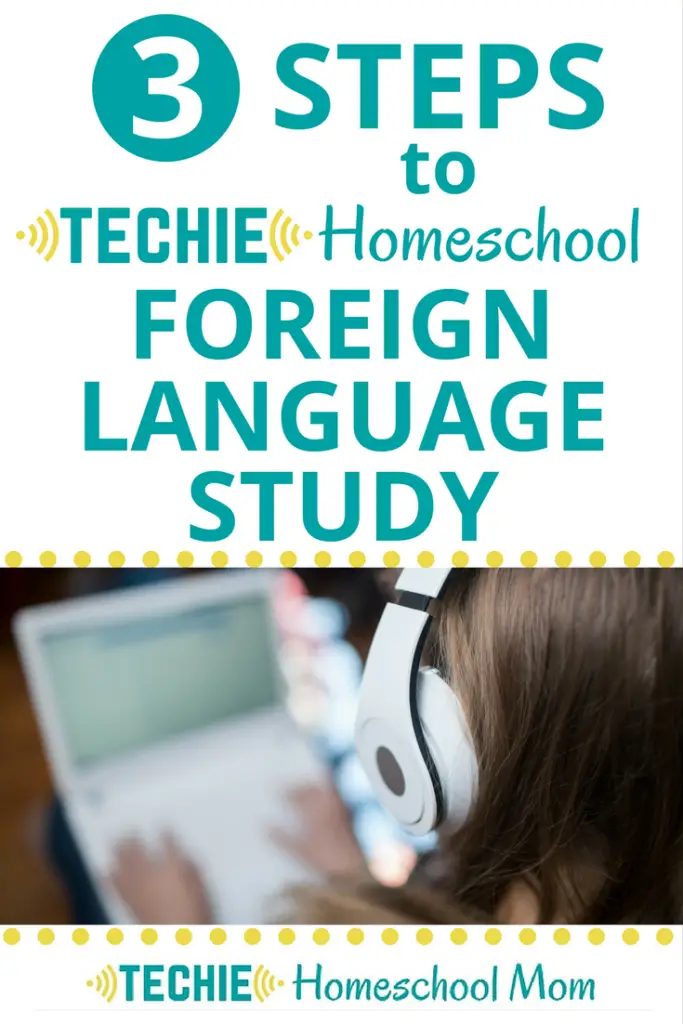 If you'd like to start techin' your homeschool  homeschool foreign language study with the very best tools, here are three easy—and proven—ways to do so:
1) Take advantage of foreign language learning
apps

.

App developers are constantly creating new tools to help children of all ages learn languages better—and  a number of these can really enrich your language study at home.
​
For younger students, I recommend Little Pim, which is specifically designed for children ages 0-6. Since research shows that young children learn language differently than older kids, it is important to choose an app suited to their needs! Little Pim has 12 language options for children to explore, from Spanish to Japanese, and it is an entertaining and low-pressure way to expose them to foreign languages.
​
For older students, I have two recommendations. If your child needs help learning grammar, then Mango Languages is an excellent tool. It provides explicit grammar instruction (which is key for older students) in an encouraging and accessible way—easily broken down into discrete units that include lots of practice. If, on the other hand, your child is already using a language curriculum that includes grammar instruction, the app Duolingo can serve as an engaging way to practice. It is uniquely gamified, giving students the opportunity to earn points as they complete grammar and vocabulary practice sessions, so if you've got a video game lover in your house, Duolingo is sure to be a hit!
​
If you're interested in learning more about either of these apps and easy ways to incorporate them into your homeschool language study, you can access my detailed reviews of them here.
2) Use e-books and
audiobooks

to give your children exposure to authentic language (even if you don't speak the language yourself!).

Just as it is important for children to hear rich language in their native tongue, it is equally important for students to encounter complex vocabulary and grammar in their second language. If you're not a speaker of the language that your child is learning, today's wealth of digital resources makes it easy to find authentic resources in different languages. You might consider downloading some e-books in your child's new language—both Amazon and Epic! books have great options, and you may have access to free e-books through your local library as well.

I often recommend starting with your child's favorite picture books, even if he/she is already beyond the picture book stage. The familiarity of the book will help your child feel comfortable, and the pictures will visually reinforce new vocabulary—which research shows is a more effective way to learn than simply memorizing translations.
​
In addition, e-readers have another advantage—most of them will provide instant dictionary access for those new words that prove too hard to figure out. By simply touching the word on the screen, your child can instantly see a translation and then keep moving along in the book—which is important to help maintain momentum and motivation.

Additionally, you can help your child hone his or her listening skills through the use of audiobooks. Audiobooks are a great tool because they can be slowed down or sped up according to your child's proficiency, and because they can be easily paused and rewinded to help with tricky passages.
​
Audiobooks are also great for exposing students to native accents, which helps with future comprehension. If you'd like to learn more about how audiobooks can be a secret weapon for homeschool language learning and get some practical ideas for using them, check out this post.
3) Use the internet to connect with native speakers for authentic foreign language study.
While apps and digital resources are great tools for supporting language learning, nothing compares to actual conversation with a native speaker. And thanks to technology, it is no longer impossible to find someone who speaks your child's chosen language, since you can easily connect with a teacher who lives halfway across the globe!
​
One option for affordable instruction is Italki—for about $12/hour (sometimes less), you can find a teacher or tutor who will customize their language instruction to your child's age, learning style, and language learning goals.
What are some ways you've used online resources for homeschool foreign language study?
HANDS-ON FOREIGN LANGUAGE LEARNING FUN FOR KIDS
Language Learning with Spider-Man
Dice Off: Learn Spanish for Kids
Award-Winning SPANISH Animals Flashcard Game – The ONLY One with
Magnetic Poetry – Kids' Spanish Kit – Ages 5 and

Want some techie homeschooling tips and inspiration delivered to your inbox? Sign up here for weekly-ish emails from me.
Techie Homeschool Mom is a participant in the Amazon Services LLC Associates Program, an affiliate advertising program designed to provide a means for sites to earn advertising fees by advertising and linking to Amazon.com. You can read my full affiliate disclosure HERE.