Hey, just so you know ... This post includes affiliate links. That means if you use them to make a purchase, I may earn a commission. You can read my full affiliate disclosure HERE
Using more technology for our homeschooling means lots of little (and big) hands using our arsenal of PCs, Chromebooks, and mobile devices.  That means, we need to maintain the health of our tech devices so they run efficiently for a smooth learning process to occur. It's crucial that I direct my kids on how to use them properly and safely. But, I'm sure you know that you can't rely on your children always follow directions, right? That's why it's important for techie homeschool moms to know these PC maintenance tips to keep your home learning from being stalled by computer problems.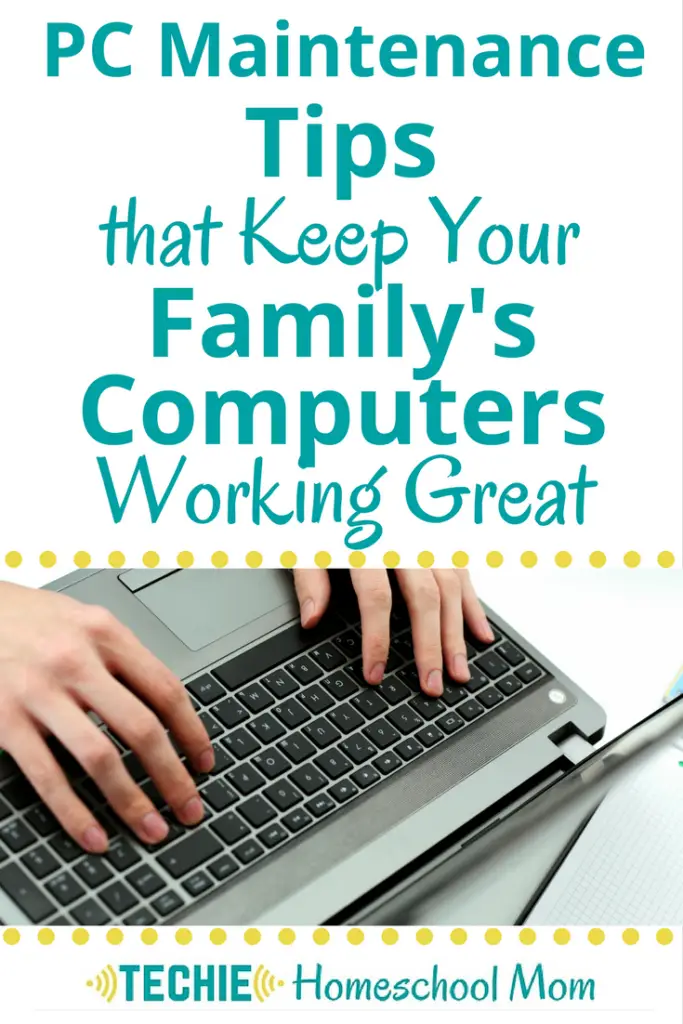 Four Important PC Maintenance Tips 
Tip 1: Find programs that can keep your devices secure
There are quite a number of programs that have come in handy in protecting our family's devices from cyber threats. They shield your computers against malware, encrypt the files on your hard drive and keep your data safe at Wi-Fi hotspots.
To keep your devices secure begin by installing an antivirus program that runs constantly to warn you on any potential infections. Also, you should install an anti-malware and use it occasionally to perform a scan of threats. These two together protect your computer against viruses, threats and other cold attacks.
I've shared a list of PC Maintenance software programs below.
Tip 2: Use PC cleanup programs that will keep your devices working at full capacity
Downloads, updates, apps and many unwanted files and folders can increase the need for PC maintenance. I'm big on finding digital homeschool resources that I can incorporate into my kids' learning schedule, so I constantly download one thing or another. But in order to keep my devices running smoothly, I've learned to run a tune-up utility for my tablets, laptop, and desktop. This in order to get rid of the caches from these downloads that choke up the device and affect its performance.
A tune-up utility for a PC is an application that finds problem areas in your computer and automatically resolves them. These utilities can do everything from basic cleaning up of your PC's hard drive to more complex functions like identifying and removing decelerators and destabilizers or removing apps that affect the performance of your PC.
Tip 3: Understand what to do to avoid a computer slow down
I love how our homeschooling is enhanced by technology. But, it ain't any fun when a child is complaining that the computer is taking "for-e-ver" to load something. A slow, laggy computer is not ideal for creating learning resources or enhancing your kids' learning experience. To avoid your devices being slowed down
Tip 4: Establish a routine to keep your computer maintained
Just like you need to do routine chores to keep your home in order, you need to complete periodic techie chores to keep your computer working well. CLICK HERE to discover what basic computer maintenance tasks you should be doing.

Want to keep your computers running hassle-free?
Download a list of 20+ routine tasks that will keep your computers working great.
Sign up to receive Techie Homeschool Mom's Computer Maintenance Chore List
The PC Optimization Software We Use

After much research, I chose Norton Security Premium to protect our PCs. I'm able to protect up to 10 devices against viruses, spyware, malware and a bunch of other things I don't even understand. I can manage all that protection from a web portal. Plus…. it has parental controls so I can keep my family safe from icky stuff on the internet.
More Programs for PC Maintenance
McAfee 2017 Total Protection – 5 Devices [Online Code]
Kaspersky Internet Security 2017 | 3 Device | 1 Year
AVG Antivirus 2017, 3 PCs, 2 Years, key card
Webroot Internet Security Complete + Antivirus 2018 | PC |
Tell me – what experience have you had with keeping your family's computers working well?
Related Posts

Want some techie homeschooling tips and inspiration delivered to your inbox? Sign up here for weekly-ish emails from me.
Techie Homeschool Mom is a participant in the Amazon Services LLC Associates Program, an affiliate advertising program designed to provide a means for sites to earn advertising fees by advertising and linking to Amazon.com. You can read my full affiliate disclosure HERE.