Hey, just so you know ... This post includes affiliate links. That means if you use them to make a purchase, I may earn a commission. You can read my full affiliate disclosure HERE
So you're looking to buy a new homeschool computer? Feeling overwhelmed by all the choices out there? Not sure what which home computer is right for your family? You've come to the right place.
The best homeschool computer is the one that does what you need it to do. In other words, before you even look at your options, you need to determine exactly how you're going to use it. For example, there's a world of difference between the computer you'd need for heavy video editing and one you'd use for web surfing and e-mail.
So, the first step to choosing a new family computer is examining your needs. Will you need software or do you mostly use web-based apps? Will you use it for gaming? Do you use local storage or cloud storage? Is price or longevity a greater priority? Will you be taking it with your places, so want it to be smaller and lightweight? That all makes a difference.
For example, we've made do with Chromebooks for a while since we use Drive for storage and cloud-based apps. But, my 17yo daughter decided she wanted to buy her own computer. One of her biggest needs was to be able to play SIMS (which you can't do with a Chromebook), but stay within her budget. Graphics cards, screen resolution and RAM were big considerations vs. storage and 2in-1 capabilities.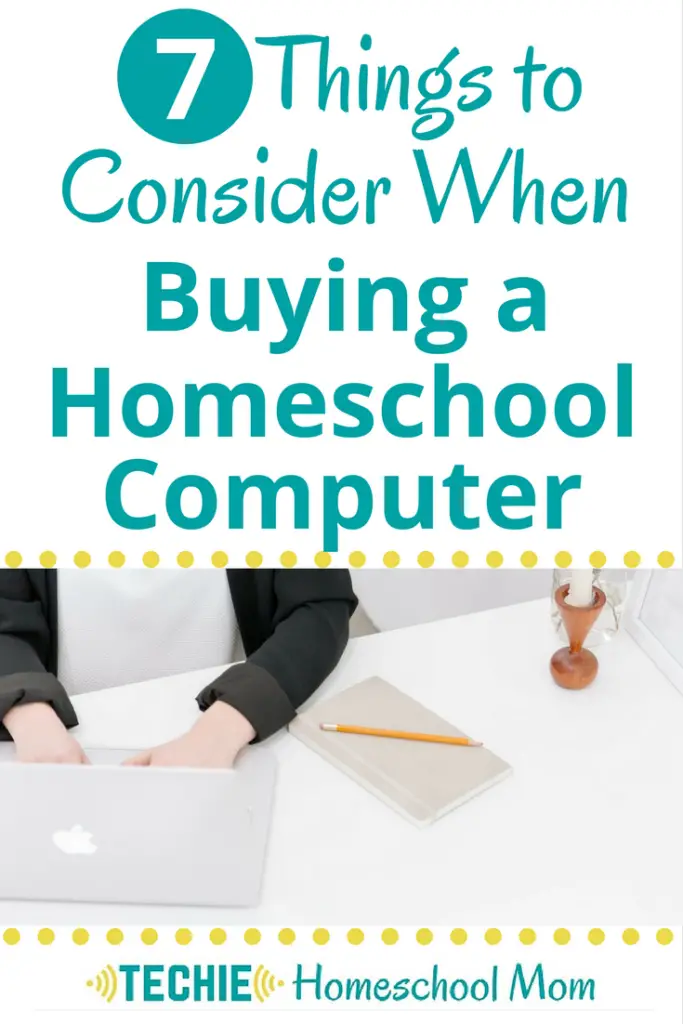 Features to Consider When Buying a Homeschool Computer
Portability: If you plan on taking your computer from one place to another (field trips, gatherings), you'll want to get something portable like a laptop or netbook. If it'll always be in one place, you can save money with a desktop.
Durability: Your homeschool computer is going to see a lot of use. Get something with a good warranty.
Storage: Your hard drive will fill up quickly with files and projects. Opt for a large hard drive. Alternatively, you can archive older files to an external drive, DVDs, or cloud storage (like Google Drive or Dropbox). [RELATED POST: Organizing Digital Files]
Speed: There are two things to look at here, the processor speed and the memory. A faster processor lets your computer do its thing faster. More memory generally has an even bigger impact, particularly when you're multi-tasking. [RELATED POST: PC Maintenance Tips]
Monitor/screen: A larger screen is easier to read, but will cost you more. Some newer monitors double as touchscreens, which can be handy, but will cost extra.
Operating system: In most cases, this comes down to Windows or macOS. There are other options out there, such as Linux and Chrome OS. You'll want an operating system that's consistent with what you already have (for example, it's a pain to run a single Mac when all your other machines run on Windows) and one that's able to run the programs you use (see below)
Programs you use: Figure out which programs you use (or plan to use). Check to see which operating systems they're available for. If your favorite software is only available on Mac, there's not much point in getting a Windows computer. You should also look at the system requirements for your programs. Make sure your new family computer meets at least the minimum requirements and ideally meets the recommended ones. You may also want a buffer for the future (newer programs tend to be more resource-hungry and you may not have the budget to upgrade your homeschool computer every year).
Understanding the Tech Lingo
In case you're getting hung up on what all the specs do/mean, here's my simple explanation …
Processor = the brain of the computer. The latest models will last you longer and be able to keep up with the development of apps (without going senile)
Storage = the file cabinet. How much you need depends on how much you save (and the size of things you save). Videos? Pics? Documents? Software Programs?
RAM = how much it can handle doing at once. Think of it as a person sitting at a desk. Can that person handle a desk piled high with different projects, multi-tasking back and forth? Keeping everything straight and thriving on that? The more RAM the more it can do (and the more complex things like video editing, gaming, etc) at once.
Screen resolution = how clear is the image. I suggest visiting a computer store and looking at the different models to get an idea of diff. resolutions and what you can cope with.
Graphics card = not really a huge issue unless you are using it for gaming.
My Recommendations for Buying the Best Homeschool Computer
If you're using cloud-based or web-based apps, go with a Chromebook. They're relatively inexpensive and highly portable. I explain why I think they're the best computer for homeschooling HERE.
If you want to store files locally and install software, go with a laptop. Stick with either Windows or macOS, depending on your programs and what your other family computers are running.
Get a touchscreen. The technology is moving in that direction and they're fun.
If you want to save money, look at refurbished items… but keep the warranty in mind.
Tell me, which features are most important to you when shopping for a new home computer? 
Must-Have Tech for Homeschooling
2017 Acer Chromebook 11.6

Apple iPad 2 16GB

Roku Streaming Stick

DOSS Touch Wireless Bluetooth Portable Speaker

Skullcandy In-Ear Noise-Isolating Earbuds


Want some techie homeschooling tips and inspiration delivered to your inbox? Sign up here for weekly-ish emails from me.
Techie Homeschool Mom is a participant in the Amazon Services LLC Associates Program, an affiliate advertising program designed to provide a means for sites to earn advertising fees by advertising and linking to Amazon.com. You can read my full affiliate disclosure HERE.