Do you ever look at other homeschool families and wonder "How do they do it"? What does the day-to-day learning routine look like in their home? Does their routine really work for them, or are they still trying to find their groove just like me?

I've wondered these things sometimes, not to compare, but to get ideas. I am always looking for ways to serve my girls better and to find the homeschooling schedule that works best with their personalities and learning style. 
You see, I struggle with being consistent. I need to find a rhythm that works really well for the current season of our life. And adjust that routine when needed. And give myself the freedom to call a "productive playday" when we get a kink in our routine. But, I have found a routine that has been working well for us for a while now.
So, this is what our daily homeschooling routine looks like now…for this season of our life.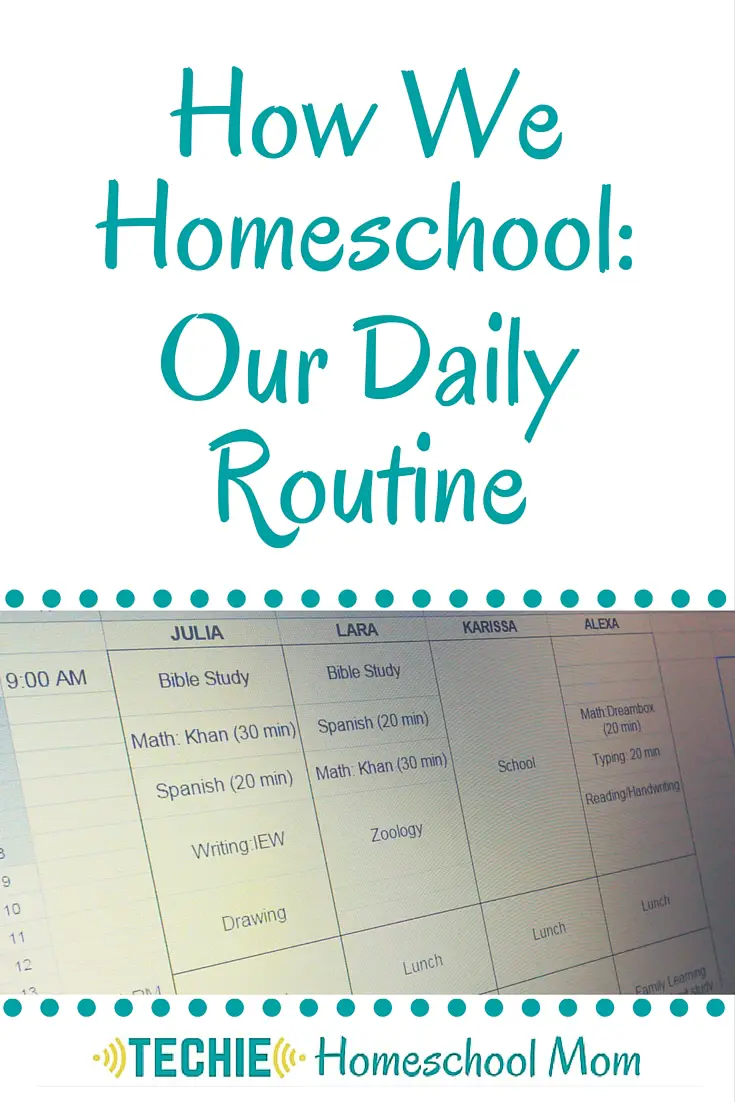 I try to follow this routine four days a week, year round (giving us flexibility to take a break when "life happens"). We work off a routine, not a schedule.  Schedules involve time limits, and that just stresses me out.  All the girls know what needs to be done by what time, but each works at her pace.
This routine does not apply to my 16-year-old because she directs her own learning. Know that goal we have of teaching our kids HOW to learn?  Well, I am now seeing the fruit of my labor with my oldest. Ahhhhh!
Morning: Basic Skills + Individual Interests
Our morning time is our "basic skills & individual interest" learning time.
Karissa (9) goes to a private school for 3 hours in the morning.  While there, she does math, writing, reading and keyboarding. [Related Post: When Homeschooling Doesn't Work (For Just One of Your Kids)]
Alexa (7) still needs lots of time to play, so she only spends about an hour of her learning. She does math online with Dreambox (love it!!!!) and keyboarding with Typing.com. I help her out as she needs it, but Miss Smartie-pants has it pretty much under control. Then she & I snuggle up for reading time. She can read on her own, still sounding out, so we take turns reading the pages of early reader books. Then she is on free to play.
Lara (12) does her math with Khan Academy and, since she just completed all the lessons on Typing.com, will be starting Spanish using Mango. This year, she is digging deeper into her study of animals.  She takes a Zoology class through Skrafty (awesome Minecraft server!) using Apologia's Zoology 3: Land Animals. Since it is a self-paced class, I tailor the activities for her, picking and choosing the most relevant tasks and adding in some related books and videos. I set up a learning checklist in Trello at the beginning of the week. And, yes, she gets to play Minecraft as part of her learning time.
Julia (14) also learns math with Khan Academy and Spanish with Mango. Then she focuses on her biggest interests…writing and drawing. Currently, she takes an Institute for Excellence in Writing class through Skrafty.  The class meets online weekly via video,  with writing and Minecraft assignments due each week. For drawing, she is taking a course through Udemy to learn comic book coloring using Adobe's Illustrator.
And guess what I am doing through all this…managing their learning. Making sure everyone is staying on track.  Stretching my brain when they ask me for help with their math ("well, my dear, let's watch the video together to see if we can figure it out"). Finding other resources when someone is stuck on a concept or wants to dig deeper into something. Oh..and being sure to put in a load of laundry and start dinner prep if it is my cooking day.
Afternoons: Family Learning and Out-of-the-house Activities
Our afternoon routine is a bit looser.  If I see that the girls are initiating their own learning, pursuing their interests independently or with each other, I leave it at that until a few hours after lunch.  Then we will work on a unit study together.  I have been planning my own studies for years, and now actually set them up in as eLearning courses for the girls.  
Or we may watch a mom-selected show…something with educational value. Or have a Minecraft marathon. Or do an arts and craft project. Or play games. Or just play.
Starting at 4-ish, we scatter.  Someone needs to be somewhere…whether it is basketball, taekwondo, youth group, volunteering, working, whatever. We're a lot busier out-of-the-house than when the girls were younger.  But now, they are dedicating themselves to different organized activities.  And it is all good for this season.
So, there you have it, my friend….our daily learning routine.  What does your typical homeschool day look like?


Want some techie homeschooling tips and inspiration delivered to your inbox? Sign up here for weekly-ish emails from me.
Techie Homeschool Mom is a participant in the Amazon Services LLC Associates Program, an affiliate advertising program designed to provide a means for sites to earn advertising fees by advertising and linking to Amazon.com. You can read my full affiliate disclosure HERE.