Homeschool Buyers Co-op: Your One-Stop Shop for Discounted Homeschool Curriculum Online
Hey, just so you know ... This post includes affiliate links. That means if you use them to make a purchase, I may earn a commission. You can read my full affiliate disclosure HERE.
Are you looking for an affordable way to buy your family's homeschool curriculum online? If so, I can't say enough good things about the Homeschool Buyers Co-op. In fact, over 220,000 members across the world agree that it's one of the best resources available for the frugal homeschooler. I figured it's about time I talk to you guys about this money-saving website and how YOU can use it to save money while still getting all of the things you want for your family.
What is Homeschool Buyers Co-op?
If you're not familiar with Homeschool Buyers Co-op, then you may be completely confused by what it is, especially if your idea of a co-op involves a group of homeschoolers coming together for a class or educational event. That's not what this is. What it IS, though, is a way for homeschool parents to come together to buy amazing learning resources for much lower than the retail cost.
To put it shortly, Homeschool Buyers Co-op is the world's largest buyers' club specifically for homeschoolers. It's a way for deal-loving homeschoolers to buy award-winning homeschool curriculum without breaking the bank.
It was created to give home educators the same type of discounts that public/private school teachers receive.  In your search for curriculum, you may have discovered that schools get discounts because of the number of students they serve. Us homeschoolers don't have the same advantage (since we're just educating our kiddos). But with Homeschool Buyer's Co-op, we can get discounts similar to those larger institutions.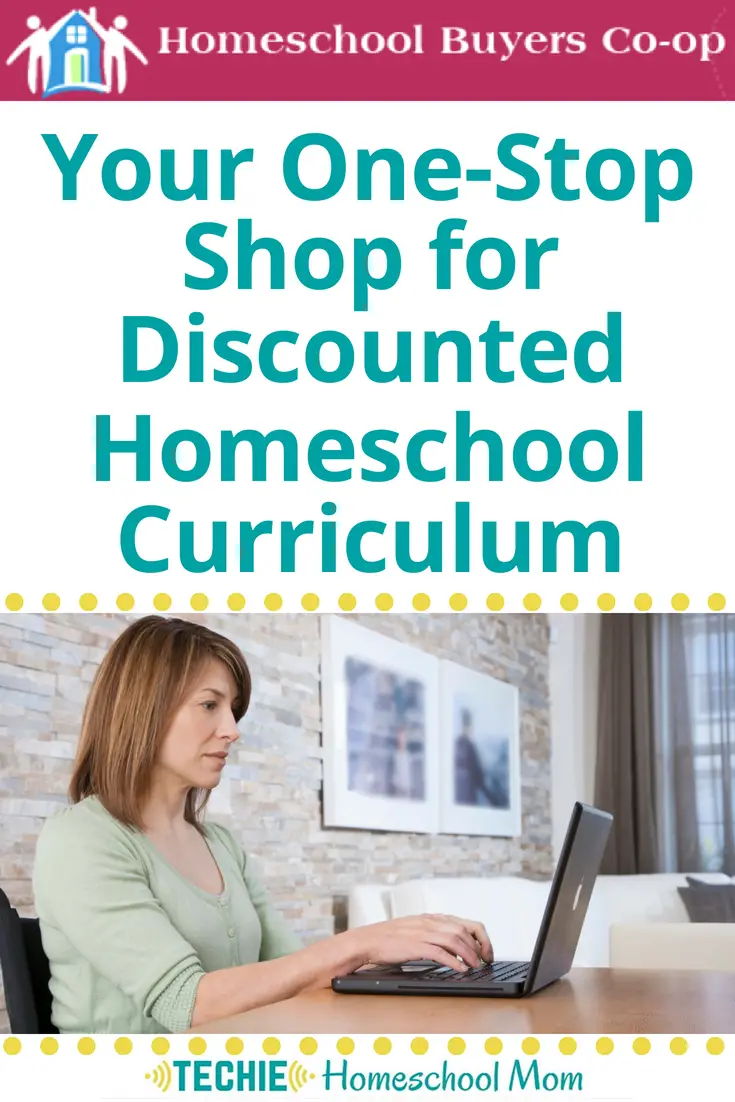 How Does it Work?
With the purchasing power of over 220,000 homeschoolers, Homeschool Buyers Co-op is able to negotiate with major educational publishers and homeschool curriculum providers to offer members huge discounts. I'm not talking 5% and 10% there, either. I mean up to 90% off what we would pay if we went to these company websites as individual shoppers. How amazing is that?!
The way they are able to do this is through something called GroupBuy. They will offer up a resource at an introductory discount. You have until a certain day to buy in at that rate. However, the more people that take advantage of the offer, the deeper the discount.
For example, an item is 20% off until the end of the month, 30% off once 20 members join, 40% off once 50 people join, 50% off once 100 members join, and so on. Then, once that particular GroupBuy has been met, they can offer that discount for the entire year instead of just for a limited time.
Oh, another cool thing: you can choose which buying level you want to opt in to for each deal. For example, if you only want to order if the discounts goes up to 50% off, you can do that. That way, you can stick to your budget.
This is essentially how they negotiate bulk discounts with educational publishers and then offer the base discount to co-op members for a limited time, with the possibility for even higher discounts as the number of sign-ups for that offer increases. This is how Homeschool Buyers Co-op can offer the best savings for discounted homeschool curriculum online.
6 Reasons to Buy Discounted Curriculum at Homeschool Buyers Co-op
1) You save money
Obviously, this is the biggest reason and the one that is most obvious. In my mind, if you have the option to buy something for less money, I don't see why you wouldn't take advantage of it. I mean, who doesn't LOVE to get what they want for a lower price. That means you have even more money to buy other things you want/need. So, if you just need one reason to join, that is a pretty good one.
2) It's free to join
While we're talking about saving money, another good reason to join is that it's free. That's right – you don't have to pay anything to become a member of Homeschool Buyers Co-op. There's no sign-up fee. No monthly or yearly fees. You don't have to agree to spend a certain amount of money or to buy a certain number of deals. You just buy the deals you want and that's it!
3) No More Curriculum Overwhelm
We all know that there is a wealth of resources out there for homeschoolers. The problem is that not all of them are high quality. And even among the good stuff, there can be so many options that it's easy to become overwhelmed.
Homeschool Buyers Co-op helps eliminate some of that stress by only offering you 3-5 tried-and-tested curriculum options in the areas you are looking for. That means they are presenting you with the top 1% of homeschool resources to make your buying decision that much easier! And because they only offer the best, it helps to ensure that you won't experience the buyer's regret that we are often hit with when we try something new.
4) You Know You're Getting the Best Deal
Homeschool Buyers Co-op is committed to providing you with the best deals possible. If they can't beat the price that you can get on your own, they won't even bother putting it on their site. That's what make this website such a go-to resource. Homeschoolers can trust that whatever deal they find on Homeschool Buyers Co-op is probably as good as its gonna get (barring lucking out at a yard sale or used homeschool book sales).
5) You Know About Sales Before They Start
Chancing across a great deal is cool, but I think we'd all prefer knowing when a sale is coming up, right? The GroupBuy Calendar does just that for you. When you're shopping for homeschool curriculum online, you can check it to find out about upcoming deals for great products. You can see when they start, details on the deal, and even sign up to receive a reminder when the deal is live.
6) Earn More Savings
Homeschool Buyers Co-Op also has this rewards system called SmartPoints. You can earn them by taking advantage of specific deals (check out the current ways to earn SmartPoints here).
Then, you can spend your Smartpoints on resources in 16 different categories, including Art & Music, Early Learning, Electives, Foreign Languages, History & Geography, Language Arts, Math, Science & Technology, Social Studies, Special Needs, Teaching Resources, and Tests & Assessments. There are items available for as low as 100 points (and you get 100 points just for signing up to be a member of Homeschool Buyers Co-op!).
Check out the SmartPoints rewards that are available here.
Great Deals You'll Find at Homeschool Buyers Co-op
Want an idea of the types of homeschool deals you can get as a member of Homeschool Buyers Co-op? Check out these impressive savings. (Note that these deals are subject to change without notice)
This online coding game has helped more than 5 million players (including my daughter) learn coding. A mix of RPG gameplay and programming course, this is great fun for 4th-12th graders. Throughout the game, players learn a variety of variety of computer science skills and learn to develop their own games.
This is another fantastic coding program for young kids. It offers a fun environment for kids to learn coding using actual programming with a program called Coffescript. The goal is to help a monkey get its bananas back from a thieving gorilla by writing real software code to solve a puzzle sequence. With over 250 challenges, your kids will learn enough skills to be able to create their own games for others to play.
If your kids are really into video games and want to learn to code, who better to learn from than someone who has designed over 30 games for Sony Playstation, Sega, and the PC. David Dodge uses CodaKid to teach kids how to build mods for Minecraft, design their own games, and build apps -with no previous coding experience! Throughout the self-paced course, they learn to actually WRITE code (as opposed to using the drag-and-drop method).
Created by the Young Scientists Club, this monthly membership kit is perfect for elementary students. Each month, you will join Mrs. Frizzle and the gang to learn about different science topics and conduct fun, hands-on experiments. All science kits come with a colorful manual and supplies :
This is easily a favorite across the board for homeschoolers. This educational video streaming service is so extensive that it's been likened to "having the entire DVD selection of your local library available to you from the convenience of your home, 24/7/365".
Not only do you have access to the full-length videos, they also have them organized into video clips that are organized, categorized, and closed-captioned. The videos are also supplemented with lesson plans, teacher guides, interactive simulations, images, audio resources (such as audiobooks and podcasts, an Assignment Builder, a Quiz Center, a Writing Prompt Generator, games, math tutorials, and so much more). With thousands of videos from content providers like BBC Worldwide, CBS News, Channel 4, and Scholastic, you know you're getting quality content. You also gain access to the Discovery Educator Network with your membership.
In this two-for-one deal, you get two digital products from Encyclopedia Britannica:
Britannica School: Gain access to thousands upon thousands of encyclopedia and journal articles, images, videos, audio files, primary source documents, maps, websites, educational games, a world atlas, English and Spanish dictionaries, and a wide variety of research tools.
Britannica Pathways Science: This program includes 100 lessons on life, earth, and physical science. Whether you prefer project-based learning, teacher-led instruction, or independent learning, this is a valuable resource for middle schoolers.

Other Helpful Benefits for Members
Homeschool Buyers Co-op also has some other really cool features that are worth checking out. A few that I love are:
They have put together an immense and user-friendly database of over 170,000 educational contests and scholarships that homeschoolers can apply for. These scholarships are worth over $650 million and the search feature allows you to search for opportunities based on things like category, location, grade level, and keyword. Learn more HERE.
If you need ideas for field trips, they have created a feature that helps you find great options in the U.S. and Canada. Simply click on your desired location on the map and it will direct you to a page with info on all kinds of field trip ideas, such as museums, zoos, aquariums, planetariums, historic sites, nature centers, cultural centers, and more. You can even enter your zip code for even more narrowed down results. This is a great tool whether you're trying to explore your own area more or are taking a trip to another part of the world. Check out the Field Trip Finder HERE.
With this feature, you can take your family on 12 virtual field trips:
The National Aquarium and the Black tip Reef Exhibit

Washington DC

A tour of Mark Twain's home in Hartford, CT

A 3D tour of the solar system

A tour of the Frick Collection and Coypel's Don Quixote Tapestries

An eHike of Angel's Landing in Zion National Park

A trip to Ireland

Tour of the Wreck of the USS Monitor used during the Civil War

A visit to Lascaux Cave in France to see the famous cave paintings

A trip to Kelp Forest at the Monterey Bay Aquarium

The Washington Monument in Philadelphia, PA
Not only do you get a virtual field trip to each exciting location, you also get a Teacher's Guide, activity sheets, a relevant DIY activity, web resources, and more! Go on a virtual field trip HERE.
Using their homeschool ID template, you can either print out a homeschool ID at home or pay a small fee to have them printed and mailed to you. The IDs are professional grade and come in handy when you are trying to get an educator/teacher discount and are asked to provide school ID.
Looking for a homeschool conference to attend? Curious about whether there are any homeschool conferences in your state? If so, Homeschool Buyers Co-op has done all the research for you, creating a directory of homeschool conferences all over the United States. If you are organizing a conference, you can also have yours added to the directory. CLICK HERE to find a conference.
If you're looking for something fun for your kids to do during the summer, the Summer Fun Reading Program might be perfect,. The program runs from June through part of August each year and encourages kids to read daily. All your child has to do is complete and submit a daily reading log. Every Wednesday during the program, 4 winners will be selected at random to receive a $10 Amazon gift card. At the end of the program, 3 grand prize winners will be selected to win $50, $75, or $100 in Amazon gift cards.
Not only is Homeschool Buyers Co-op committed to saving you money, they also have set up a way for you to EARN money by selling your used homeschool materials. If you have homeschool curriculum that you want to sell, swap, or donate, you can list it in the free Homeschool Classifieds section of their website.
Tell me, what do you love about Homeschool Buyers Co-op? Do you agree that it's the best source for finding discounted homeschool curriculum online?
Related Posts

Want some techie homeschooling tips and inspiration delivered to your inbox? Sign up here for weekly-ish emails from me.
Techie Homeschool Mom is a participant in the Amazon Services LLC Associates Program, an affiliate advertising program designed to provide a means for sites to earn advertising fees by advertising and linking to Amazon.com. You can read my full affiliate disclosure HERE.