"Mommmmmmm the printer's not working!" For some reason, that holler grates on my nerves. That is one of the wails I dislike more than anything, probably because I struggle with finding a solution. I see the documents in the queue, but it takes deleting the documents, shutting down the computer, and reprinting to correct it.
I have a theory  though. I think the little minions inside the printer forget what they are supposed to be doing because ….we hardly ever use the printer anymore. We only print monthly chore charts and schedules to post on the fridge and an occasional math worksheet. You see, we have pretty much become a paperless homeschooling family.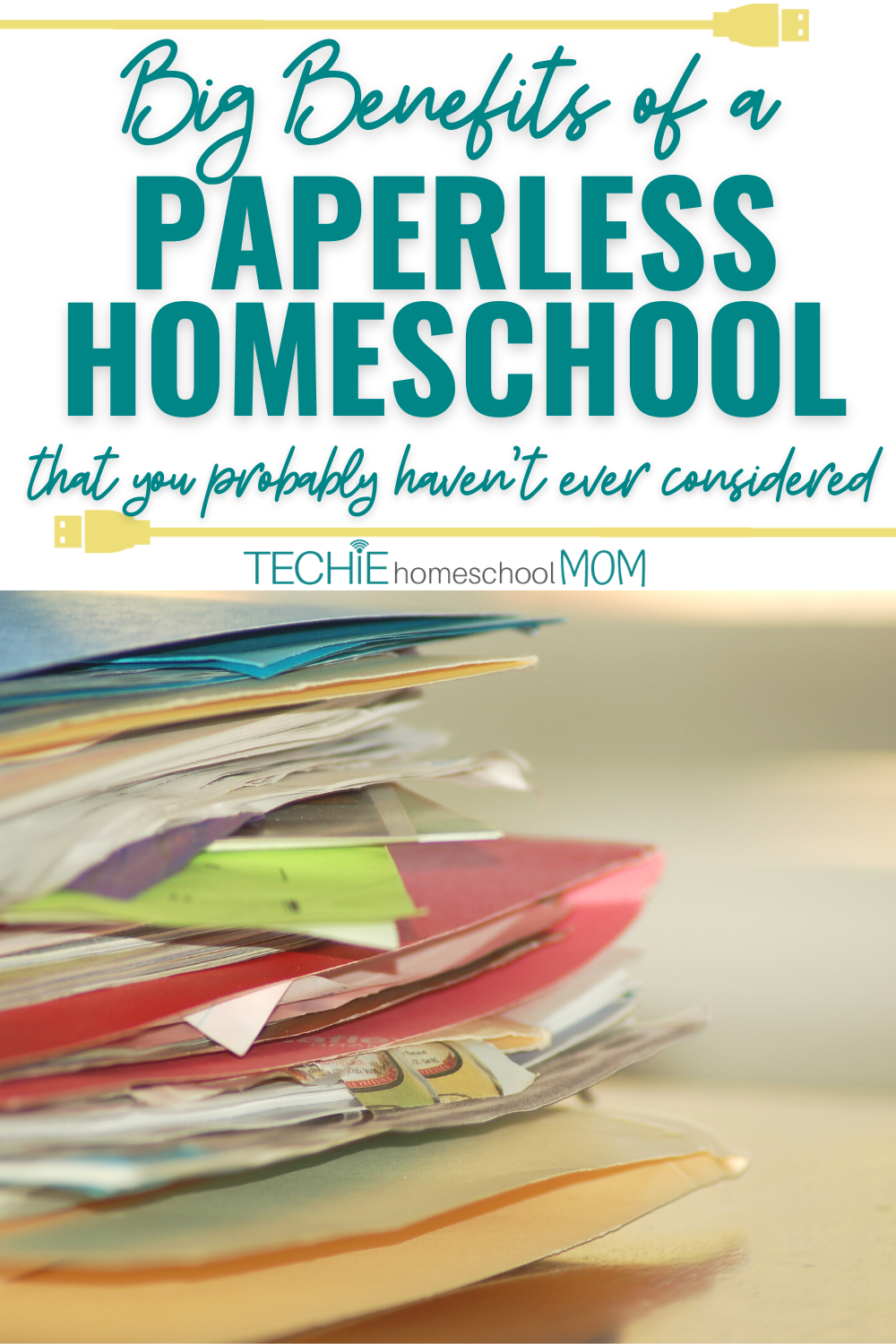 It's not like we went all environmental and became paperless intentionally. It's just that we added more interest-led hands-on activities and digital learning to our home education, and naturally paper consumption decreased. I just sort of realized it one day, and then considered the benefits of using less paper. 
Paperless homeschooling creates less waste. We can feel good about doing our part to save the planet. Less trees are being killed and less landfills are being filled.
Paperless home learning takes up less space. For me, less clutter means more joy. I like an organized home, and taming the paper beast had always been a struggle.
Paperless learning is more portable. We can learn on the go much easier.  When we're not at home, all we need is a our Chromebook and a way to connect to the Internet. 
Paperless learning is less expensive.  Instead of investing in expensive curriculum and pricey printer ink, we can pick and choose from many free learning websites and apps. That means we have more funds available to buy supplies for hands-on projects.
Paperless learning accommodates the needs of  digital learners. [Learn about those needs here] Today's homeschoolers need to be challenged to ask questions and seek answers…to identify problems and find solutions. My girls being self-educated as they learn to take advantage of all the information that is "just a click away". They are learning the way they will learn in the future since technology is here to stay. 
Oh, and let's not forget the benefit of not needing to figure out why the printer won't work.
Are you wondering how you can homeschool without paper?  Discover "8 Ways to Go Paperless with Your Homeschool" at My Joy-filled Life.
Must-Have Tech for Homeschooling
2017 Acer Chromebook 11.6

Apple iPad 2 16GB

Roku Streaming Stick

DOSS Touch Wireless Bluetooth Portable Speaker

Skullcandy In-Ear Noise-Isolating Earbuds


Want some techie homeschooling tips and inspiration delivered to your inbox? Sign up here for weekly-ish emails from me.
Techie Homeschool Mom is a participant in the Amazon Services LLC Associates Program, an affiliate advertising program designed to provide a means for sites to earn advertising fees by advertising and linking to Amazon.com. You can read my full affiliate disclosure HERE.