Hey, just so you know ... This post includes affiliate links. That means if you use them to make a purchase, I may earn a commission. You can read my full affiliate disclosure HERE
Finding the right homeschool science curriculum can be a time-consuming process, spending hours researching and evaluating the many options that are available. Here is a comprehensive list of homeschool science curriculum to help you choose an online program your kids will love.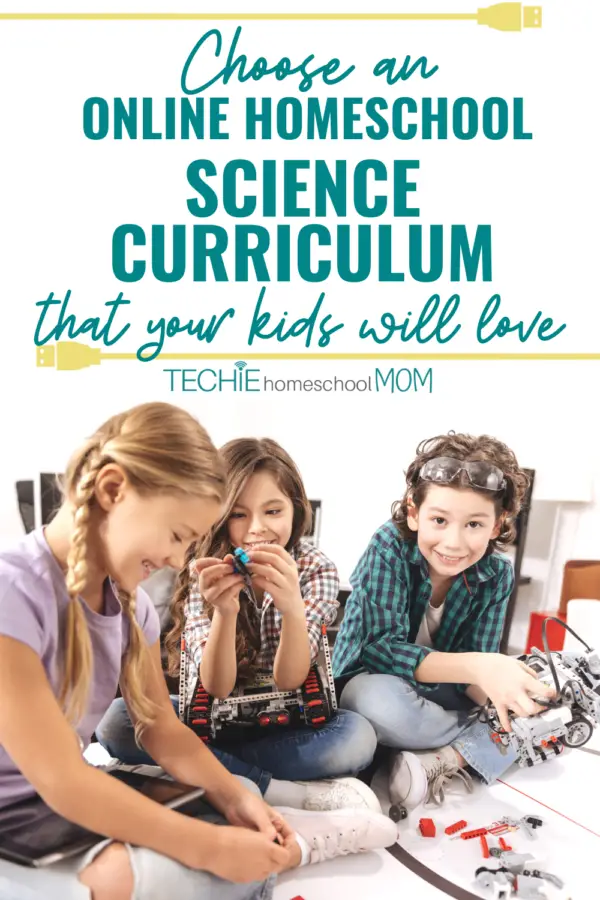 Recommended Homeschool Science Curriculum

offers science-relevant internet-based unit studies for mid-elementary to middle school students. Students access websites and videos to learn about a focused topic, all the while covering multiple academic subject areas. They complete fun hands-on and digital projects like interactive timelines or animated videos.

offers comprehensive live and self-paced course for students 12 years old and up. Courses are taught from a biblical worldview including intense science courses which are strongly and effectively designed to prepare homeschoolers for college and life.
offers eleven free science courses for upper level students, including AP courses. By providing practice exercises, instructional videos, and a personalized learning dashboard, learners are empowered study at their own pace in and outside of the classroom.

uses an audio-visual technique to teach science in a step-by-step manner. Students watch videos, try experiments at home  and complete tests. Courses offered are Chemistry, Biology, Physics and Medicine. These courses are offered at Homeschool Buyer's Co-op at a discount.
is a subscription Video-On-Demand service brought to you by The Great Courses – the leading global media brand for lifelong learning and personal enrichment. Their courses, taught by some of the world's best professors, are fully self-paced. You can find some a more limited selection of their courses in Amazon's Great Courses Signature Collection.
is an open-and-go science curriculum for grades Kindergarten through 5th. Students will explore science concepts with the instruction from engaging videos through discussion, real-life applications, and hands-on activities. Mystery Science offers homeschoolers a 1-year FREE membership for first time users, after that a 1-year membership is just $69 per household.
is a complete online science curriculum perfect for those who love experiments for grades K through 12. Supercharged Science is a self-guiding curriculum with lots of hands-on activities that will keep your kids intrigued and learning.
offers over 3,000 interactive online lessons, videos, and virtual labs for grades K-8. The digital curriculum, virtual labs, hands-on activities, and write-in science textbook develop important critical-thinking skills that prepare students for success in future science courses.
is a S.T.E.M. (science, technology, engineering, & math) program that provides over 350 online lessons that include hands-on activities, interactive games, and worksheets. Science 4 Us covers Physical, Life, Earth/Space, and Science Inquiry to form a complete curriculum for K-2nd Grade students.
offers online online video science courses for high schoolers. Choose between Biology, Chemistry and Physics at a discount rate from Homeschool Buyers Co-op.  
Which online science course do you like best? Share in the comments.
Must-Have Tech for Homeschooling
2017 Acer Chromebook 11.6

Apple iPad 2 16GB

Roku Streaming Stick

DOSS Touch Wireless Bluetooth Portable Speaker

Skullcandy In-Ear Noise-Isolating Earbuds


Related Posts

Want some techie homeschooling tips and inspiration delivered to your inbox? Sign up here for weekly-ish emails from me.
Techie Homeschool Mom is a participant in the Amazon Services LLC Associates Program, an affiliate advertising program designed to provide a means for sites to earn advertising fees by advertising and linking to Amazon.com. You can read my full affiliate disclosure HERE.