Hey, just so you know ... This post includes affiliate links. That means if you use them to make a purchase, I may earn a commission. You can read my full affiliate disclosure HERE
Are you looking for a homeschool history curriculum that will keep your students engaged and excited to learn? You'll love this list of digital resources you can use for both U.S. and World History topics.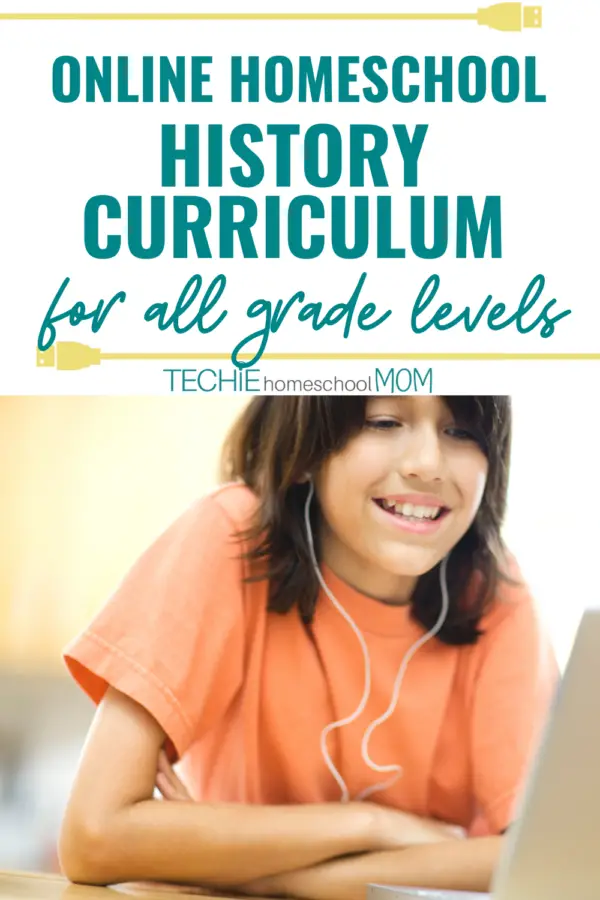 Recommended Online Homeschool History Curriculum

offers history-focused internet-based unit studies for mid-elementary to middle school students. Students access websites and videos to learn about a focused topic, all the while covering multiple academic subject areas. They complete fun hands-on and digital projects like interactive timelines or animated videos.
is a wildly popular history curriculum offered as either a self-paced or live online course . Mystery of History is written from a Christian perspective and broken into four different volumes covering historical events from Creation to the present.
from Compass Classroom is a high-school level course presented from a Christian worldview. There are 27 video lessons delivered via streaming, download, or DVD that explores history from 1500 to the present. The course includes a student text and teacher's guide available in digital files that can be downloaded in PDF, Kindle, or epub formats.
by Susan Wise Bauer presents Ancient Times history through storytelling, maps, timelines and illustrations for elementary aged students. Story of the World is available in several formats including PDF download, Audio CD on Amazon Prime, and iTunes.
is one of Great Courses's top-rated curricula offered on Amazon. The 36 video lectures trace the history of human civilization throughout time. You can watch a trailer of the course HERE.
provides comprehensive, online social studies courses for middle and high school students. WorldView Software is completely digital, providing instruction through interactive, workbook style, electronic textbooks. The courses include American History, World History, Economics, and Government. WorldView Software is available through Homeschool Buyer's Co-op.

features several programs of Early American History, World History, Ancient History, and more through online video streaming from BBC History. A 1-year subscription is available through Homeschool Buyer's Co-op and includes student activities, quizzes, teacher's guides, and access anytime, anywhere to the high-quality online videos.
offers digital techbooks for a variety of Social Studies courses in World History and U.S. History. Students will have access to a wide variety of learning activities such as interactive maps, audio recordings, photographs, and amazing videos.
Self-paced History curriculum consists of five separate courses, each containing 160 class periods and 32 important historical events. Featuring engaging video lessons with interactive teaching and interesting games, this history curriculum is taught in chronological order to memorize important dates, events, and people.
is an interactive history program that provides hundreds of classical histories, book lists, review questions, learning games, and more that can all be viewed, downloaded, and reproduced for FREE!
provides a FREE high-school level American History and Government downloadable curriculum that focuses on ten primary documents to guide students through the history of America. This curriculum also offers an optional monthly webinar (live and recorded options) for discussion of one of the documents featured in each unit.
Know of any other great homeschool history curriculum you can find online? Share about it in the comments.

Must-Have Tech for Homeschooling
2017 Acer Chromebook 11.6

Apple iPad 2 16GB

Roku Streaming Stick

DOSS Touch Wireless Bluetooth Portable Speaker

Skullcandy In-Ear Noise-Isolating Earbuds

Related Posts

Want some techie homeschooling tips and inspiration delivered to your inbox? Sign up here for weekly-ish emails from me.
Techie Homeschool Mom is a participant in the Amazon Services LLC Associates Program, an affiliate advertising program designed to provide a means for sites to earn advertising fees by advertising and linking to Amazon.com. You can read my full affiliate disclosure HERE.