Hey, just so you know ... This post includes affiliate links. That means if you use them to make a purchase, I may earn a commission. You can read my full affiliate disclosure HERE
Minecraft is a favorite techie homeschool tool for our family. When my kids started playing, I searched for a safe environment and was thrilled when I discovered SKrafty, a free Minecraft server for homeschoolers. SKrafty is run by the Syx Family from Alabama, a fellow homeschooling family that loves to play Minecraft. In this guest post, Holly and Brian Syx share the benefits of Minecraft for homeschooling.

You may have heard other homeschoolers mention something about using Minecraft in their homeschool. It has become really popular over the past few years and does not seem to be going away anytime soon. That's just fine with me as there are so many benefits to using this fabulous game. It reminds me of virtual LEGO, but better! Sure, it is a video game but it's not JUST a video game! Minecraft has so many parts and pieces which used separately or combined together can make for some really FUN and effective learning!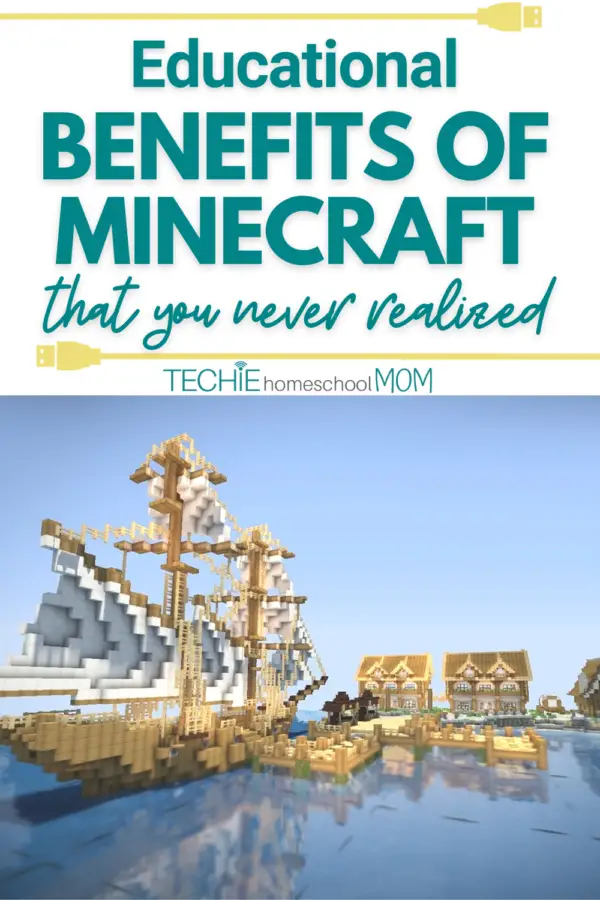 Benefits of Minecraft for Homeschool Education
Here are some of the things about Minecraft which make it so very educational.
Complexity of the Basics
One benefit is the complex survival portion of the game. Players enter with almost nothing and they must gather their supplies, build their shelter, etc all while escaping spiders, creepers and other hostile mobs. It is very challenging in that respect.
Redstone
Students can learn about circuitry and how it works as well as create their own amazing contraptions using redstone.
Music
Yes, Minecraft has music which plays in the background, but that's not what I'm referring to here. There are items called Noteblocks which students can use to create their OWN music in game. It's very cool!
Reading, Writing, Spelling
One of the biggest benefits I have personally seen is in students who are just learning how to read & spell or students who struggle with those things. The transformations have been absolutely amazing just by allowing them to play in Minecraft. This works best if they are playing on a server like SKrafty with others. They are able to type into chat in a family friendly atmosphere with new friends, and in doing so their spelling, writing, and reading WILL improve. BONUS: Did I mention typing skills? Yes, that will totally improve as well!
Testimonials of Real-Life Educational Minecraft Game Play
Check out what some parents who use Minecraft for their Homeschool have to say about it and how their students have benefitted:
"Minecraft has been very beneficial in many ways. Educational, social, fun…" – Sheryl
"It has helped motivate my son to get a lot more school work done, and helped me to have another tool that I didn't always have to do so much just myself." – Jess
"I love the collaboration skills my kids use with Minecraft. Just like I enjoy seeing them sit on the floor building with Legos together, I love observing them on the couch, each with a laptop, building on Minecraft. The advantage is they don't run out of or argue over pieces (like with Legos)
?. The collaboration skills they are developing are ones they will use in a future job." – Beth N.
"My daughter learned to type from playing on the servers. Her desire to chat with others motivated her to learn." – Cynthia
"My sons learned to read on their own by playing Minecraft, well before I started Kindergarten with each of them. It is our gateway to learning anything" – Zuni
"My son's reading level went up after he was introduced to Minecraft." – Beth Ann
"He loves playing Minecraft, and it has allowed him to explore electronics, music (through noteblocks), physics, architecture and a whole host of other learning activities." – Faith

A Dedicated Minecraft Server for Homeschoolers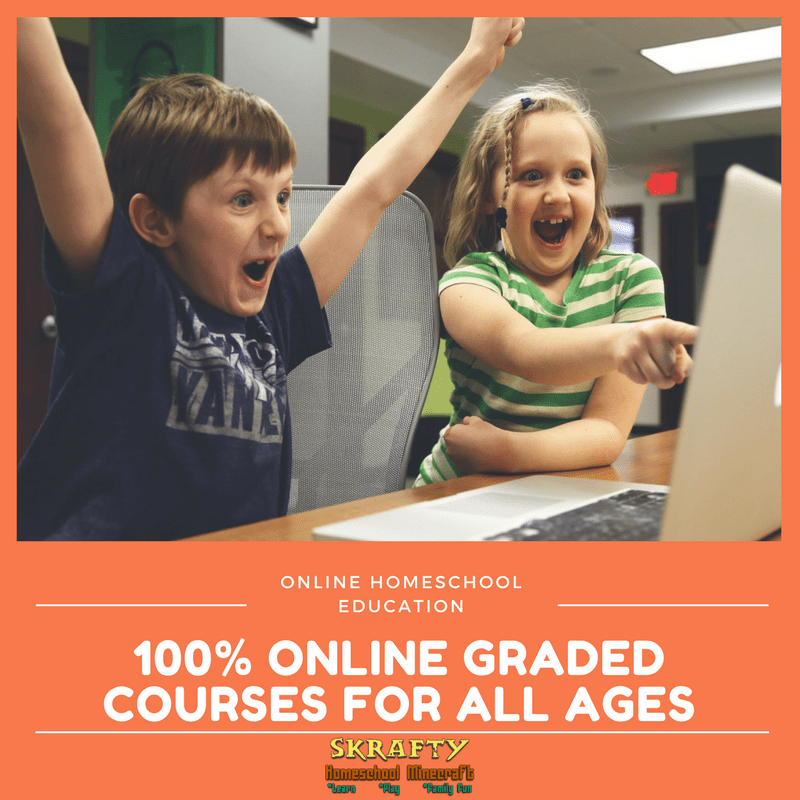 You can easily tap into the educational benefits of Minecraft by signing up for SKrafty, a Minecraft server dedicated to serving homeschool families.  Students can build and play on their multi-player server with SKrafty parents helping out to moderate and coach children daily.  Skrafty's automated filters make SKrafty the most heavily moderated Homeschool Minecraft Server in the world. CLICK HERE to sign up to play Minecraft on SKrafty.
SKrafty also offers self-paced and live classes for homeschoolers with a paid subscription. The classes are broken down by weekly lessons and include automatically graded quizzes. There is a Minecraft Adventure Build for each lesson to further enrich the learning experience. Students earn badges as they progress through the weeks and also earn in-game rewards.
A Skrafty EDU Subscription gives you,,,,
Unlimited access to entire library of ALL SKrafty classes
Note: Some courses may include a fee to reserve spots in classes which are limited.
Includes current and new classes added
Includes live and self paced classes
View student's quiz results
Certificate of Completion for each class
24/7 Access to our class and game server
Moderated chat
New classes added frequently.
Pick and choose your classes
End of course PRINTABLE portfolio for each class which includes screenshots of projects and report card. A portfolio will be sent via email.
BONUS: 50% off SKrafty Minecraft Birthday Party for subscribers
New Courses
IEW For $50 (non-refundable deposit)
Minecraft Books for Kids
Unofficial Minecraft Lab for Kids: Family-Friendly Projects for Exploring and Teaching Math, Science, History, and Culture Through Creative Building (Hands-On Family)
The Ultimate Unofficial Encyclopedia for Minecrafters: An A – Z Book of Tips and Tricks the Official Guides Don't Teach You
Coloring Book For Minecrafters: Math Coloring Book: Calculate and Color Squares (Unofficial Minecraft Coloring Book) (Volume 1)
Minecraft: Guide to Creative
Minecraft: Essential Handbook (Updated Edition): An Official Mojang Book
Minecraft: Blockopedia
How about you? How have you used Minecraft for homeschooling?
 
Related Posts

Want some techie homeschooling tips and inspiration delivered to your inbox? Sign up here for weekly-ish emails from me.
Techie Homeschool Mom is a participant in the Amazon Services LLC Associates Program, an affiliate advertising program designed to provide a means for sites to earn advertising fees by advertising and linking to Amazon.com. You can read my full affiliate disclosure HERE.