Hey, just so you know ... This post includes affiliate links. That means if you use them to make a purchase, I may earn a commission. You can read my full affiliate disclosure HERE
Here's a helpful list of online courses for kids, perfect for delight-directed homeschoolers. You'll find 100 ideas for supporting your child's interests and talents.

One of the greatest joys of homeschooling is the freedom to design a child's education around their interests and talents.  I love that I can direct my children towards their God-given purposes.  I know, without a doubt, that God has designed each of my children for a purpose, instilling interests, talents and giftings in them that they will use to change the world. [RELATED POST: How I Answer When Asked "Why Do You Homeschool"]
God has also instilled a natural curiosity and desire to learn in all of us. And, since they have always been homeschooled,  my daughters' curiosities haven't been stifled. They have the freedom to learn whatever interests them. And can learn in ways that fit individual learning styles and aren't limited to "grade-level" instruction.
Yes, as homeschoolers, we don't have to confine our children courses specifically design for kids, we can let our kids take classes that are developed for adults. And actually start learning skills that can apply to future careers. Shocking, isn't it?!? (note my sarcasm).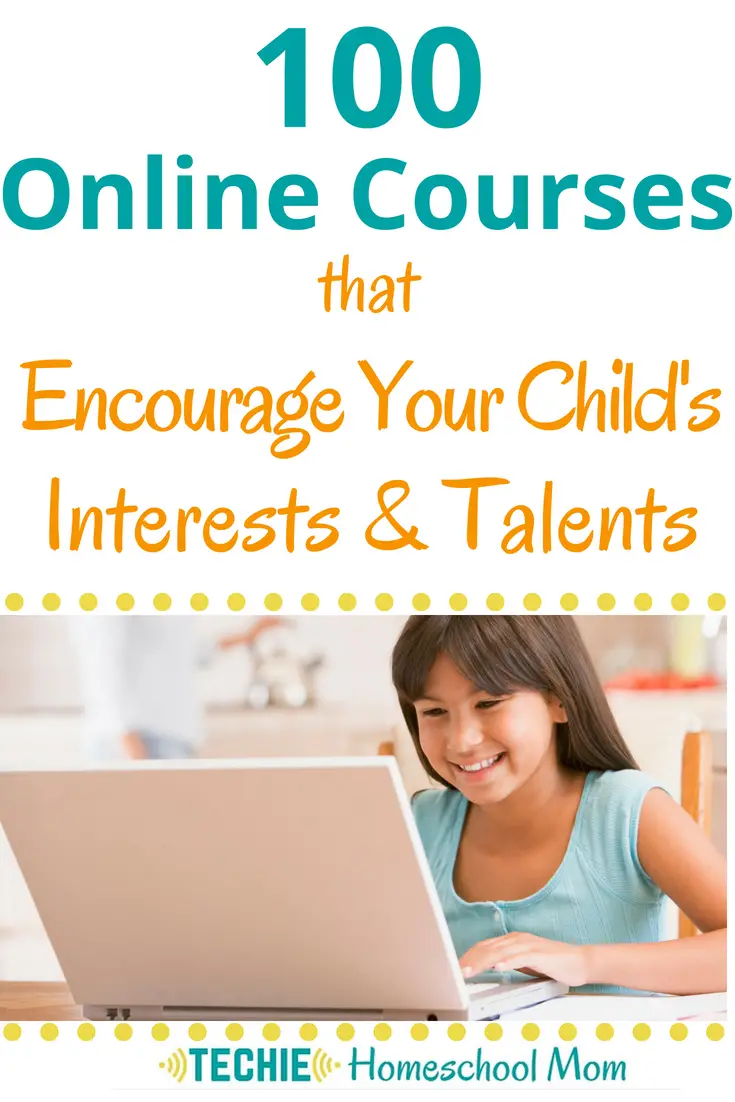 We discovered online courses when my oldest daughter wanted to take voice lessons. We wanted her to prove her interest before investing time and money in private in-person instruction. She started out enrolling in a vocal coaching course on Udemy. We then enrolled her in other music-related courses, such as music theory, composing and songwriting.  After we knew that she was "all in" and had proven her dedication to her craft, she started private voice lessons.
No matter what your child's aspiration, there is probably an online course for them.
I've put together this list of 100 courses for interest-led learning. All are skills-based courses, giving your child a foundation for future business endeavors or professions. Most are introductory-level courses, and a great way for your kids to explore an interest and try it on for size. And none of these courses are filled with distracting ads or incompetent instructors (like you'll find in many other places on the web).
100 Online Courses for Kids
Click each title to check 'em out. If you don't find a course that fits your child's interest, look around at each site. Chances are you can find something that works for your child's interest.
For Your Artist
10 Marvelous Mixed Media Techniques
Better Paintings With Watercolor Sketching
Colored Pencil Essentials
Pastel Pencil Essentials
People in Picture Books: Developing Your Main Character
See Better, Draw Better: Exercises for Beginners
Become a Comic Book Artist
Art School for Kids
Drawing for Kids: How to Draw Step-by-Step Interactive Art
Oil Pastel Painting: Art Projects and Techniques for Kids
For Your Crafter
Design It, Stitch It: Hand Embroidery
Embroidering With Ribbon
Introduction to Cross-Stitch
Jewelry Workshop: Bead, Wrap, Chain & Etch
Jewelry Making: Wire Wrapping for Beginners
Learn to Make Polymer Clay Jewelry
Make Your Own Bath & Body Products
Candle Making for Beginners
Learn Basic Card Making
Learn to Knit
Crochet: Basics & Beyond
Essential Seed Bead Techniques
Metalsmithing at Home
For Your Designer
Calligraphy for Everyone
Design Surface Patterns From Scratch
Graphic Design Fundamentals Overview for Beginners
Hand Lettering 101
Become a Graphic Designer
Become a Web Designer
SketchUp BootCamp: Creating Interiors with SketchUp
For Your Engineer
3D Printing & Modeling 1
Kids Crafts with Maker Dad
Woodworking Essentials: Benches & Boxes
Invent Your Own Machines
Arduino Step by Step: Your complete guide
Power Electronics Specialization
For Your Entrepreneur
Create Digital Products That Sell While You Sleep
Start a Handmade Business
Turn Your Etsy® Shop into a Sales Machine
How To Become An Entrepreneur At A Young Age
For Your Fashionista
Working with Hair and Makeup
Project Upcycle
Simple Sewing Projects for Beginners
Kids Sewing 101
Beginner Sewing for Tweens and Teens
Makeup for Beginners: learn makeup like a Pro
The Ultimate Creative Hair Design Course
Fashion Design 1
For Your Foodie
25 Essential Baking Techniques
Bigger Bolder Frozen Desserts: Ice Cream, Gelato & More
Decorating Essentials: Designer Cookies
The Everyday Gourmet: Baking Pastries & Desserts
The Perfect Cupcake
The Ultimate Cake-Baking Toolbox
Homemade Chocolate Candy: Fudge, Bars & More
Party-Perfect Cake Pops
Cook for Yourself
For Your Musician
Developing Your Musicianship Specialization
Mixing Master Class
Become a Music Star
Become a Mix Engineer
Become a Music Business Entrepreneur
Become a Songwriter
Werner Herzog Teaches Singing
Elite Singing Techniques – Phase I
Singing #1: Complete Vocal Warm ups, Tips & Voice Physiology
For Your Photographer
Photography Basics and Beyond: From Smartphone to DSLR Specialization
Learn How To Fly A Drone For Aerial Photos And Videos
The Beginner Photographer's Crash Course
Become a Photographer
Become a Photojournalist
Photography Masterclass: Your Complete Guide to Photography
For Your Techie
3D Animation 1
3D Game Design 1
App Design 1
APP programming for kids
Become a 3D Character Animator
Become an Asset Artist for Games
Become an iOS App Developer
Blender Animation for Kids
Fundamentals of Computing Specialization
Game Development and Coding for Children
Host Minecraft Video Show
Kids Coding -Introduction to HTML, CSS, and Javascript
Kids Coding with Scratch
Learn Java Like a Kid: Build Three Desktop and Mobile Apps!
Mod Design 1
Robotics Specialization
For Your Filmmaker
Shooting Documentary Short Films
The Art of Filmmaking and Editing
Become a Film Producer
Become a Video Production Crewmember
Kevin Spacey Teaches Acting
Video Editing Workshop Complete Beginners Course-Sony Vegas
For Your Writer
Writing for Young Readers: Opening the Treasure Chest
How to Write and Publish an eBook
Screenwriters Toolkit
Become an eBook Publisher
The Ultimate Mystery Writing Course for Kids
Write a Novel Outline from Scratch (Novel Writing Success)
Can't find the right fit? Check out these course sites to search for a class for your child's interests.

So, my friend….which course do you think your child will like? Leave me a comment to let me know.
Must-Have Tech for Homeschooling
2017 Acer Chromebook 11.6

Apple iPad 2 16GB

Roku Streaming Stick

DOSS Touch Wireless Bluetooth Portable Speaker

Skullcandy In-Ear Noise-Isolating Earbuds

Related Posts

Want some techie homeschooling tips and inspiration delivered to your inbox? Sign up here for weekly-ish emails from me.
Techie Homeschool Mom is a participant in the Amazon Services LLC Associates Program, an affiliate advertising program designed to provide a means for sites to earn advertising fees by advertising and linking to Amazon.com. You can read my full affiliate disclosure HERE.