Hey, just so you know ... This post includes affiliate links. That means if you use them to make a purchase, I may earn a commission. You can read my full affiliate disclosure HERE
A few years ago, I kept hearing about a video game called Minecraft. So, did my kids. In true kid fashion, they kept asking and asking and asking if they could play.
Now, you have to know that neither my husband nor I are big gamers. Over ten years ago, we watched a close family member nearly ruin his life due to a video game addiction. And we helped him during his recovery. The experience was enough to make us wary of getting too involved in gaming. So, I was apprehensive about jumping on the Minecraft bandwagon.
I had an impression that it was an addicting, zombie-filled game where characters kill each other to survive. But, for the sake of keeping up with tech trends (and to get my kids to stop bugging me about it), I looked deeper into Minecraft.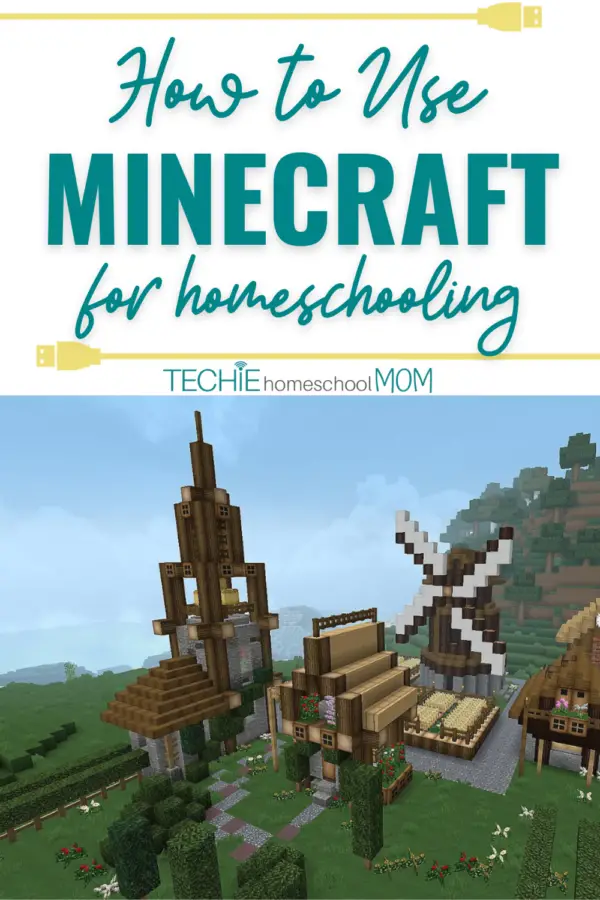 That was one of the best things I could have done for our homeschooling.
Minecraft has been a great addition to my daughters' self-education. While they "play", they are learning math concepts (esp. multiplication and geometry), engineering, chemistry, Earth sciences (all those kinds of rocks!), architecture (my girls will find pics of famous places online and then build them), geography and vocabulary.
They've built worlds from books they've read. They've researched historical events and recreated the settings. My one daughter created a zoo to house all the animals she researched. And all my girls have created many of their own worlds, combining creativity with logic.
The best thing is that my children oftentimes work on these projects together. (See? tech doesn't isolate people as many naysayers will claim). We've set up guidelines to keep them from getting sucked in too badly, and now Minecraft is just a part of our life. Like anything else, my kids go through phases where they play a lot then not at all.
Recently, other techie homeschool moms shared in Techin' Your Homeschool about the role Minecraft plays in their homeschool.
"My son decided to build the entire land of Redwall from Brian Jacques Redwall series. It was cool and I was very impressed with all the little details he built from memory of the audiobooks." – Marilyn
"My sons use with Sarah's Thinking Tree books.They can draw what they learned and can build it in Minecraft" – Jennilyn
"We have used Minecraft extensively over the years. My son has taken transportation and architecture engineering classes that used it as a base. We've done many classes on GamED – particularly for things like geometry (perimeter, area, surface area, volume) and science. We've done LearnToMod and Youth Digital (Java) that use Minecraft to teach programming. We've also used Minecraft Redstone to learn about circuitry. For art, my son has built pixel based structures – like R2D2 in Minecraft. It has been a major conduit for lots of learning here". – Kelly
"I used to have my son write a story to go along with a world he created." – Brigit
"My son has taken all of the Youth Digital courses. He had really learned quite a bit of coding." – Tina
The Easiest Way to Use Minecraft for Homeschooling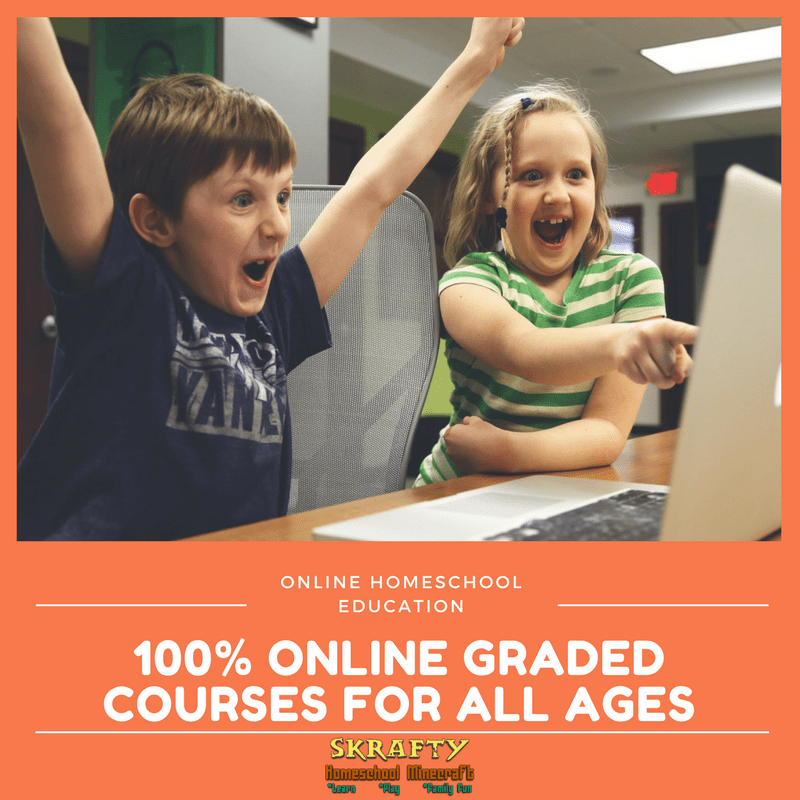 The easiest way to use Minecraft for homeschooling is to sign up for SKrafty, a Minecraft server dedicated to serving homeschool families. Students can build and play on their multi-player server with SKrafty parents helping out to moderate and coach children daily. Skrafty's automated filters make SKrafty the most heavily moderated Homeschool Minecraft Server in the world. CLICK HERE to sign up to play Minecraft on SKrafty.
SKrafty also offers self-paced and live classes for homeschoolers with a paid subscription. The classes are broken down by weekly lessons and include automatically graded quizzes. There is a Minecraft Adventure Build for each lesson to further enrich the learning experience. Students earn badges as they progress through the weeks and also earn in-game rewards.
A Skrafty EDU Subscription gives you,,,,
Unlimited access to entire library of ALL SKrafty classes
Note: Some courses may include a fee to reserve spots in classes which are limited.
Includes current and new classes added
Includes live and self paced classes
View student's quiz results
Certificate of Completion for each class
24/7 Access to our class and game server
Moderated chat
New classes added frequently.
Pick and choose your classes
End of course PRINTABLE portfolio for each class which includes screenshots of projects and report card. A portfolio will be sent via email.
BONUS: 50% off SKrafty Minecraft Birthday Party for subscribers
New Courses
IEW For $50 (non-refundable deposit)
How about you? How have you used Minecraft for homeschooling?
Minecraft Books for Kids
Unofficial Minecraft Lab for Kids: Family-Friendly Projects for Exploring and Teaching Math, Science, History, and Culture Through Creative Building (Hands-On Family)
The Ultimate Unofficial Encyclopedia for Minecrafters: An A – Z Book of Tips and Tricks the Official Guides Don't Teach You
Coloring Book For Minecrafters: Math Coloring Book: Calculate and Color Squares (Unofficial Minecraft Coloring Book) (Volume 1)
Minecraft: Guide to Creative
Minecraft: Essential Handbook (Updated Edition): An Official Mojang Book
Minecraft: Blockopedia

Related Posts

Want some techie homeschooling tips and inspiration delivered to your inbox? Sign up here for weekly-ish emails from me.
Techie Homeschool Mom is a participant in the Amazon Services LLC Associates Program, an affiliate advertising program designed to provide a means for sites to earn advertising fees by advertising and linking to Amazon.com. You can read my full affiliate disclosure HERE.