Hey, just so you know ... This post includes affiliate links. That means if you use them to make a purchase, I may earn a commission. You can read my full affiliate disclosure HERE
Welcome to the #TechieHomeschool IRL blog series. In this post, my guest Lisa shares necessary tips for homeschoolers living on the road. 
Lisa and her husband Greg are from Texas, but they are currently traveling the country full-time with their three wonderful children plus a dog and cat. They sometimes refer to themselves collectively as the Safari Family because with seven of them under one roof, life can be a little wild at times- especially now that roof is on an RV! She blogs about their adventures navigating roadschool, faith and special needs parenting at Yes, This I Know.

There are a growing number of families living on the road full time, such as full-time RVers, families that travel for work, and families connected to performing arts and competitive sports. My family falls into the first category- full-time RVing families. We love the freedom to travel, but it presents several challenges in the area of technology. This is particularly true for the technology we use in our mobile homeschool or "roadschool." After all, in the RV we are living in one-tenth of the space as we were in our "sticks and bricks" home, and we are frequently without an external source of electricity, such as when driving or when "boondocking" without hook-ups. We never have a wired internet connection. Here are a few ways that we've addressed these challenges and incorporated the technology we were accustomed to into our life on the road.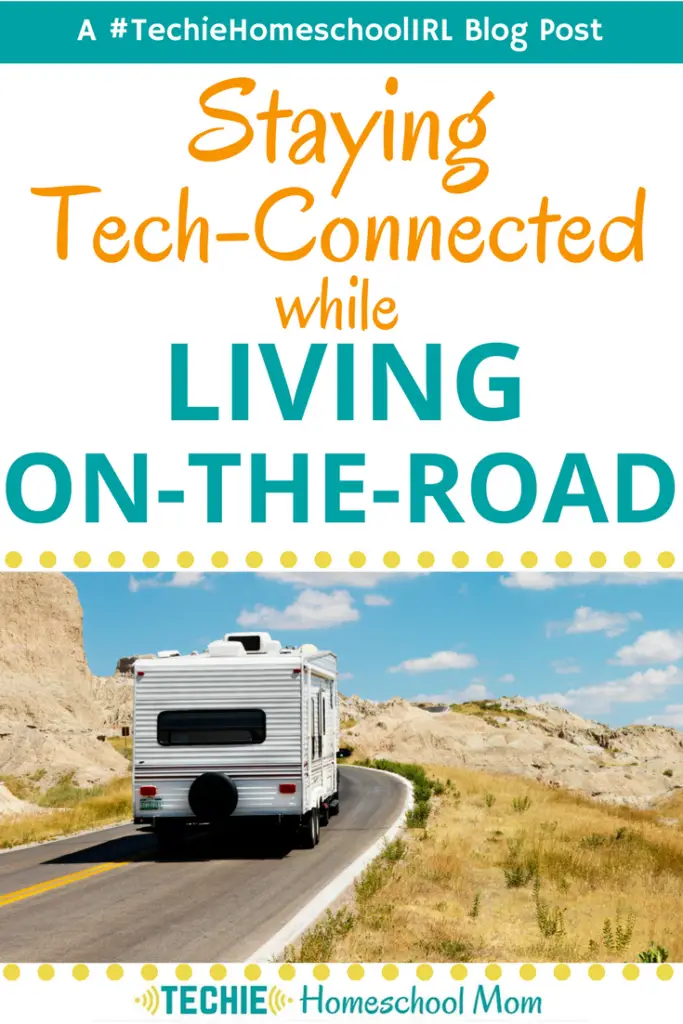 Space exploration: choosing devices and gadgets wisely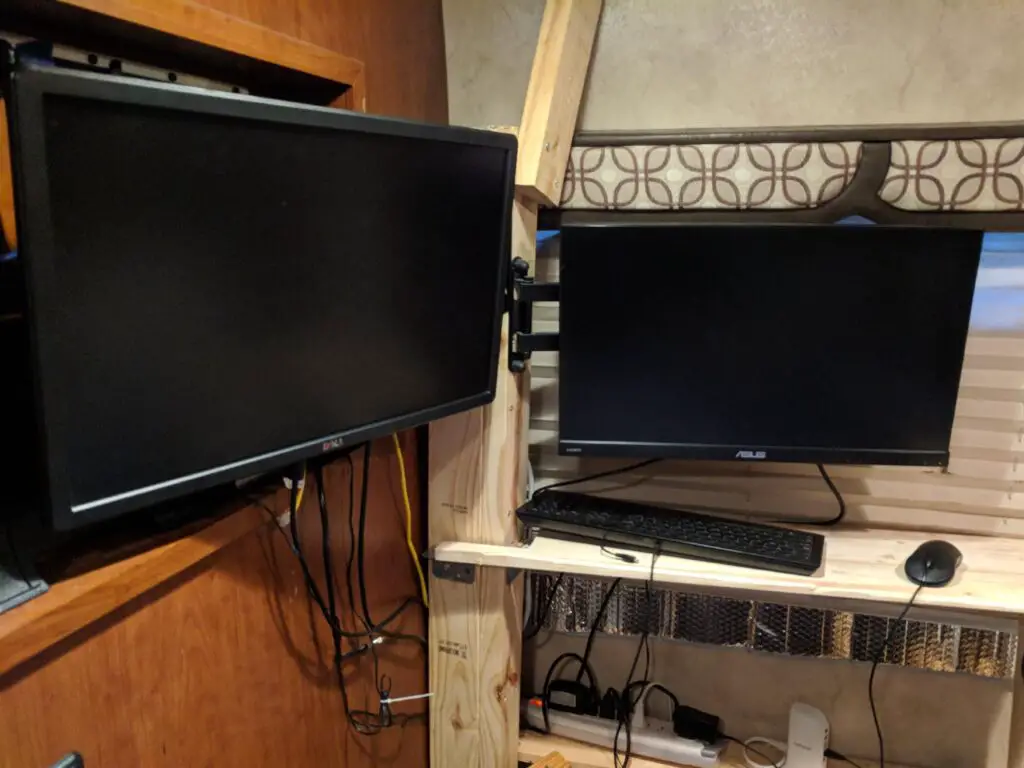 First, we had to choose what to bring with us. Most families living on the road must take weight and space into consideration, whether it's due to RV cargo capacity or luggage limits. So, gadgets must be multi-functional to be "worth their weight." We also had to consider the power needs of every gadget, because outlets and batteries are in limited supply when living on the road.
In our case, we left behind piles of electronic kids' toys whose limited functionality was easily replicated by a phone app- often one that the kids already had on their devices. We also saved weight and space by leaving behind our printer, scanner and laminator, as we can easily access those services as needed on the road. However, sometimes functionality justified considerable bulk; for instance, we knew we could not do without the computing power of our desktop or the convenience of two monitors, so my husband built a compact computer station to accommodate those items.
Power struggles: understanding power supply and storage
Second, we had to understand how to access and store power on the road. Everyone living on the road must be prepared to seek out sources of electricity and methods of power storage. There is an additional learning curve for managing power in an RV. Learning the basics includes understanding:
how much electricity the RV is wired to handle: 30amp or 50amp
how much power an electrical hook-up (outlet) provides to the RV: 15, 20, 30 or 50 amp
what kind of current the appliances and electronics draw- AC or DC- and how much
how the electrical system, converter, inverter, generator and/or house and chassis batteries work together to provide the correct type and amount of electricity
Help to understand these systems can be found here and here from Koa.com.
Our best recommendations for anyone learning to manage power on the road:
Pack your patience.
Keep battery packs with USB outlets charged so you can power devices when you are without wired electricity
Keep inverters handy for the car and/or RV. They invert power from a 12V outlet (or "cigarette lighter") into a current that can charge a USB or standard wall plug!
"World Wide?" Web: internet access challenges
The third large hurdle we faced was internet access. Most campgrounds have free wifi, but the speed and signal often are not adequate for today's tech-connected families. The options we explored for internet access included:
Hopping onto available Wifi networks at campgrounds and businesses

Pros: free
Cons: unreliable access, slow speeds, security concerns

Satellite internet

Pros: available everywhere
Cons: costly initial investment and plans, latency (delay)

Mobile data, such as through a hotspot or MiFi device

Pros: available any place that has a cell signal
Cons: variable speed, cost of high data usage, hidden limits in "unlimited data plans," limited signal in remote areas
Personally, we went with a MiFi device through Verizon with an unlimited plan that fits our needs. We occasionally have to deal with the drawback of a limited or absent signal, such as during our recent trip to Big Bend National Park in West Texas. But we find we can plan around these times of limited access. And, actually, it's refreshing to disconnect once in a while and just enjoy the view.
Tell me – what techie homeschool challenges do you face while traveling? What solutions have you found?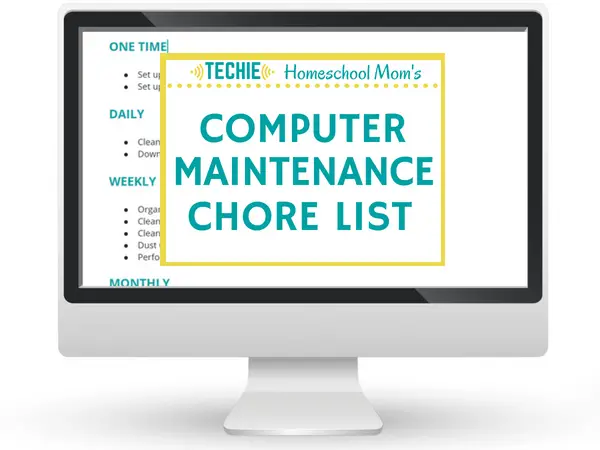 Want to keep your computers running hassle-free?
Download a list of 20+ routine tasks that will keep your computers working great.
Sign up to receive Techie Homeschool Mom's Computer Maintenance Chore List
Gadgets to Help Stay Connected Living On the Road
Enkey 150W Car Power Inverter

Rapid Car Charger

Novatel Verizon Wireless Jetpack

Related Posts

Want some techie homeschooling tips and inspiration delivered to your inbox? Sign up here for weekly-ish emails from me.
Techie Homeschool Mom is a participant in the Amazon Services LLC Associates Program, an affiliate advertising program designed to provide a means for sites to earn advertising fees by advertising and linking to Amazon.com. You can read my full affiliate disclosure HERE.