The Best Devices to Use for Online Learning
Hey, just so you know ... This post includes affiliate links. That means if you use them to make a purchase, I may earn a commission. You can read my full affiliate disclosure HERE.
"What type of device do I need for online learning?" That's a question I get asked often. As our family has embraced digital learning, the list of physical items we need has changed. We've needed to upgrade our traditional school supplies to techie homeschool supplies.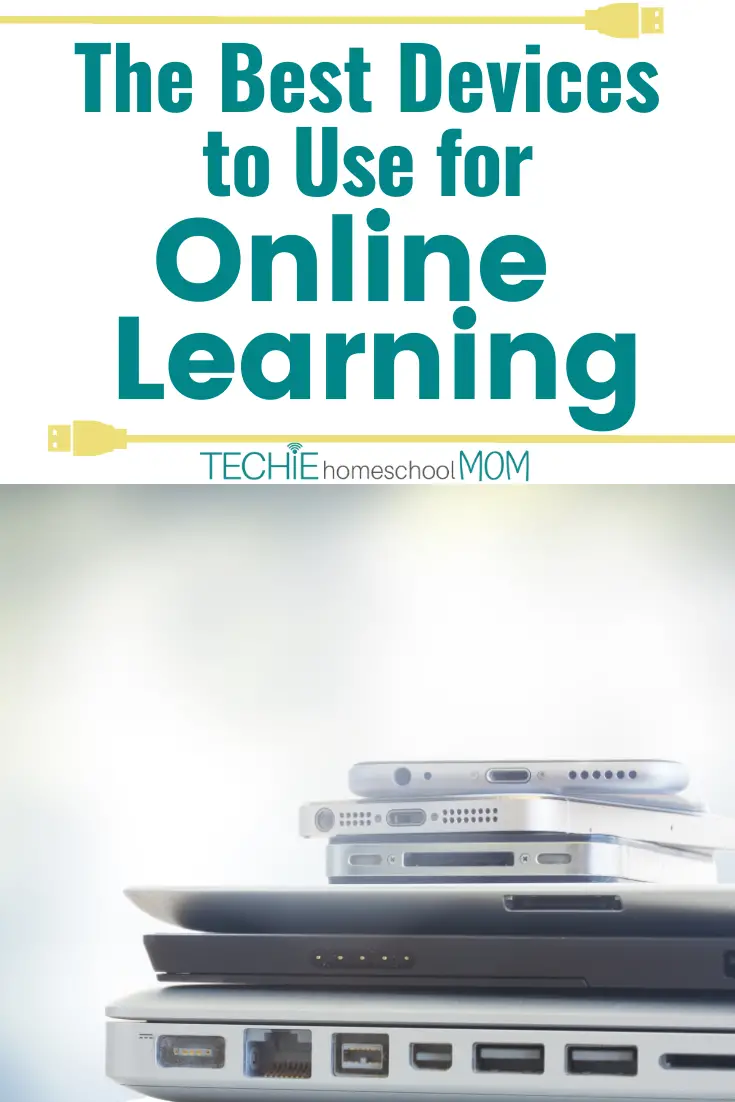 This post was written by Beth, the original owner of TechieHomeschoolMom.com.
We not longer have a dedicated homeschool room in our home. You won't find shelves and bins full of homeschool books and workbooks. Our whiteboard has been demoted to the basement. Instead, our homeschool "room" has been reduced to a bookshelf of Chromebooks and tablets, a few books and supplies for hands-on projects.
Who needs a globe and wall map when you can walk the streets of Paris with Google Maps? Textbooks and workbooks have been replaced with online courses. And I don't think anyone in our family has used a calculator for years.
Mind you, my kids are older. And if I had little ones I'd still have shelves full of manipulatives and hands-on learning tools. But, now so much of the paper clutter is gone. No more notebooking and lapbooks since we create lots of digital projects. I've even downsized our reading library since ebooks and audiobooks are so much more convenient.
But… relying on technology for the bulk of our homeschooling means we need to have the right equipment for the job. It's taken me a few years to build our arsenal of techie homeschool supplies, adding new devices as our budget allowed. You see, I've been able to take the money we've saved by using online resources (vs. purchased textbooks and workbooks) and budget that for electronics.
"Must-Have" Homeschool Supplies for Techie Families
This list will help you understand which devices you need to easily access online materials and tools. And even if you're not full-on techie yet, it's a good time to start transitioning and adding more tech supplies into your homeschool routine.
Chromebook
Chromebooks are the best computer for families who primarily use web-based homeschool resources. They work seamlessly with Google apps, including Google Drive. You can easily access your online classes, research on the web, watch videos and learn with web-based apps. Your kids will develop keyboarding skills, something that's not as much with tablets and mobile phones.
You can get an inexpensive Chromebook and it won't break the bank. Your student can even carry it with them when they travel, or do lessons from different parts of the house so they are more comfortable.
Recommended Chromebooks
Samsung Chromebook 3, 11.6

Acer Chromebook 14

Super Google Chromebook Pixel Touch Screen 12.85

In this live video replay, I explain more about the benefits of using Chromebooks for homeschooling.
Tablet (Android, iPad or Kindle)
Tablets are the best choice for reading ebooks, watching videos, listening to audiobooks, researching online and learning with apps. They're extremely portable, so great for a family that likes to learn wherever they are. There are different types of tablets to choose from so do a little research to find the perfect one for your needs.
Recommended Tablets
Samsung Galaxy Tab E 9.6

Apple iPad (32GB) 4th Generation (Certified Refurbished)

Fire HD 8 Tablet with Alexa, 8

Bluetooth Speaker
A good speaker is essential for listening to audiobooks, podcasts and music, especially if you're doing it as a whole family. You can set up your mobile devices to cast your music/audiobooks directly to the speaker. This allows you control the sound from wherever you are without being tethered by cords and wires.
Recommend Bluetooth Speakers
DOSS Touch Wireless Bluetooth Portable Speaker

OontZ Curve Bluetooth Speaker

Anker Soundcore Portable Bluetooth Speaker

Earphones
If you're using online courses or lots of video for child-specific learning, you'll need earbuds or headphones for each child. That way, they can all be working in the same space (in your sight) without being distracted by a sibling's audio. You can get different colored headphones for each child or label cords to keep them from getting mixed up (because no one wants to swap ear wax!)
We love the iClever: TransNova wireless Bluetooth headphones for kids.  With customizable ear plates (that light up!) and a volume limiter, these headphones are not only fun, but safe for kids.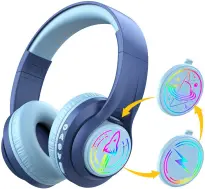 These headphones have three different listening modes to protect your kids' hearing: toddler, study, and travel.  They also offer up to 45 hours of play time and high quality sound and mic – which makes them great for at-home learning.
And if you homeschool on the go, keep your headphones protected in the durable travel case they come in.
Grab a pair HERE for each of your kids.
More Recommended Earphones
LilGadgets Connect+ Premium Volume Limited Wired Headphones

BestGot Headphones for Kids with Microphone In-line Volume

JustJamz Kidz Jelly Roll Colorful In-Ear 3.5mm Stereo Earbud Headphones – 10 Pack

Wireless Printer
Once you start techie homeschooling, you'll love the reduction of paper! However, even if you're using digital curricula, you'll have times when you need to print select pages. A wireless printer allows you to print from any device on the home's WiFi. This means it is easy to print from tablets and Chromebooks as well as your main computer, without the devices having to be plugged into your printer with a cord.
Recommended Printers
Brother Compact Monochrome Laser Printer

HP OfficeJet 200 Portable Printer with Wireless & Mobile Printing

CANON PIXMA iP110 Wireless Mobile InkJet Printer w/ With AirprintAnd Cloud Compatible

Wireless router
If you've got wifi in your home (and who doesn't), you've got a wireless router. But not all routers are created alike. It's essential to have a router with optimal bandwidth for multiple devices. When you want to be a completely connected homeschooling family, with multiple people online at once, you're going to need a quality wireless router.
Recommended Routers
NETGEAR Nighthawk Smart Dual Band Wi-Fi Gigabit Router

NETGEAR Orbi Whole Home Mesh WiFi System with Tri-band

Linksys AC1750 Dual-Band Smart Wireless Router

Casting Device
A casting device, such as a Chromecast, allows you to mirror what is on your computer or mobile device to your family's TV. This is especially helpful for whole family learning times.You can browse a website with everyone following along or play YouTube videos on the big screen. It certainly beats multiple kids crowding around a laptop or tablet.
Streaming device
A streaming device, such as a Roku Stick or Amazon Fire TV Stick, allows you to access video channels and watch content through your TV. It differs from a casting device because you find the videos on the device, not your computer or mobile device. You can subscribe to channels and find videos easier than with a casting device. And you don't need to use your computer to send the content to your TV.
Recommended Streaming Device: Roku Express
A.I. Device

(OK, maybe not an essential device, but certainly lots of fun!)
AI (artificial intelligence) devices are the "new kids" on the block of essential tech for homeschooling. A Google Home Mini, Amazon Echo or Home Pod appeases curiosity by answering research questions, keep everyone up to date with schedules and help with spelling and math facts. Most AI devices do double-duty as a Bluetooth speakers. I'm confident that, over time, AI devices will develop into a definite essential for techie homeschoolers.
Tell me, which of these techie homeschool supplies are you adding to your wishlist?

Best Parental Control Devices and Software
KoalaSafe Family Friendly Wireless Router with Parental Controls

Circle with Disney – Parental Controls and Filters for your Family's Wireless Devices

Norton Security Premium – 10 Devices

Kaspersky Total Security 2018 5 Device/1 Year

Related Posts

Want some techie homeschooling tips and inspiration delivered to your inbox? Sign up here for weekly-ish emails from me.
Techie Homeschool Mom is a participant in the Amazon Services LLC Associates Program, an affiliate advertising program designed to provide a means for sites to earn advertising fees by advertising and linking to Amazon.com. You can read my full affiliate disclosure HERE.