Hey, just so you know ... This post includes affiliate links. That means if you use them to make a purchase, I may earn a commission. You can read my full affiliate disclosure HERE
Welcome to the #TechieHomeschool IRL blog series. In this post, my guest Tatiana shares the role technology plays in her family's roadschooling, as they keep on learning when they travel.
Tatiana is a follower of Jesus, wife to Mario, blessed mom of 5 girls and 1 boy. She's a full-time working and homeschooling mom, who is passionate about encouraging families to promote a true desire for knowing God personally through His word and His creation. You can learn more about Tatiana at her blog The Musings of Mum

How much of your homeschooling actually takes place at home? Not much of ours does. In fact we spend more time on the road, than at home. Between theater rehearsals, basketball games, choir practice, weekly nature hikes, and twice monthly museum visits, I often consider ourselves road-schoolers.
No matter how wonderful and educational the outings and extracurricular activities make us feel, so much time on the road can mean formal lessons are postponed and often skipped!
Now, most homeschool moms would agree, that every road trip, museum visit, and extracurricular activity is just as good as any regular school day "because the learning never ends". Though I completely agree with this, I gotta say that things are just a little different when the kids you're schooling are college-bound high schoolers which is the case in our home.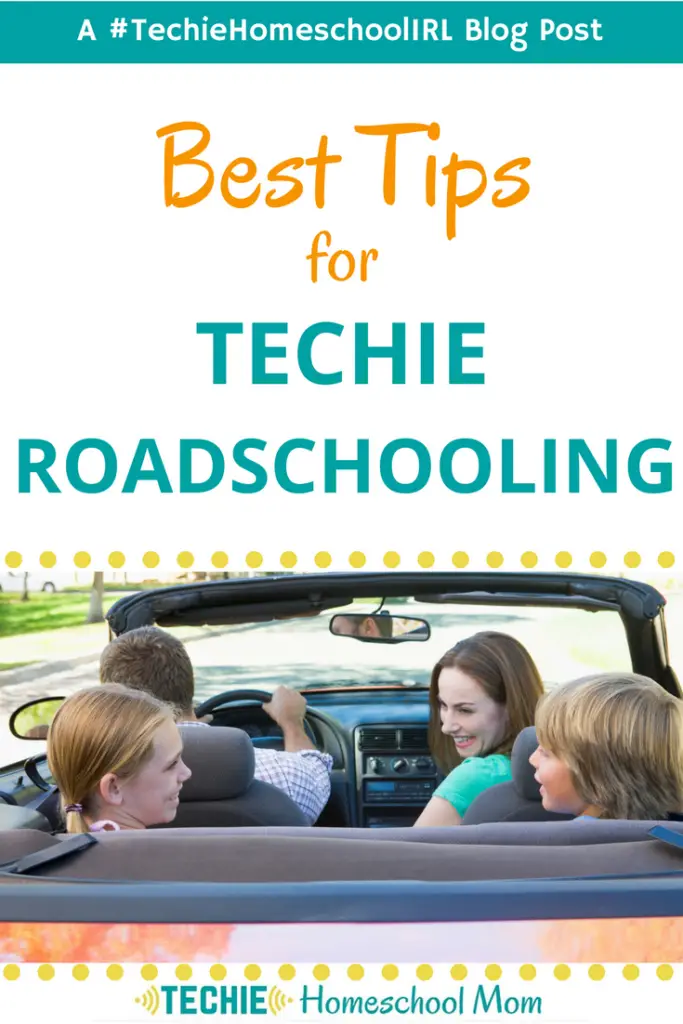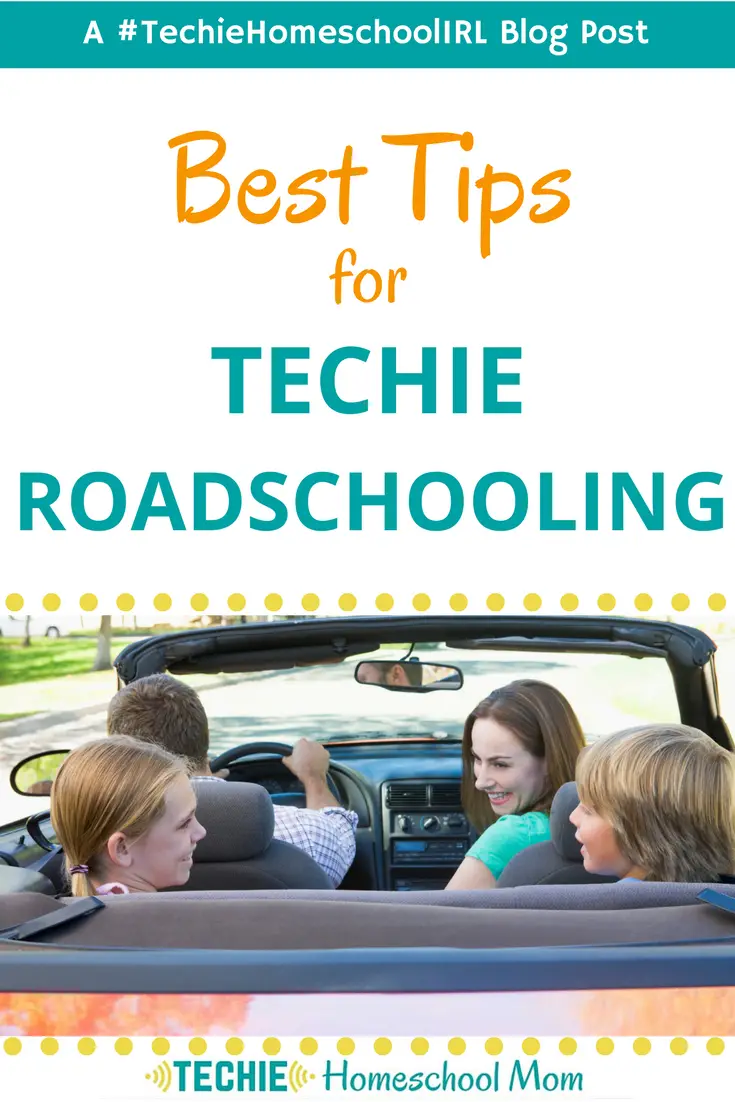 The single most effective way for not falling behind on formal lessons while we're on the road, be it on our way to a nature hike or on an extended road trip, has been to use technology to its full advantage.
Techie Homeschooling While on the Road
This week, for example, we are on a two-week road trip, at basketball nationals 1,600 miles away from home. This is just the first of five long trips we have planned this year. Thanks to the technology we brought along, no one has fallen behind and the extended periods of cross-country driving were not wasted.
Technology has been a major player in our homeschool from the beginning, and though we are passionate about physical books and curriculum we can hold in our hands, on this particular trip technology has replaced every bit of the traditional curriculum we use on days we school at home.
Advantages of Technology While on The Road
In order to make things easier for everyone while on the road and to reduce valuable luggage space, the only school supplies we brought along are netbooks, a tablet, Bluetooth speaker, cell phones, and a portable high-speed modem (we're serious about our internet connection).
What's awesome about technology these days is that it is boundless. A few years ago we struggled to get a steady internet connection while on a similar trip which is why the portable modem came in handy.
While on our way back, we plan on making a few stops along the way. There are museums, monuments, and memorials we want to explore, and the technology we're bringing along will help us prepare as we get there.
We're also documenting every step of our road trip with cell phone cameras, and a great deal of the footage will be uploaded to my girls' YouTube channels. Technology allows us to learn, investigate, make memories, and share them with other people.
I was even able to get some client work done while driving cross-country.Who needs a conventional office these days?
Devices We Use for Homeschooling on the Road
Last fall, we had a very hard time deciding just what type of devices my girls would need while road-schooling. We do this type of thing often, so we wanted to make sure whatever we had to bring along was light and portable.
This year, we chose Lenovo Netbooks, an Alcatel portable hotspot, Bose portable speaker and one iPad used mainly for audiobooks, eBooks and video watching.
4 Reasons Why You Should Ditch Traditional Curriculum While Traveling
One of the greatest advantages of homeschooling is the flexibility it gives us. That flexibility increases exponentially when we add technology in our homeschools.
Traveling light is crucial whether by planes, trains or automobiles. Our minivan was 42 lbs lighter, and my girls were very appreciative of the extra space in the back.
Going anywhere with kids requires extra equipment as it is! Why add to the list of things you need to keep track off?
Education is an atmosphere! Why not take advantage of all there is to see on the way to your destination and use the time in between to learn more about where you're headed?
Online tools, courses, and unit studies make it easier than ever to continue the learning journey no matter where you are. Even if the only device you bring along is your cell phone!
Tell me – How are you taking advantage of technology while you travel?
Must-Have Tech for Homeschooling
2017 Acer Chromebook 11.6

Apple iPad 2 16GB

Roku Streaming Stick

DOSS Touch Wireless Bluetooth Portable Speaker

Skullcandy In-Ear Noise-Isolating Earbuds

Related Posts

Want some techie homeschooling tips and inspiration delivered to your inbox? Sign up here for weekly-ish emails from me.
Techie Homeschool Mom is a participant in the Amazon Services LLC Associates Program, an affiliate advertising program designed to provide a means for sites to earn advertising fees by advertising and linking to Amazon.com. You can read my full affiliate disclosure HERE.