The Ultimate List of Online Courses for Homeschoolers
Hey, just so you know ... This post includes affiliate links. That means if you use them to make a purchase, I may earn a commission. You can read my full affiliate disclosure HERE.
The online class options for homeschooling have grown exponentially over the past few years. When I started homeschooling my oldest daughter, there were very few options for digital curriculum. We had a collection of CD-ROM games and access to a handful of online lessons. Now, the choices for online homeschooling courses for homeschoolers are endless.
We homeschool moms no longer need to wonder IF there's a course that will work for our kids. Now, we need to decide WHICH course will work for our kids. The problems lies in the fact that there are sooooo many online homeschool options. It's time-consuming to research them all, read the websites and figure out which ones will be a good match for your family.
Think about all the things you need to consider when looking for an online course.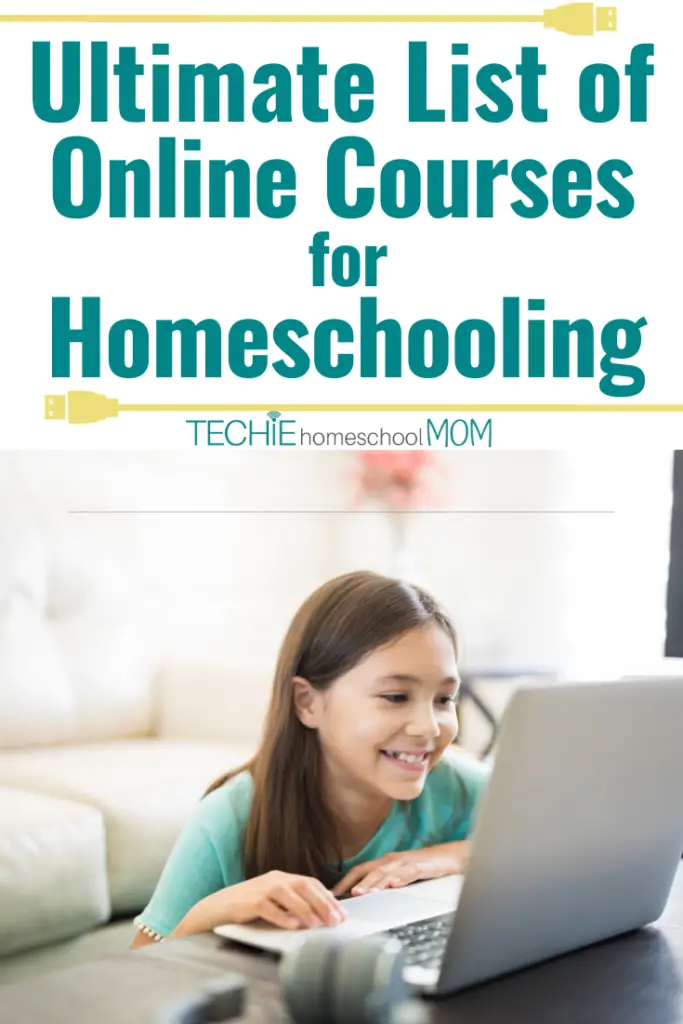 Things to Consider When Searching for Online Homeschooling Courses
A simple Google search for "online homeschooling course" will return an overwhelming amount of choices, requiring you to sift through and find the class that fits your family's unique needs.
Things you'll need to keep in mind are:
What academic subjects does the course cover?
What grade level is the course intended for?
Is this an all-in-one course or can you choose individual courses for a more flexible education?
Are classes live (at a set time or day) or self-paced (you can take at anytime)?
How much does the course cost?
How long do you have access?
What assessment tools are included? Do parents receive reports or do they need to keep track of progress?
That's a whole lot of research, isn't it?  Well, I've got your back.
I've done all of that research for you and compiled an easy-to-search list.
I've identified 150+ websites that offer online courses. I've categorized them by which subjects and grade level courses are offered, plus whether classes are live or self-paced. I've noted which websites require you to register for all-inclusive programs vs. individual courses. You can sort by class format, price level and more.
You can access all this goodness two ways ….
1) You can click right on over to the Online Homeschool Curriculum Directory.
This list is the most up-to-date and comprehensive one you'll find anywhere for searching for online homeschool courses. When you get to the directory, just click on the subject you're interested in. Or use the "filtered search" button to narrow down your choices even more. Once your search results pop up, open each listing for even more details. CLICK HERE to try it out.
2) You can get a copy of the "Ultimate List of Online Courses for Homeschooling" that I created in Google Sheets.
I'll send an email with the link (plus a .pdf copy). You can save it to your Drive and make notes for future reference. Keep mind, this list isn't updated as regularly as the Online Homeschool Curriculum Directory, and it doesn't contain as many details. You can get a copy of the list by clicking the button below.
You can get a peek at "The Ultimate List of Online Courses for Homeschooling" below, but honestly, it will be easier to find the best courses for your needs if you search at the Online Homeschool Curriculum Directory or get your own copy of the list.

The Ultimate List of Online Courses for Homeschooling
(be sure to scroll right and down to see all the results of my research)
Tell me, what online homeschooling courses have you tried and loved?
Must-Have Tech for Homeschooling
2017 Acer Chromebook 11.6

Apple iPad 2 16GB

Roku Streaming Stick

DOSS Touch Wireless Bluetooth Portable Speaker

Skullcandy In-Ear Noise-Isolating Earbuds

Related Posts

Want some techie homeschooling tips and inspiration delivered to your inbox? Sign up here for weekly-ish emails from me.
Techie Homeschool Mom is a participant in the Amazon Services LLC Associates Program, an affiliate advertising program designed to provide a means for sites to earn advertising fees by advertising and linking to Amazon.com. You can read my full affiliate disclosure HERE.