** This is a sponsored post. I received this product or compensation for review purposes only and was compensated for my time. I was neither asked nor required to share a positive review; all opinions are my own. READ HERE for more information.
Between school closures and social distancing, all kids now have an immediate need for structured learning. That leaves us parents frantically searching for online learning options for our kids. Luckily, learning sites are offering an abundance of choices. Some of us are better suited to tackle the issue, but for those of you who haven't explored the online learning ecosystem, it can be overwhelming.
The problem is, not all opportunities are created equal, and "online learning" really takes more forms than we know what to do with. Should kids be at a screen and pointing and clicking their way through self-paced courses, or would they get more out of a live classroom environment?
Because let's face it, it's not just the opportunity to keep minds sharp, but for kids to be able to socialize as well. They need online learning experiences that help the developing habits in digital learning environments that will serve them the rest of their lives.
iD Tech understands (and facilitates) this.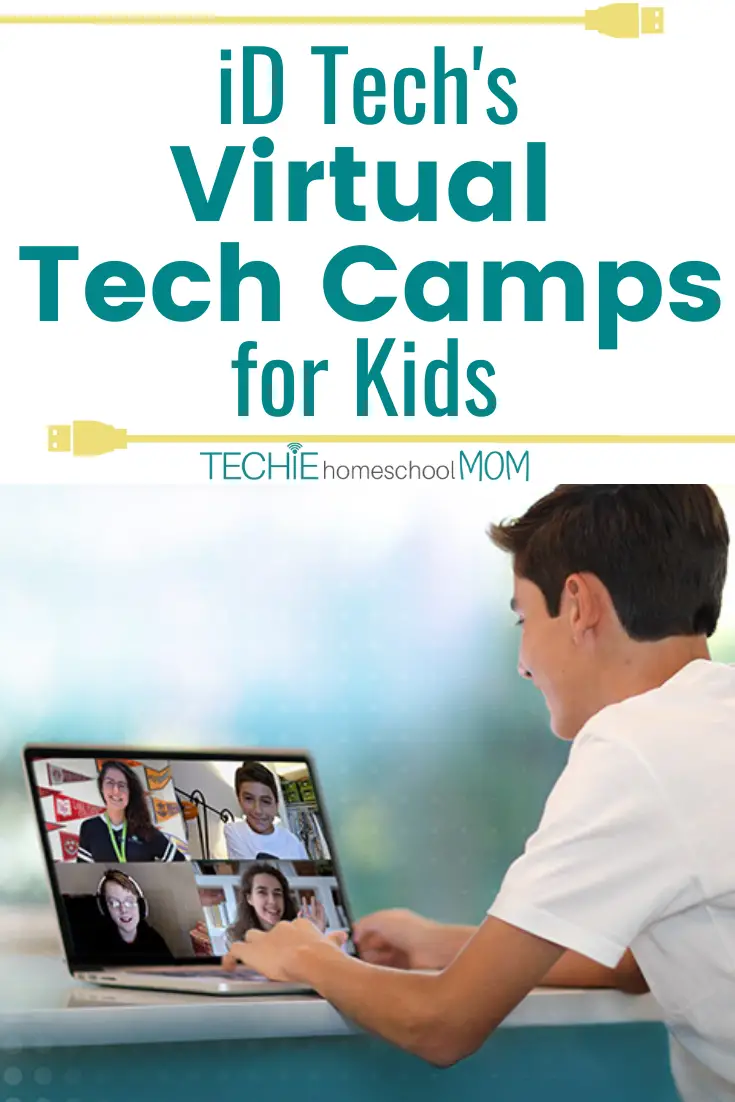 Who is iD Tech?
iD Tech is a Silicon Valley family company that started educating over 20 years ago (not in a garage like you might have guessed but in a small studio above a garage) has built themselves up to be the #1 STEM summer camp, and is uniquely prepared to help families not only in summer but also right now.
With that, iD Tech has launched Virtual Tech Camps – live, structured, weeklong sessions for ages 7-19, offering a balanced schedule of 2 hours of live instruction + 2 hours of self-paced project development per day. Their curriculum includes Python, Java, Minecraft, Roblox, AI, Unreal Engine, Adobe, 3D modeling, and more.
Classes are kept small – only 5 students max per – to allow for personalized learning and time to socialize and learn alongside others, and are led by tech rockstar instructors who have a passion for tech and unmatched expertise.
These Virtual Tech Camps are offered alongside already-existing Online Private Lessons, which offer much of the same curriculum and are taught by the same instructors, but in a one-on-one, 60-minute session instead.
Online Learning Opportunities from iD Tech
Structured, weeklong sessions available now in multiple time zones (5 consecutive days, Monday-Friday)
A balanced schedule including 2 hours of live instruction + 2 hours of self-paced project development per day
The hottest curriculum in Python, Java, Minecraft, Roblox, AI, Unreal Engine, Adobe, 3D modeling, and more
5 students max per instructor, blending personalized learning and time to socialize
Personalized instructor feedback delivered via email so you can track your child's success
See what courses are available HERE.
Save $100 with code 'TOGETHER' as long as social distancing is in effect
60-minute sessions with ultimate scheduling flexibility
Exciting curriculum tailored to your child's interests and skill level
Project-based course bundles that promote fast advancement and increased confidence (choose from single lessons, 5-packs, or 12-packs)
Post-session progress reports via email so you can track your child's success
NEW! Your child can bring a sibling (or friend) to their sessions for free. When times are tough, we band together.
CLICK HERE to learn more about private lessons.
Rave reviews from other parents and kids:
"This program was a real boost to my kiddo's spirits this week. Having something to look forward to every day and seeing other kids made life feel a little more normal for my son. He loved everything he learned!"  -Linda H., parent
"Last summer when I went to iD Tech, I met one of my now close friends, Violet. Now I'm doing Virtual Tech Camps. Every class I take, I make friends".  -Sarah F., student
"The instructor did a great job of modifying the curriculum to meet Chris's needs!"  – Margaret B., parent
If you're looking for ways for your kids to learn game design, coding, animation, and more, I recommend you check out idTech.
RELATED POSTS
MORE FUN WAYS TO LEARN HOW TO CODE
LEGO Boost Creative Toolbox
ThinkFun Code Master Programming Logic Game
Learn to Program (Kids Get Coding)
Wonder Workshop Dash – Coding Robot
ROBOT WARS Coding Board Game
Boolean Box
Discover more ways to teach your kids to code in my Amazon store HERE.

Want some techie homeschooling tips and inspiration delivered to your inbox? Sign up here for weekly-ish emails from me.
Techie Homeschool Mom is a participant in the Amazon Services LLC Associates Program, an affiliate advertising program designed to provide a means for sites to earn advertising fees by advertising and linking to Amazon.com. You can read my full affiliate disclosure HERE.