Hey, just so you know ... This post includes affiliate links. That means if you use them to make a purchase, I may earn a commission. You can read my full affiliate disclosure HERE
I remember the excitement I felt as a kid when my monthly edition of Games Magazine showed up in the mailbox. My parents gave me a subscription as a birthday gift, but I got to enjoy it all year long. Nowadays, my kids can experience that same excitement, but to the nth degree with STEM subscription boxes delivered to your door every month.
Don't you wish there were monthly subscription boxes for kids like this when you were growing up? Each is filled with science, math, technology and/or engineering activities and resources. A monthly subscription box (or two…or three) is a perfect addition to your homeschool plans. In fact, my kids don't even realize they're learning as they dig into their STEM projects.
STEM Subscription Boxes
Crazy, fun app-building projects delivered each month to your door with a monthly subscription box from Bitsbox.  After learning to code their own projects on the Bitsbox website, kids can play the apps on their own device.  Subscriptions cost as little as $20 per month. LEARN MORE.
Prepare your young scientist for a future STEM-based career with a monthly subscription box to Spangler Science Club. Spark creativity and make learning fun with these interactive experiments and hands-on activities created by Steve Spangler. Learn the real science behind each experiment while inspiring wonder and building problem-solving skills. There are three different price points for a monthly subscription, ranging from $9.99 to $29.99. LEARN MORE.
Solve real-life scientific mysteries with hands-on STEM activities and science experiments with a monthly subscription from Little Passport Science Expeditions. Each month includes a comic book, experiments, activities, plus access to bonus online videos and science content. Monthly subscription cost is $21.95. LEARN MORE.
With a monthly subscription to Groovy Lab in a Box, your child will receive fun, hands-on science experiments and an engineering design challenge. Each month features all the supplies needed to complete the activities and experiments for children ages 8 years old and up, plus extended learning through an exclusive online portal. $29.95 per month.  LEARN MORE.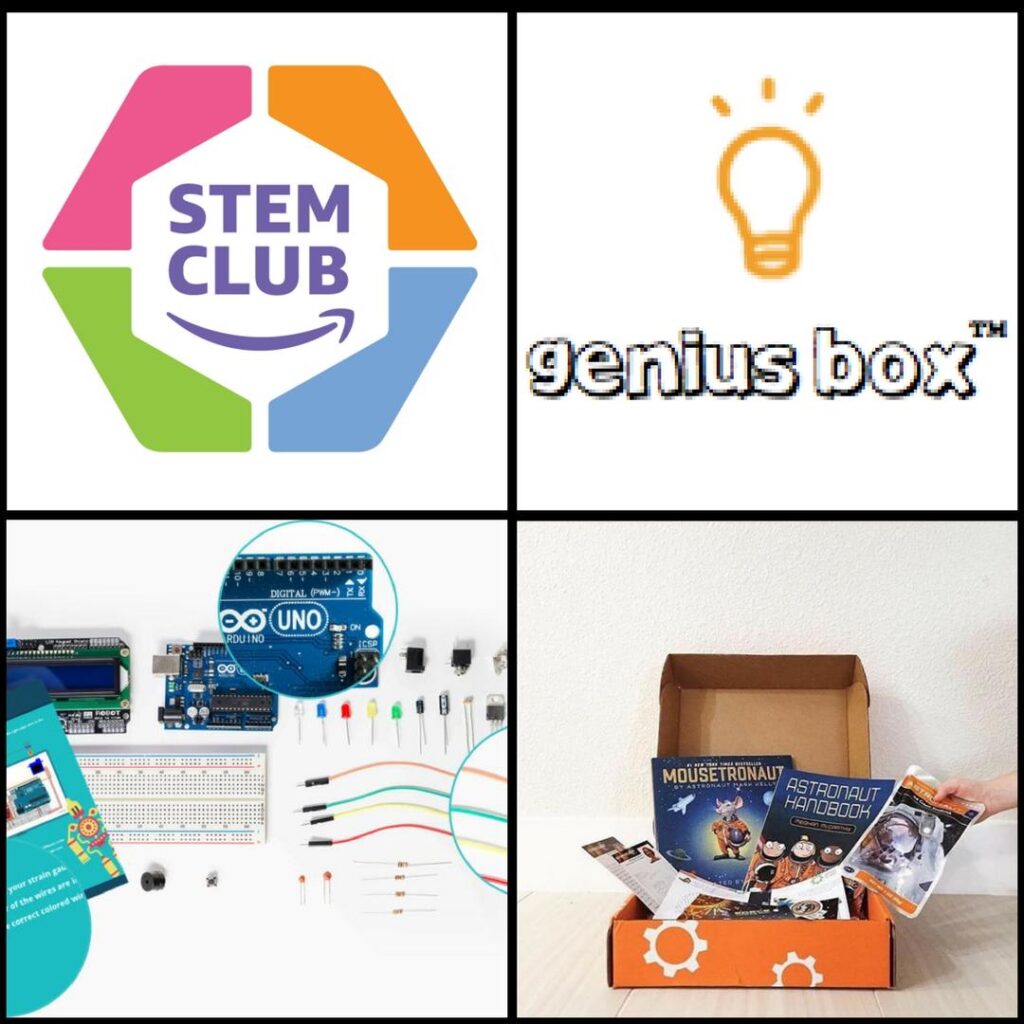 What kid wouldn't love to have toys delivered right to their door each month? The Amazon STEM Toy Club delivers high-quality, handpicked Science, Technology, Engineering, & Math toys that are age-appropriate that encourages your child to learn through play. There are three subscription levels for ages ranging from 3 to 13 years old for $19.99 per month. LEARN MORE
A subscription box for children ages 8-11. Each month's topic is illustrated with challenging activities that provides a creative, hands-on discovery of Science, Technology, Engineering, and Math concepts. $25 per month. LEARN MORE
A technology education subscription box that teaches you how to program electronic projects with a worldwide certified curriculum. Everything you need to build your own electronic gadget in a box, delivered right to your door for $29.99 per month. LEARN MORE

A monthly book club for children ages 4 to 8 who are eager to learn more about science, technology, engineering, and math. Each box includes two or more books, a note from the book's author, fun learning activities, and an extra surprise for $39.95 per month. LEARN MORE
A monthly subscription box for kids ages 3-10, with themed projects and experiments that focus on science, technology, engineering, art, and math. Each month a box filled with 6 or more STEAM kits, a 12-page activity magazine, and achievement badges is delivered to your door starting at $17.95 per month. LEARN MORE
Start a new adventure with PodPi, each monthly kit builds off your previous adventure with new projects and skills to learn. Each kit is designed for kids 9-14 with a comic book style lesson book to learn to write JavaScript and work with real electronic components. $34.99/month. LEARN MORE
Everything needed to create, explore, and learn delivered to your door each month. Serious science that is fun & engaging with hands-on learning and discovery for ages 9-16+. Each crate is designed to help kids build their problem-solving skills while building super-cool projects. $19.95/month. LEARN MORE
STEM-based hands-on activities to teach kids ages 7-12 about Science, Technology, Engineering, and Math. Each kit includes four exciting projects to learn how things work, why they work, and how to create them. $29.95/month. LEARN MORE
More STEM projects for kids …
Kano Computer Kit Complete | Make a laptop. Learn to
Bit Coding Robot
LEGO Boost Creative Toolbox 17101 Building and Coding Kit (847
Elegoo UNO Project Super Starter Kit with Tutorial for Arduino
Tell me, have you ever subscribed to a monthly box? Which STEM subscription box does your family like best?
Related Posts

Want some techie homeschooling tips and inspiration delivered to your inbox? Sign up here for weekly-ish emails from me.
Techie Homeschool Mom is a participant in the Amazon Services LLC Associates Program, an affiliate advertising program designed to provide a means for sites to earn advertising fees by advertising and linking to Amazon.com. You can read my full affiliate disclosure HERE.