Sure-Fire Ways for Kids to Learn to Code
Hey, just so you know ... This post includes affiliate links. That means if you use them to make a purchase, I may earn a commission. You can read my full affiliate disclosure HERE.
When it comes to preparing our kids for life as adults, I don't think any of us can deny that technology plays a key role. In an age where computers and the internet are a large part of daily life, skills that we may have never considered vital when we were growing up may actually give this next generation an upper hand. One such skill is coding. But how does a parent who knows nothing about coding help their kids learn to code? Here are a few resources to help!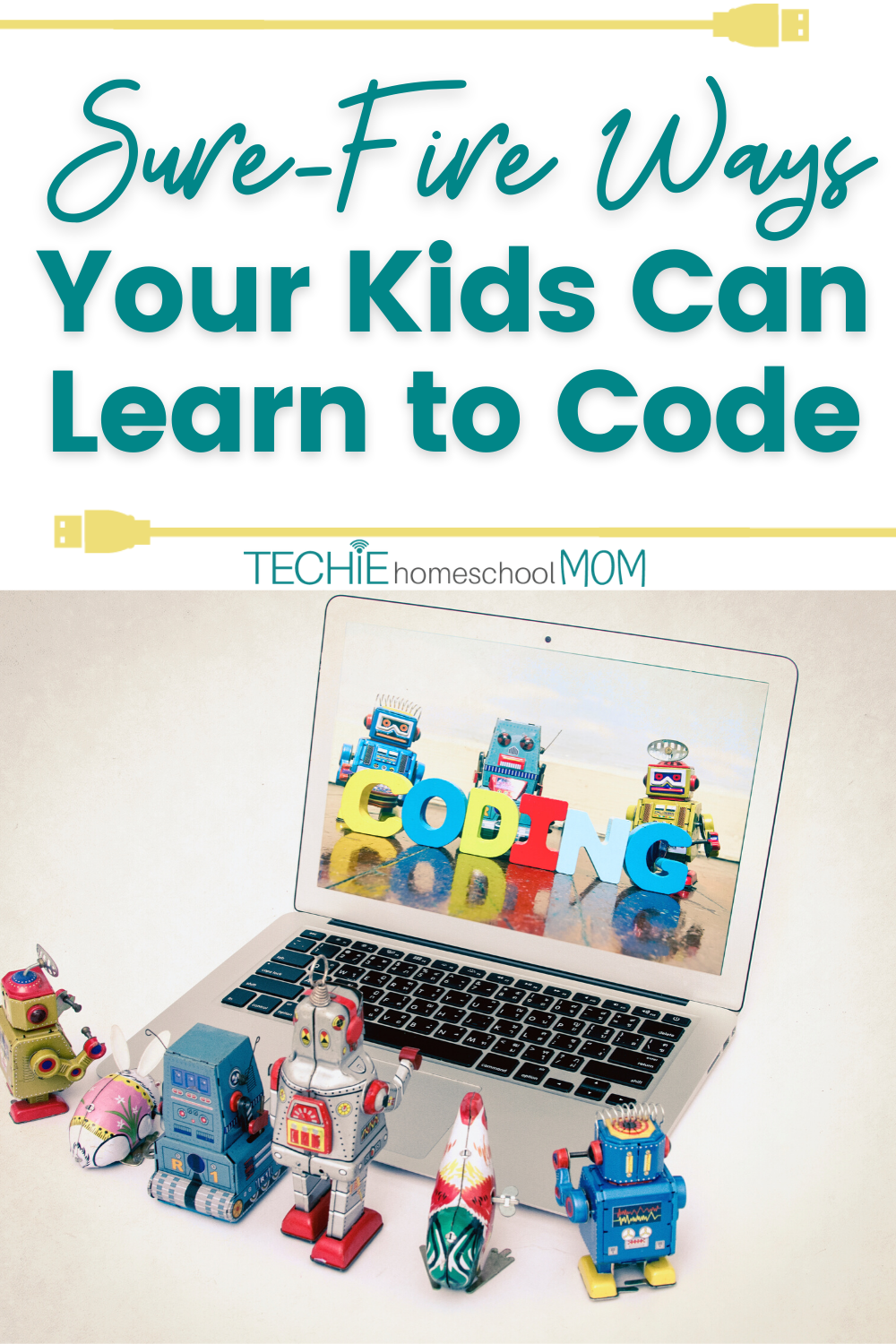 Why should kids learn to code?
There are many benefits to be gained when kids learn coding skills. On an everyday level, learning to code can help kids develop important life skills.
Creativity: Coding involves a lot of creativity and experimentation, coming up with ideas for creating and doing things from scratch OR reverse engineering things to figure out how things work.
Planning/Strategizing: Being creative is only part of the creative process; you also have to be able to plan things out and come up with a strategy for making things happen.
Logic: Coding, as much as it is an art, involves a lot of math. Kids have to be able to understand abstract concepts and apply them logically to real-world situations.
Problem-Solving: As you can imagine. Coding isn't something you do without coming across unexpected situations. This provides kids with ample opportunity to problem solve when things go awry.
Perseverance: On a related note, this helps them to learn to keep pushing forward despite setbacks. It teaches them that even though things may not work out right the first (or 10th) time, if we keep trying, we'll get there in the end.
Confidence: As you can imagine, finally getting a code to do what it's supposed to can help give kids a boost of confidence. There's a definite feeling of pride associated with accomplishing a goal- especially one that you enjoy. Coding can also give kids a sense of power when they realize all of the amazing (and helpful) things they can do with coding.
Career Prep: Last, but definitely not least, when you teach your kids to code, you are teaching them a skill that they can use to not only pursue a lucrative career, but to create additional sources of income if they opt to secure a job in a different field. They can even use these skills as a teen to find gig through freelance sites like Fiverr or Upwork.
In short, when kids learn to code, they not only have fun, but learn skills that will serve them well throughout their lives.
6 Ways Kids Learn Coding
#1. Free Coding Websites for Kids
Scratch is a free coding community developed by the world-renowned Massachusetts Institute of Technology (MIT). Designed for kids aged 8-16, it is a place where kids can program their own interactive stories, games, and animations- and then share their work with the world. They even have an offline editor so that your kids can create coding projects without internet.
When it comes to online courses that teach kids coding, the first thing that comes to mind is Code.org. Whether your child is in elementary school, middle school, high school, or college, there are courses available for them. The elementary level has options for kids as young as 4 years old, teaching them the basics of computer science and helping them to create drawings and games. The middle to high school options take things a step further, with courses teaching kids to create apps and web pages as well as to learn other programming languages and how to program with robots. While Code.org doesn't create courses for the university level, they do make some fantastic recommendations you can check out. If you just want to get your feet wet, you can also try out one of their Hour of Code tutorials, which feature coolness like Minecraft, Star Wars, and Frozen that will get your kids excited to learn about coding. This is an interactive, free way to get started.
#2. Learn to Code Apps and Courses
CodeWizardsHQ is one of the leading online coding school for kids and teens ages 8-18. They deliver the most fun and effective live, teacher-led online coding classes for kids with the best beyond-the-classroom support: including live office hours and 24/7 access to their proprietary platform. They take a students-first approach to teaching Python, Java, HTML/CSS, and JavaScript that guarantees students will reach their potential. What's best is their structured curriculum for elementary, middle, and high school. CodeWizardsHQ offers both after school coding classes for kids and summer coding classes for kids with a structured curriculum that is comprehensive, developmental, challenging, and yes, fun!
Tynker's line of visual programming courses is another great option. Being the world's #1 Coding Platform used by 60 million kids worldwide, Tynker is a well-known and respected name among education professionals and students ages 5-17. Coding is made easy… a fun way for kids to learn programming and develop problem-solving & critical thinking skills.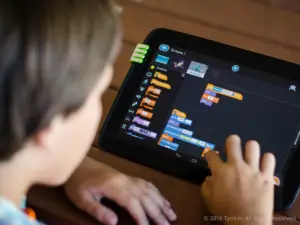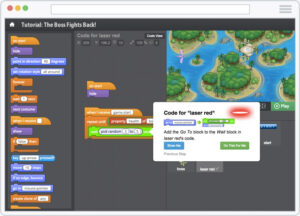 With 40+ subscription-based, award-winning block & text-based courses, over 3,700 learning modules, and access to popular coding languages like JavaScript and Python, there's a learning path for every kid no matter their age or level. Tynker has partnerships with Barbie, Minecraft, Hot Wheels, Lego and more – so there are themed games and courses for every kid! For Teens + Tweens, they can build apps and games, explore STEM subjects, design Minecraft mods and control robots and drones. And for teens ages 14+, they can use Tynker to learn data structures, prep for AP Computer classes and development websites using HTML and CSS. 
Designed with teachers in mind, CodeCombat teaches kids coding through games that use a typed coding engine. With over 500 contributors to the open source community, it's a platform that continues to grow. You can create a parent (or individual) account and start playing right away. However, to become a Master Coder, you do have to pay. Homeschoolers currently receive a 95% discount by purchasing through Homeschool Buyer's Co-op.
If you're looking for a coding app that even pre-readers can use, CodeSpark Academy is a great option. This app, available on  Apple and Android devices, is designed to turn programming into play and make coding a skill that is accessible to all, regardless of their native language or reading skills. Although the app is only free for use in public schools, libraries, and nonprofits, parents can sign up for a free 7-day trial on their website. After that, it's $7.99 per month and you can cancel anytime!
CodeMonkey is a leading game-based coding education platform, that teaches kids 8 years and up to code using CoffeeScript and Python – real programming languages. CodeMonkey provides courses for students of different grades and experience levels, and offers flexible plans for both parents and teachers. Comprehensive and engaging challenges and cute characters are helping kids to learn the basics of computer coding quickly and easily.
If you're looking for live, in-person opportunities for your kids to learn coding, a membership with Connected Camps could be a great investment. With a membership, you gain access to all of their afterschool and weekend coding, game design, and media-making labs as well as their seasonal camps. With events hosted 7 days a week, this is a great way for kids to learn coding and make friends along the way. You can try it out with a free 30 day trial before choosing a monthly membership OR an annual membership. This can be a truly effective and affordable way to teach your kids coding.
Another place to look for quality coding courses is Udemy, which is known as the world's largest online learning marketplace. On here, you can shop around for the best coding class to meet your family's needs. I recommend joining their mailing list to learn about any sales they have.
I can't leave this section without reminding you to check out my post on 100 Online Courses That Encourage Your Child's Interests and Talents. Whether your child is a budding techie, a designer, an engineer, a writer, a crafter, an entrepreneur, an artist, a fashionista, a foodie, a musician, a photographer, or a filmmaker, we've found courses that are worth looking into.
#3. Coding Books
While it may seem as though coding is something you do entirely on a computer, there is a place for books as well. They are easy to have open next to your computer, for easy reference.
And if you have a local library with an Interlibrary Loan system, you don't even have to spend money!
For my personal recommendations, check out my post, Best Books for Kids Learning Coding.
DK Workbooks: Coding in Scratch: Games Workbook
Code Your Own Games!: 20 Games to Create with Scratch
Girls Who Code: Learn to Code and Change the World
How to Code: A Step-By-Step Guide to Computer Coding
You can also discover 45+ ebooks online at Epic!. Sign up for the 30-day free trial to check it out.
#4. Subscription Boxes and Kits for Coding
Another terrific option for teaching kids to code in a hands-on way is to sign up for a subscription box program. There are loads of STEM/STEAM subscription companies out there focused on teaching kids a variety of valuable skills. Some that I recommend checking out are:
If your kids want to learn how to code their own apps, this one is great fun! They will learn to build apps on the website and then play them on their own device.
This box helps your kids to build and program their own electronic gadgets each month.  Use the coupon code SH10 for $10 off your first order.
Designed for ages 9-14, this monthly kit features a comic book style lesson to teach kids how to write JavaScript and to work with real electronic components.
#5. Hands-On Toys for Teaching Coding
Looking for some toys and games that teach coding? Here are a few that you can find right on Amazon (extra savings if you have Amazon Prime!):
Think Fun Robot Turtles with Adventure Quest Coding Board Game
Think Fun Code Master Programming Logic Game
Osmo Coding Awbie Game
Need more suggestions? Check out these 15 STEM Toys That Teach Coding!
#6. Local In-Person STEM Programs
Finally, I encourage you to find out what your local STEM options are. Go to your local community center to find out if there are any programs available (or if they're willing to start one). Your local library and school district can also be valuable sources of information.
Find out if there are any homeschool co-ops or clubs with a STEM focus. I also highly recommend joining local Facebook groups and other online forums where people share that type of information. Any local colleges or universities may have events and programs that are open to the public – even ones for kids! 
One great option for in-person training is iD Tech, the world's #1 summer tech program. The programs are held at 150 prestigious universities. With world-class instructors and innovative courses in coding, game development, robotics, and design, iD Tech programs instill in-demand skills that will help shape the future.
And be sure to check out your local Microsoft or Apple stores. Both offer free STEM workshops for kids.
Tell me, what ways have you helped your kids learn to code?

Maker Lab: 28 Super Cool Projects: Build * Invent * Create * Discover

STEM Starters for Kids Science Activity Book

STEAM Kids: 50+ Science / Technology / Engineering / Art / Math Hands-On Projects for Kids

The Everything STEM Handbook: Help Your Child Learn and Succeed in the Fields of Science, Technology, Engineering, and Math

STEM Starters for Kids Technology Activity Book

STEM Labs for Middle Grades, Grades 5 - 8

Related Posts

Want some techie homeschooling tips and inspiration delivered to your inbox? Sign up here for weekly-ish emails from me.
Techie Homeschool Mom is a participant in the Amazon Services LLC Associates Program, an affiliate advertising program designed to provide a means for sites to earn advertising fees by advertising and linking to Amazon.com. You can read my full affiliate disclosure HERE.