Hey, just so you know ... This post includes affiliate links. That means if you use them to make a purchase, I may earn a commission. You can read my full affiliate disclosure HERE
Coding at a young age can set your children up for success later on in life! Teaching your kids about coding is a great way to get them interested in technology and make it more fun. Instead of having to learn by the book or a boring course, try these coding apps for kids that I found.
By introducing your kids to programming with these fun apps, you may discover a strong interest and talent. Plus, you can set them up for a lucrative future career, or at the very least, teach them some stellar logic and critical thinking skills.
Encode
Encode works as a personal coding tutor! Using this app you can learn to code at your own pace without having to read a textbook. Google Play / Itunes
Kodable
Through Kodable, kids will learn about modern programming language including the following: sequence, algorithmic operations, syntax, object-oriented programming and so much more. Itunes
SoloLearn
SoloLearn has free code learning content that ranges from beginners all the way to an expert. There are over a thousand different programming topics to help with learning code. Google Play / Itunes
Box Island
Box Island takes kids on a fun adventure while also teaching them about the foundation of coding. They will learn how to apply to basics in this fun and challenging game. Google Play / Itunes
Tynker
Tynker is a 'must have' coding app for kids. It provides an easy way for your kids to learn about programming as they solve puzzles, build games, and even control robots! Google Play / Itunes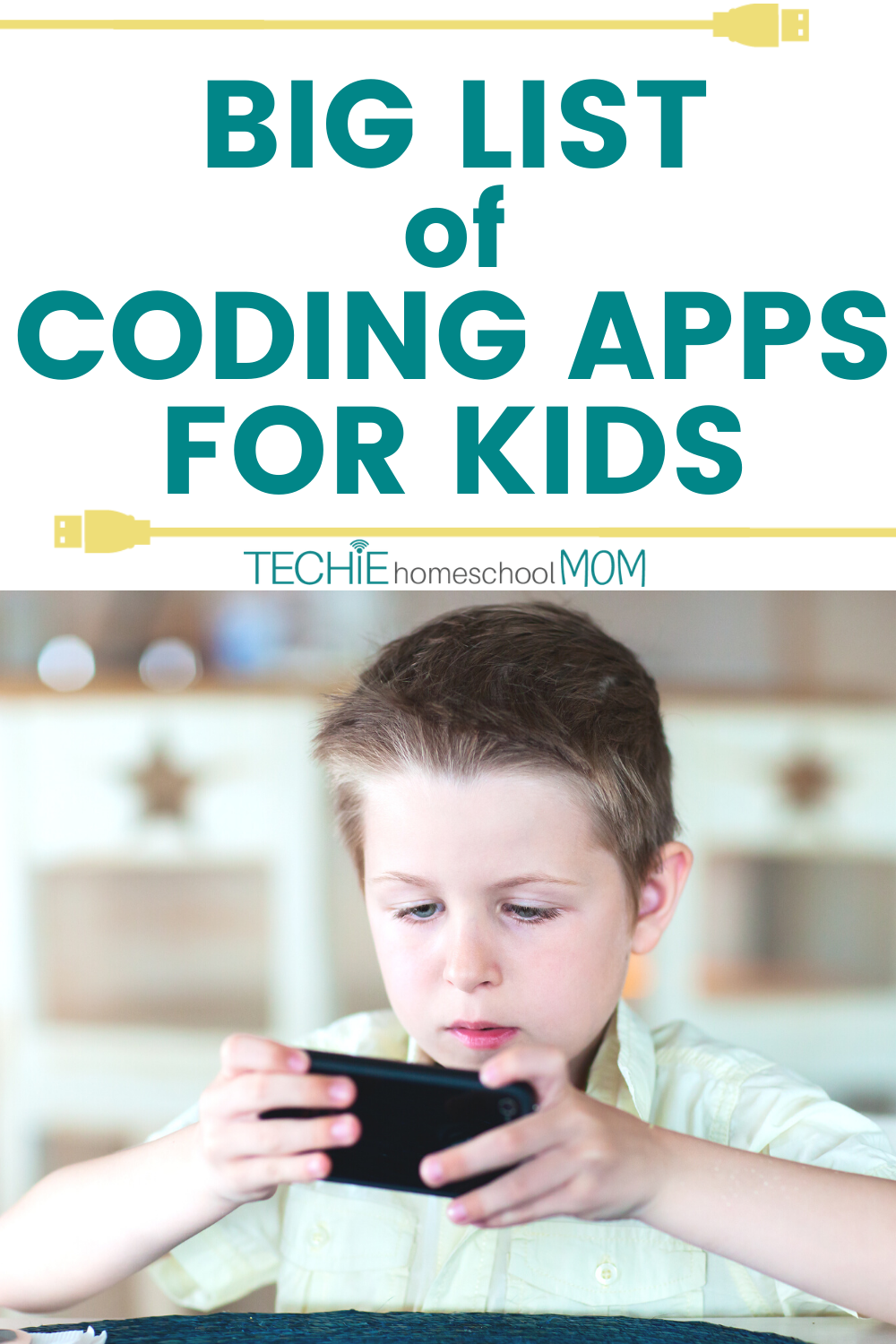 Coda Game
Using Coda Game you are the boss in this game building adventure. You can use the drag and drop visual coding features to create your own games. These ranging from popular favorites such as Flappy Bird and even Air Hockey. Itunes
Programming Hub
Programming Hub was created in collaboration with Google experts to help create a coding program that kids can learn from. This app will help your kids learn to code just like the experts but with the fun of a game! Google Play / Itunes
codeSpark
codeSpark uses a no words interface to teach the basics of computer programming with the use of interactive activities such as puzzles and games. Google Play / Itunes
Udacity
Udacity can help your kids learn the skills needed to be a part of some of the most innovative companies some days. This app allows you to create a personalized learning experience that will help them learn to code in a way that best suits them! Google Play / Itunes
Coding, The Musical
Teach your kids the basics of coding through this fun app. Children will learn to code by building their own musical. Teaching coding and music at once? Yes, please Itunes
Khan Academy
Khan Academy has thousands of videos and articles that can help kids learn important skills such as coding and programming. It's a must have app for any homeschoolers. Google Play / Itunes
Osmo Coding
Osmo Coding is the program to control Awbie a playful character who loves his strawberries! Each block creates a coding command and this app is how it all comes together! Itunes
Coding apps can help make learning fun, and they are way cheaper than some of the other coding lesson options out there. With these coding apps, you can introduce your kids to coding in a way that doesn't require you to know about it too.
Tell me, what are your favorite coding apps for kids?
MORE FUN WAYS TO LEARN HOW TO CODE
LEGO Boost Creative Toolbox
ThinkFun Code Master Programming Logic Game
Learn to Program (Kids Get Coding)
Wonder Workshop Dash – Coding Robot
ROBOT WARS Coding Board Game
Boolean Box
Discover more ways to teach your kids to code in my Amazon store HERE.
Related Posts

Want some techie homeschooling tips and inspiration delivered to your inbox? Sign up here for weekly-ish emails from me.
Techie Homeschool Mom is a participant in the Amazon Services LLC Associates Program, an affiliate advertising program designed to provide a means for sites to earn advertising fees by advertising and linking to Amazon.com. You can read my full affiliate disclosure HERE.