Hey, just so you know ... This post includes affiliate links. That means if you use them to make a purchase, I may earn a commission. You can read my full affiliate disclosure HERE
There are many great reasons to love Amazon Prime and if you're already signed up, you're probably aware of them already. However, did you know that Amazon Prime can be a big advantage from a homeschooling point of view.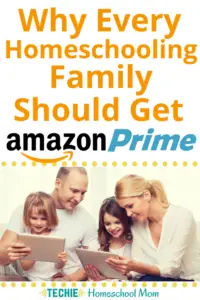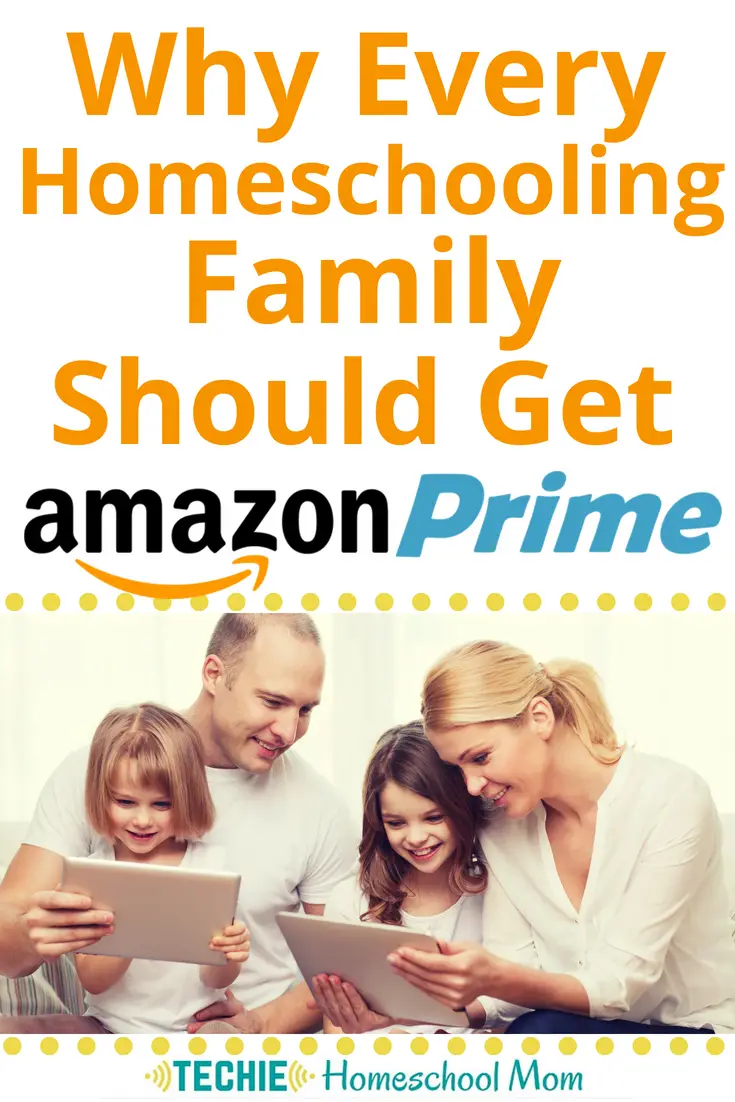 Amazon Prime Benefits that Make Sense for Homeschoolers
 There are tons of benefits for Prime members, but a few stand out for techie homeschoolers.
Free Shipping
Not only can you get free shipping, but it's fast, too. When I plan a project to support what we're learning, I can have the supplies I need delivered within 2 days. That sure beats trying to find the time to get to Hobby Lobby or Target with all my kids in tow (just to get a few bottles of glue and pipe-cleaners)
Prime Video
There are many great ways to use Prime Video in your homeschool curriculum. Have you ever checked out the selection of documentaries? Just visit the Prime Store and search about the topic you're studying. You'll be surprised. Plus, there are lots of "fun" yet education programs as well. And the selection of videos for early learners helps a bunch when you need to keep the littles occupied while you work with your older students.
Prime Music
Amazon Prime Music is a great addition to your for home. You can stream music and even create the playlist. I think this is great for streaming music to help kid's concentrate as they work, or also stream music to teach them. Say we are talking about a different culture, share music that fits, or stream classical and compare how that sounds to say jazz or contemporary. You can even play preschool-inspired music to get up and move and break up the day. Learn about ABC's and 123's with songs.
Use your Echo device or any bluetooth speaker to stream anything from classical playlists (they're supposed to help your kids learn) to times table memorization songs . You can also it use for a family dance party or for each family member to share "their" favorite music genres with each other. Combine it with an Echo Show and you can even read the lyrics as you listen. (psst… you can use this feature to teach the attributes of poetry)
Prime Reading
Not explanation really needed. When your kids come to you with questions you can't answer, take advantage of the instant access to the Prime library. You get instant access to books, magazines and more each month. There are many that are appropriate for children and teens.
Audible Channels
As an Amazon Prime member, you get access to a ton of free stuff which includes free content from Audible! Not only do you get Audible Channels, which are premium podcasts with lots of great original content from some of the funniest, smartest, most talented people, you also get access to a collection of audiobooks you can stream for FREE. Learn history, singing and the arts, and so much more.
Prime Pantry
Okay, this isn't entirely a school thing, but it is a pretty sweet deal when you can shopping for groceries online and get it shipped to your door. It saves you from heading to the store to shop, and they offer a wide variety of things. Prime Pantry is also great for cooking a new cuisine or trying fresh ethnic foods to pair with your curriculum.
Exclusive Savings
Amazon offers special discounts to their members. For example, once I noticed $100 off an Echo Show, just for members. That's some sweet savings. The biggest savings happen every year during Prime Days. Keep an eye out for it every July.
One of the best things about Amazon Prime is that you can try it 30 days for FREE. I encourage you to sign up and discover all the ways your family will benefit when you get Amazon Prime.
CLICK HERE to start your free trial today.
Related Posts

Want some techie homeschooling tips and inspiration delivered to your inbox? Sign up here for weekly-ish emails from me.
Techie Homeschool Mom is a participant in the Amazon Services LLC Associates Program, an affiliate advertising program designed to provide a means for sites to earn advertising fees by advertising and linking to Amazon.com. You can read my full affiliate disclosure HERE.