Choosing the Best eBook Subscription for Your Family
Hey, just so you know ... This post includes affiliate links. That means if you use them to make a purchase, I may earn a commission. You can read my full affiliate disclosure HERE.
One of the best ways to start techin' your homeschool is to include eBooks.
Now, I'm not particularly fond of reading eBooks myself. I'm a digital immigrant who tends to stick with what works. But, my kids (and yours) are digital natives. Technology is and always will be a big part of their lives. We need to guide our kids toward using tech in healthy and productive ways. and one way is getting comfortable with them reading eBooks instead of printed books. [CLICK HERE to read "Why Your Kids Should Read eBooks]
And the advantages of eBooks are appealing to me as a homeschooling mom….
They take up less space

They are usually less expensive than print books

They can (usually) be accessed instantly

We don't need to leave the house to get them

They don't get lost
There are two options for getting eBooks…you buy 'em or you borrow 'em. We prefer to borrow. With seven family members who like different genres and styles, it would get spendy to buy the eBooks everyone wants to read.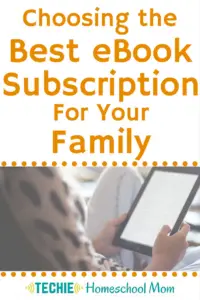 But, which eBook subscription service is best for families (or your family in particular)?  Check out these three options and decide which is best for you family.
Overdrive
Overdrive provides digital content to over 30,000 libraries around the world. This isn't a true subscription service because it's free if your library is part of their network. You borrow eBooks, audiobooks and videos and then access them using the Overdrive app on your PC or mobile devices.
Overdrive is your best choice if…
Your library offers it

You're on a tight budget

You don't mind waiting for some book with a waitlist

You will be ready to return the books in 21 days.

You're willing to help younger kids search for books (to reduce the risk of stumbling upon questionable adult book cover images)
Epic!
Epic! is an ebook library with thousands of fiction and non-fiction books for kids 5-12 years old. Epic! recommends books based on a child's interests (which you share when you set up your child's account) and keeps a reading log of their progress. The kids can read on the computer and mobile devices in a safe controlled environment.
Epic! is your best choice if…
You want your children to be able to search freely (since there are only kids books)

You want books on-demand (as in your child expresses curiosity about something and you can access a book right away)

You want book recommendations for your child

You want to track their reading progress

You don't mind the smaller selection (but 20,000 is still a lot!)
Kindle Unlimited
Kindle Unlimited allows you to read over 1 million Kindle books as much as you want. You can access your books from any device with the Kindle reading app (not just Kindles). You also have access to over 20,000 audiobooks.
Kindle Unlimited is your best choice if…
You want books on-demand

You want a large selection that appeals to younger and older kids

You use audiobooks (you can even switch between reading and listening to a book)

You are willing to help younger kids search for books(to avoid them viewing adult content)
Now, you don't just need to take my word for it. You can try all these for free.
CLICK HERE to see if your library is hooked up with Overdrive and download the app to try it out.
And try out Epic! and Kindle Unlimited for free.  Just click the images below to sign up for your free trials and check them out yourself.
Tell me….what eBook service is the best for your family?
RELATED POSTS:
Why Your Kids Should Read eBooks
5 Benefits of a Paperless Homeschool
20 Fiction Books for Kids Who Love Science and Tech

Want some techie homeschooling tips and inspiration delivered to your inbox? Sign up here for weekly-ish emails from me.
Techie Homeschool Mom is a participant in the Amazon Services LLC Associates Program, an affiliate advertising program designed to provide a means for sites to earn advertising fees by advertising and linking to Amazon.com. You can read my full affiliate disclosure HERE.