Hey, just so you know ... This post includes affiliate links. That means if you use them to make a purchase, I may earn a commission. You can read my full affiliate disclosure HERE
Wondering about the benefits or advantages of online homeschool versus traditional learning? Luckily for you, online learning is something that my five daughters and I have a lot of experience with. We've added more and more technology to our home education over the past 15 years. And now the majority of our homeschooling happens online.
Families who embrace digital learning are preparing their kids for a techie future. Not just for tech-careers, but for healthy attitudes about the role of technology as a tool. As online learning becomes more and more prevalent, students need to know HOW to learn online. And as you tap into all the learning resources online, you reap the benefit of having others (sometimes more qualified) instructors for your kids.
While there are various motivations for adding more digital learning to your homeschool. these four are important ones that our family has benefitted from over the year.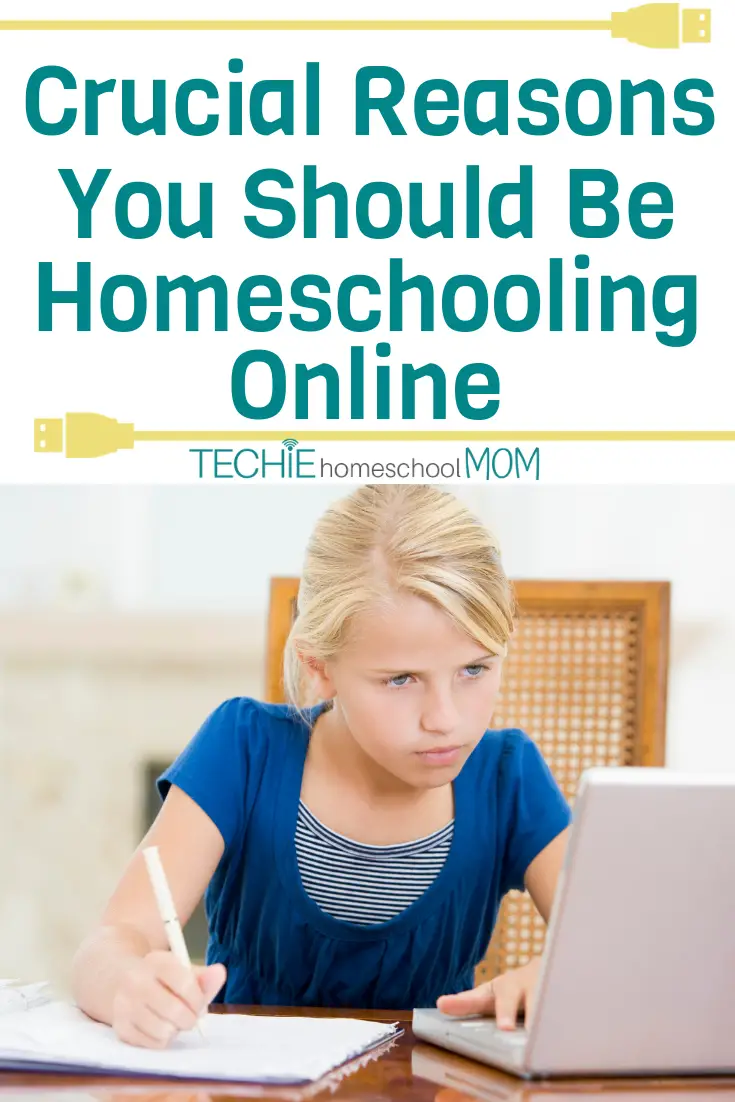 1) Preparing Kids for the Future
I think that we can all agree that technology isn't going away. It's the way of the future and the present. That's why you need to be using computers and mobile devices to homeschool your kids …so that they are prepared for a future in a tech-driven world.

When you think about the history of computers, it's sort of amazing how quickly even that technology has developed. In the '60s, computers cost over $100, 000 and definitely were not available to the general population. In fact, it wasn't until 1978 that even the White House got its first computer installed.

By the '90s many schools had computer labs with internet access and computer education was a common part of the students' curriculum. Fast forward to today and it's not uncommon for kids as young as 6 to have their own computers. In the next 20 years, who knows how the personal technology landscape will look. One thing we can guarantee, though, is that the people (young and old) who possess a mastery of technology will be at an advantage,

Online homeschooling prepares our kids for everyday techie life skills. If they spend time NOW learning how to access and manipulate all the Internet has to offer, it will all seem like second nature to them as they grow older. (unlike how foreign it all seems to us digital immigrants) .

They'll know how to …
Manage their time

Reach out to the right people when they need help

Use common communication methods

Learn new information and skills

Develop solid research skills

Collaborate online

Engage in social etiquette

Using virtual education sites (like Blackboard)
Our kids will understand that tech is a learning tool, not a toy.

Online homeschooling also prepares your kids for their careers – and not just techie ones. They can learn so many marketable skills NOW that will put them a cut above the rest later. Things like….

Graphic Design

Web Development

Creating online courses

Blogging

Vlogging

Video creation

Social media marketing

Working remotely

Creating surveys and other forms for data collection
And they can learn these marketable skills on their own timeline, even earning money from them before they are a bonafide adult.


When it comes to making sure our kids have what they need to succeed in life, it's always better to have a variety of options. Because every kid is different, right?

There are so many great choices to choose from online that finding learning resources that fit your child's specific needs and style is definitely possible.

Whether you find one resource that is the perfect fit or piece together several things that meet different needs, online homeschool allows you to customize the homeschool experience for each child. In fact, oftentimes, the hardest part will be narrowing down your options.

Another great thing about having so many options is that online homeschooling allows kids the flexibility to pursue options that may not have been as readily available to them otherwise.

For example, my daughter started taking online college courses when she was 16 and earned her Associates Degree by 18. Good thing since we live on an island and the commute to classes would have taken 2 1/2 hours out of her day … time that she was able to spend working instead.

Online homeschool also enables students and parents alike to develop skills that they enjoy.

Back in the day, if your child wanted to learn how to play an instrument, take voice lessons, or learn to speak another language fluently, you had to seek out a tutor. While that is still a great option, the internet makes it so easy to get that same training online. Not only can you find completely free training videos by professionals and hobbyists, you can also find experts who can teach lessons (and give feedback) virtually.

One of my favorite websites for learning new skills is Udemy. WIth over 40,000 courses, you're bound to find some that your children love. Check out 50 Udemy Online Courses for Kids to see some of my personal recommendations. And find out how to find the best course HERE.


3) Healthy Tech Habits
As mentioned before, technology is such a pervasive part of our society (and educational system) and it really is not going anywhere. That means it benefits everyone to learn health tech habits as early as possible.
When you are homeschooling online, your children have plenty of opportunities to do this.
By giving your children intentional "screen time" during their homeschool curriculum, they begin to learn that computers and technology are not just a fun way to spend time – they are TOOLs. They are things that we can use to learn new information, create things for others to consume, and improve our lives. They become digital citizens who are able to utilize the internet (and technology) safely to accomplish goals.
They also learn how to be more discerning about the content that they see online. As we all know, there is a ton of misinformation online – some accidental, some intentional. What's scary, though, is that it's not always apparent which sources are trustworthy. Online homeschooling gives your children more opportunity to be able to tell the difference and to learn which sources are credible.
Using Internet-based learning resources also helps your children learn online social etiquette- which is something that even fully-grown adults seem to struggle with. As they participate in educational forums with professors and fellow students, they learn how to communicate, collaborate, and develop relationships with people all over the country (and the world).
As a parent raising digital natives, your goal should be to help your kids develop a healthy attitude and relationship about tech. And incorporating productive tech time into your homeschool will help you reach that goal.
4) Easier for Parents
Last, but not least, homeschooling online makes things easier for you – the parent. I have a lot of conversations with moms who are considering homeschooling their kids, but are nervous because they don't think they have what it takes to teach their kids everything. I always tell them that they don't HAVE to teach their kids everything. They can simply use the tools available to us online to find ways for their kids to learn whatever it is they need (or want) to learn.
So many tools and resources exist. They're created by people who are passionate about their subject areas, and you can find at least one really solid option for your kids – on just about any topic you can think of.
I'm talking from basket-weaving to photography. From learning how to read to perform virtual lab experiments. The resources are out there – you just have to dig around to find them. And once you DO find them, it makes things so much easier for you. Let those experts take over teaching in a way that you probably wouldn't have been able to even a decade ago.
For example, my daughter wanted to grow in her musical talents. While I love to sing and had played instruments when I was young, I didn'tt have the expertise to take her to "the next level" of her interest. So, I did what any techie homeschool mom would. I helped her find online courses about music. She studied vocal training, composing, songwriting, guitar, and keyboarding. She even took voice lessons via Skype.
In short, online homeschool helps you shift from being the teacher to being the guide. It helps you embrace the fact that you can't possibly (and don't need to) know everything to homeschool your children. Instead, you can teach them what you can and then let subject experts take over the subjects you don't know much about (or that you simply don't enjoy).
Online resources like record-keeping and planning resources also make it easy for you to do the things you need to do. And much of it is free or cheap. Whether you browse Pinterest, Teachers Pay Teachers, Etsy, your favorite blogs, or just good old Google, you can find some wonderful resources for teachers and home educators that will make your life so much less stressful.
By homeschooling online, your kids will learn the knowledge and skills they need to not only move through the world as true learners but to prepare for the future. It helps them to dive deep into the things they love. And it does all of this while taking a lot of the load off of your back. Embrace it! It's the wave of the future.
Tell me, what have been your favorite resources for homeschooling online? Let me know in the comments below!
Related Posts
The Ultimate List of Online Courses for Homeschooling
Are You Homeschooling For The 21st Century?
Essential Homeschool Supplies for Learning Online
Recommended Reading for Techie Homeschool Moms:
 The Tech-Wise Family: Everyday Steps for Putting Technology in Its
 Hands Free Mama: A Guide to Putting Down the Phone,
 Hands Free Life: Nine Habits for Overcoming Distraction, Living Better,
 Parenting in the Age of Attention Snatchers: A Step-by-Step Guide
 Apps All Parents Should Know

Want some techie homeschooling tips and inspiration delivered to your inbox? Sign up here for weekly-ish emails from me.
Techie Homeschool Mom is a participant in the Amazon Services LLC Associates Program, an affiliate advertising program designed to provide a means for sites to earn advertising fees by advertising and linking to Amazon.com. You can read my full affiliate disclosure HERE.