Hey, just so you know ... This post includes affiliate links. That means if you use them to make a purchase, I may earn a commission. You can read my full affiliate disclosure HERE
Welcome to the #TechieHomeschool IRL blog series.In this post, my guest Leah shares ways to identify news reliable sources online, a necessary skill for techie homeschoolers.
Leah is a wife and mom of 2 homeschool graduates. She's a popular speaker who encourages parents to walk with their kids through the world of social media and technology so we raise a generation of digitally responsible young adults. You can find her eBooks Connected: Apps All Parents Should Know, Quick Guide to Parental Controls for Kindle, and Connected: A Parent's Guide to Snapchat, as well as tips on technology and social media at leahnieman.com.

We are in the digital age. Our kids no longer must leave home to gather information for their studies. Information is literally at their fingertips. But, do our kids know how to find reliable news sources? Are they able to determine if what they are reading online is written by a real news source?
A recent study from Stanford researchers looks into this question. The study evaluated students' ability to determine if information sources are real news sources or fake news reports
Stanford researchers described the results as "dismaying," "bleak," and "[a] threat to democracy."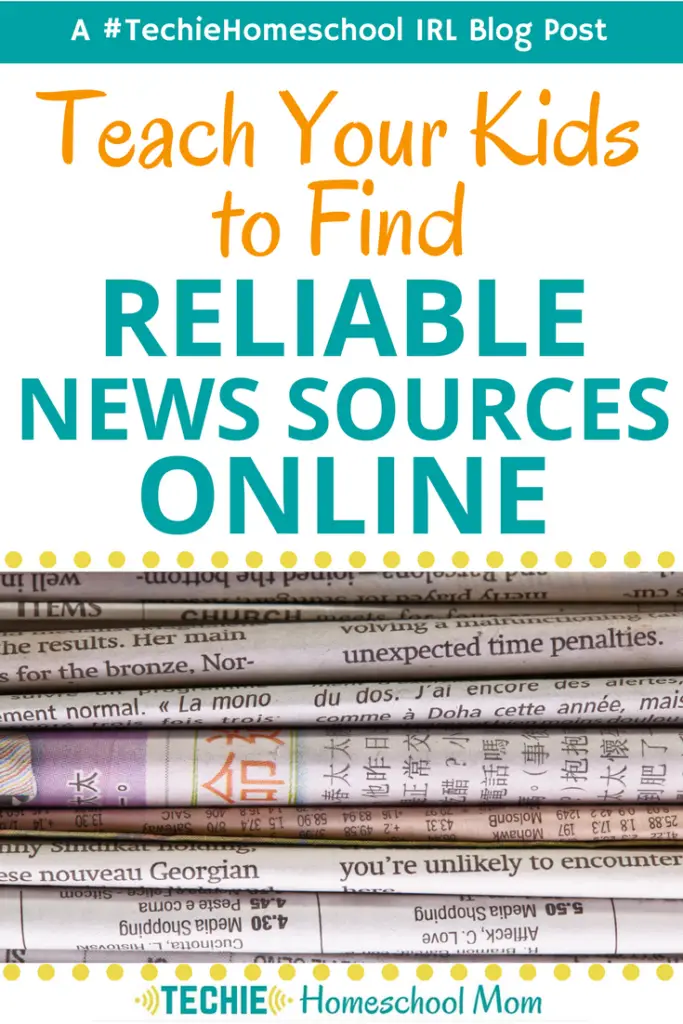 So how can we teach our kids to avoid fake news reports and find reliable news sources online? We can guide our kids as they learn to pull information for projects and reports online. And, teach them to how to spot a fake news report and find real news sources online.
How to Teach Your Kids to Find Credible Sources
Check the URL for all websites
Most legitimate news sources are going to be a .com. It's also perfectly acceptable to find reliable news on .gov and .org websites. However, if your notice additions like .com.co, or anything that looks odd, that's a clue it may be a fake news site. Established news organizations usually use their own domain and have a standard domain URL.
Look for an "About Us" section
Most, if not all, credible sources of news information have an About Us section. Why? Because they are proud of their site, their writers, and their credentials. They want you to know who they are. So, that information is easily found on the About Us section of their website. If you go to a website and there's no About Us section or the About Us section is vaguely giving you no way to contact those running the site, then chances are you're not going to find reliable news on the website.
Look for source quotes within the article
When writing a story, most authors gather primary source information. This can be data or interviews. But, solid articles should be based on information backed by research from trusted authorities on the topic. Quotes and sources within the story should be cited and linked to the original source. If you don't see quotes in the story linking to those sources, start questioning if the website is a reliable news source. Be sure to note that links should be to reputable sources. Links should not reference another website or person simply quoting the same quote.
Use the reverse image search
Most articles have images. They show details of a story. But, sometimes images are used to generate traffic for a story. These are known as "clickbait" because the image is used solely to get users to click so they land on a webpage. It's not uncommon for a clickbait image to be an image that doesn't necessarily represent the article. If you see an image that looks unrealistic or just want to verify an image before clicking through to the website, it's easy to do a quick Google image search to verify the image. Simply right-click on the image. Then, select Google search for the image. Taking this quick step will help you avoid landing on a fake news source that's used clickbait to attract large traffic.
Check the comments
Checking the comments for an article might not seem important. But, keep in mind social media has changed the way we consume news. Many fake news reports take advantage of this by using dramatic headlines and sharing them on social media platforms. These types of stories use headlines to intentionally mislead readers. This tactic draws many comments because people are upset over the dramatic headline. The comments grow and cause greater visibility and circulation for the fake news article. Many people initially don't read the article and instead and reacting to the headline alone. But, with several comments, people begin to believe the story must be true. If you notice a story has a dramatic story headline which has an excessive number of comments coming from social media, be sure to read the article and check to see if the article can be verified.
Being able to find reliable news sources is a skill all kids need. In fact, it's some skill adults need as well. Teach your kids how to spot fake news by guiding them through their next research project.
Tell me – have you had experience with fake news sites? What steps do you take to avoid them?
Recommended Reading for Techie Homeschool Moms:
 The Tech-Wise Family: Everyday Steps for Putting Technology in Its
 Hands Free Mama: A Guide to Putting Down the Phone,
 Hands Free Life: Nine Habits for Overcoming Distraction, Living Better,
 Parenting in the Age of Attention Snatchers: A Step-by-Step Guide
 Apps All Parents Should Know
Related Posts

Want some techie homeschooling tips and inspiration delivered to your inbox? Sign up here for weekly-ish emails from me.
Techie Homeschool Mom is a participant in the Amazon Services LLC Associates Program, an affiliate advertising program designed to provide a means for sites to earn advertising fees by advertising and linking to Amazon.com. You can read my full affiliate disclosure HERE.