How to Use Educational Podcasts for Homeschooling
Hey, just so you know ... This post includes affiliate links. That means if you use them to make a purchase, I may earn a commission. You can read my full affiliate disclosure HERE.
Do you love educational podcasts as much as I do? How about the ones that seem to give you a much-needed kick in the pants whenever you tune in?
I know I do! In fact, my whole family loves podcasts.
If your family loves educational podcasts and you're looking for ways to use them in your homeschool, then you're in the right place. I'm going to share some fun ideas that my family and my readers have used educational podcasts in our homeschools. Perhaps it will give you the inspiration you need to make podcast part of your regular routine.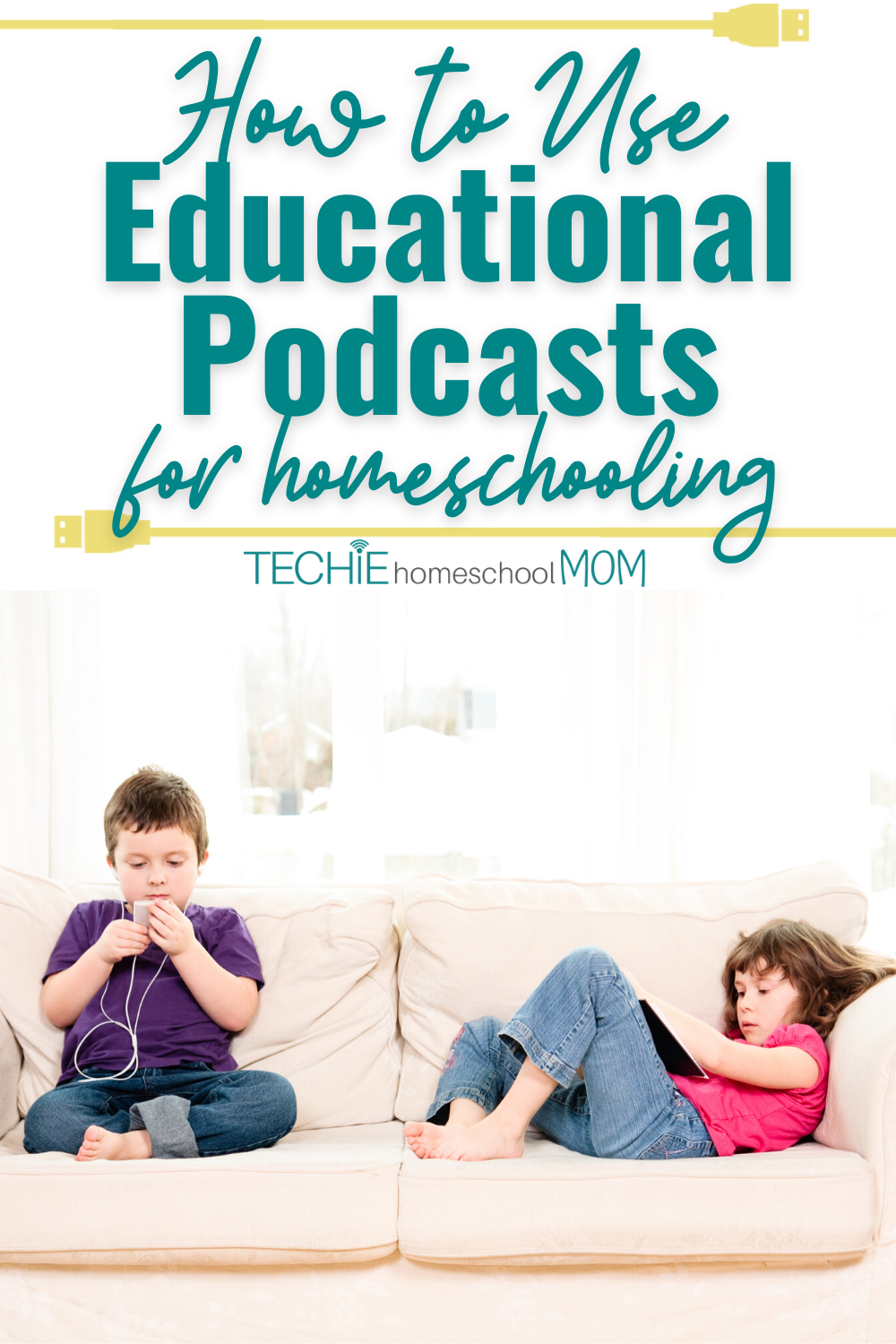 Ways to Add Podcasts to Home Education
Use Podcasts to Teach or Supplement Lessons
One misconception about homeschooling is that you should do it all on your own. I disagree! You can leverage other people's expertise to provide your child with a well-rounded education. After all, it's rare to find someone who is an expert in a lot of things. Most of us are very good at one thing, pretty good at several things, and have no clue about a lot of things. That's why I love the internet in general and podcasts specifically. They enable you to access experts (and their knowledge) with the click of a button.
By typing in a simple keyword in Google followed by 'podcast", you can find podcasts (or podcast episodes) on just about any topic. For example, if you wanted to do a lesson or a unit Vikings, a quick Google search would lead you to the podcast, The History of Vikings  where you and your kids can learn about all things Vikings and Norse mythology. Browsing the podcasts, you may even get an idea or two for lessons that you wouldn't have thought of.
Use Podcasts to Answer Your Child's "But Why" Questions
We all have at least one child who is full of questions about life, the universe, and everything. And sometimes (ok, a lot of the times), we don't know the answers. But what we can do is look them up.
Podcasts offer us a way to not only look up the answers , but to present them to our children in a way that they will understand.
Take this situation for example. You're outside playing one summer afternoon and your child comes to you, obviously irritated, rubbing a bump on her arm. She's been bitten by a mosquito. In her annoyance, she asks "What purpose do mosquitoes even serve?!" You're prone to agree with her, but now you're curious – what purpose DO they serve? You hop on Google and ask. The result, you find this eerily helpful episode from Brains On called "Mosquitoes: What Are They Good For?".  This podcast is an entire lesson in and of itself! It won't take away that itchy bump, but it will provide some understanding.
By the way, did you know there is a podcast called But Why? Brilliant! It's one of the podcasts listed on "10 Best Educational Podcasts for Homeschoolers" [EMBED LINK] You should check it out!
Use Podcasts as Conversation Starters
Podcasts are great for teaching your kids (and yourself) about interesting subjects. However, they are also a great way to open up a line of conversation on a topic.
Choose a podcast to listen to with your kids and then, once the podcast is over, talk about what you just learned or heard. This can be especially beneficial when it comes to discussing controversial or opinion-based topics.
Try this out with Book Club for Kids where kids gather together to discuss books that they've read. Many listeners of this podcast say that their kids love listening to the podcast episodes after they've read a book and then breaking off for their own book club discussions. I don't know about you, but that sounds fun!
Use Podcasts for Research
Are your kids trying to brush up on their research skills? In addition to making trips to the library to check out books and hopping online to read websites on a topic, podcasts are also a solid source of information. In fact, if your child is an audiovisual learner, listening to information in podcast form may be even better than reading something on a page or screen. They can take notes as they go. You can also take this opportunity to talk to them about identifying credible sources so that they can tell the difference between experts and novices who put out podcast episodes.
Use Podcasts as Part of Your Morning Ritual
If you're looking for a new activity to weave into your morning routine, listening to an episode from your family's favorite podcast could be a good option. It can be a fun way to get your kids to wake up and to get them ready for a day of learning. You can choose the podcast episode, let your kid vote on an episode, or let everyone in the family take turns picking the episode. Whatever works! Need ideas of podcasts to listen to? Some great educational podcasts are:
Learn or Practice a Foreign Language
Learning a new language? Listening to podcasts in that language can help to cement those skills. It's the podcast equivalent of watching foreign films or changing the subtitles/audio on your favorite movies to another language. Simple search for podcasts in that language and tune in! There are even podcasts devoted to teaching different languages. For example, if you're learning French, you can check out Coffee Break French, which contains over 200 lessons for beginners.  
Start a Family Podcast
Of course, I can't end this article without mentioning the fact that you don't have to be content with just LISTENING to podcasts- you can CREATE them. Do your kids have passions that they want to share with the world? Do they have a lot to say about a lot of things? If so, you should consider creating a podcast of your own and coming together as a family to create new episodes.
Where to Listen to Podcasts
Like I mentioned above, if you add the word "podcast" to a Google search, you will find the website for a particular podcast.
However, if prefer to use a podcast app so that I have all my favorite shows in one place. I can subscribe to a podcast, then get notifications when they have a new episode. I can also search directly in the app for certain topics and find new favorites.
The most popular apps for listening to podcasts include:
Best Tech Devices for Listening to Podcasts
Connect to Podcast Apps with Echo Dot

Cast to Bluetooth Speaker from a Mobile Device with OontZ Angle 3 Portable Bluetooth Speaker

Listen On Your Own (Not Tied to Your Phone ) with GEJIN Bluetooth Wireless Earphones

Listen in Your Car (if not already Bluetooth-enabled) with Portable Wireless Audio Adapter

Educational Podcasts for Kids
Who's the Host?
This podcast is hosted by renowned journalist and author, Kitty Felde, who grew up with a love for Young Adult literature.
What's it About?
Each episode features a different group of middle grade kids gathering together to discuss a young adult book they've read. They are usually joined by a celebrity reader. Each episode also features an interview with the author. Fans of the show have been encouraged to take the discussion further by having their own book clubs.
Who Should Tune In?
This podcast is great for anyone who loves reading Young Adult fiction. It's also great for parents who want to know which books to recommend to their children.
Must-Listen Episodes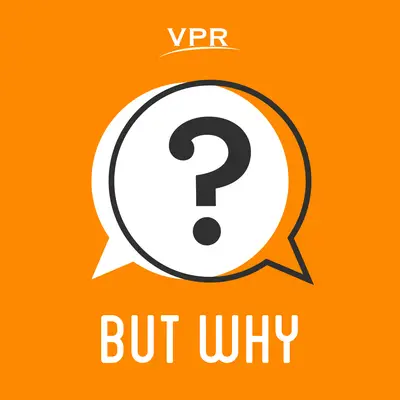 Who's the Host?
This show is hosted by journalist, Jane Lindolm and producer Melody Bodette
What's it About?
Kids from all over the word submit questions about all manner of topics and Jane finds interesting experts to come on the show and answer them.
Who Should Tune In?
This podcast is, as the title says, perfect for curious kids (and their parents). Your kids can even submit their own questions.
Must-Listen Episodes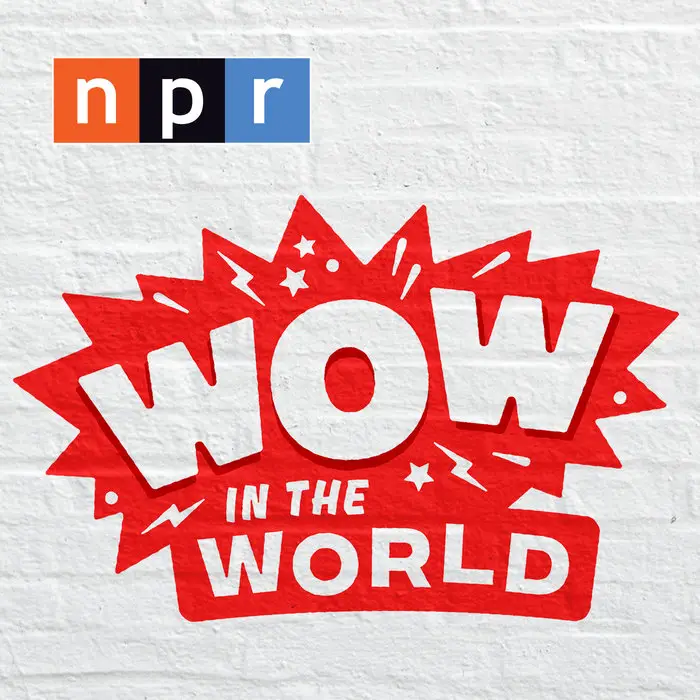 Who's the Host?
Mindy Thomas (host of Sirius XM's Absolutely Mindy) and Guy Raz  (host of TED Radio Hour and How I Built This) come together to present NPR's first kids' show!
Hosts Mindy Thomas and Guy Raz guide curious kids and their grown-ups on a journey into the wonders of the world around them. We'll go inside our brains, out into space and deep into the coolest new stories in science and technology.
What's it About?
In each 25-minute episode, Mindy and Guy discuss science, technology, and new discoveries in the hopes of not only sparking conversations at home, but to inspire kids to make their own big discoveries about life and the world around us.
Who Should Tune In?
This podcast is yet another one that is perfect for young listeners and their parents.
Must-Listen Episodes
More Podcasts Recommended by Techie Homeschool Moms
We've had some discussions about homeschool podcasts in the Techin' Your Homeschool Facebook group. Here are some great suggestions from other techie homeschool moms.
Tell me, how do you use educational podcasts for homeschooling? Leave me a comment to share your best tips for other techie homeschoolers.

Related Posts

Want some techie homeschooling tips and inspiration delivered to your inbox? Sign up here for weekly-ish emails from me.
Techie Homeschool Mom is a participant in the Amazon Services LLC Associates Program, an affiliate advertising program designed to provide a means for sites to earn advertising fees by advertising and linking to Amazon.com. You can read my full affiliate disclosure HERE.