9 Encouraging Homeschool Podcasts That Will Transform Your Homeschooling

Hey, just so you know ... This post includes affiliate links. That means if you use them to make a purchase, I may earn a commission. You can read my full affiliate disclosure HERE.
As a homeschool mom, there are lots of times when you need a little bit of encouragement and inspiration to get you through the day. Homeschool podcasts are the perfect way to get that pick-me-up. 
I know that it's hard to take time for you when you're a busy homeschool mom. It seems someone always needs something from you. You don't have a spare minute to read an encouraging book, watch videos or catch-up with our favorite homeschool bloggers.
But, podcasts are much easier to fit into your busyness. You can listen while the kids have a play break. Or while you clean up the kitchen. Or during your afternoon "Mommy Taxi" run. Or even while you shower (if you've had that luxury for the day).  Try out these homeschool mom-recommended podcasts and find the one that suits you the best.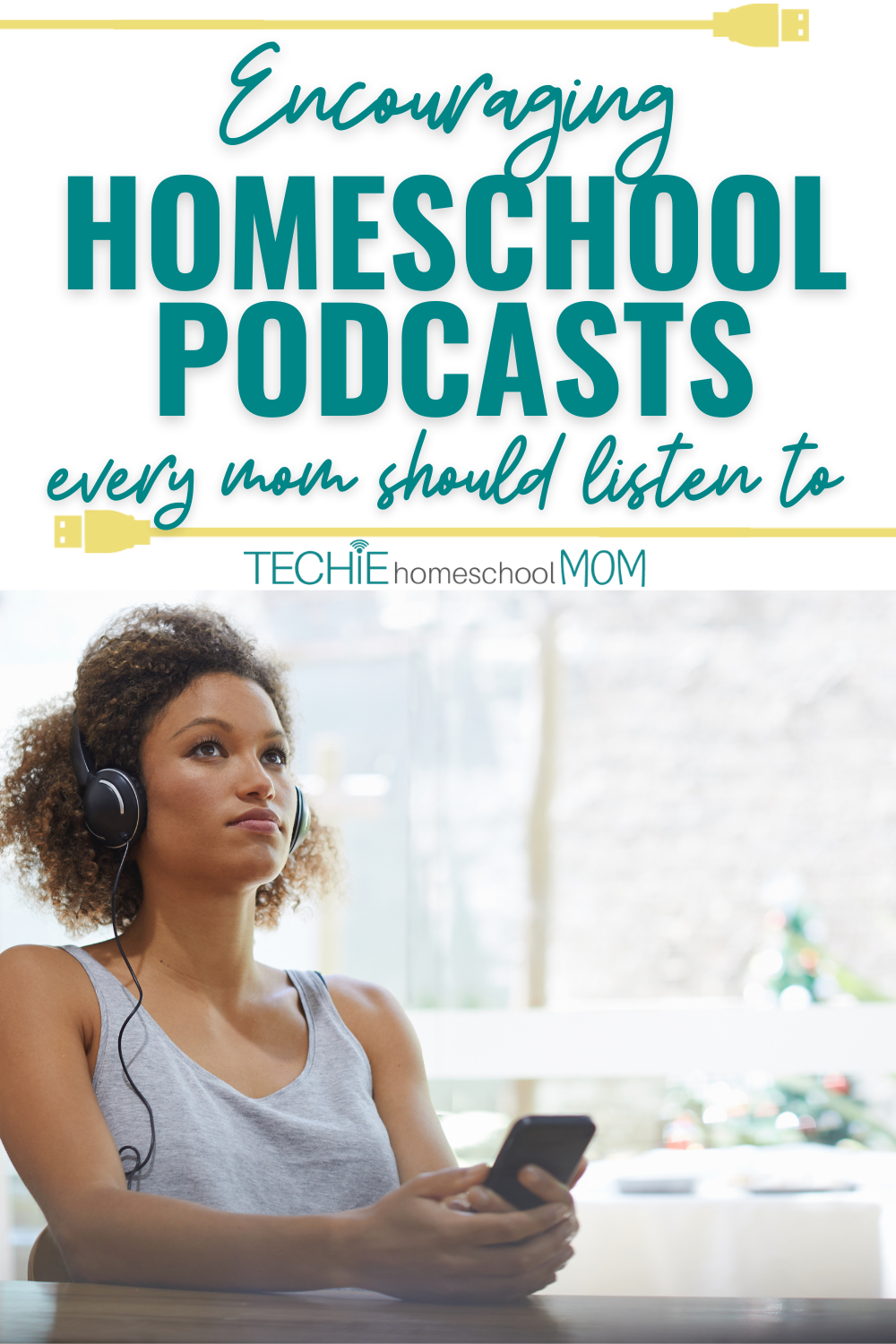 Best Homeschool Podcasts for Moms
Who's the host?
Licensed psychologist and homeschool mom of six, Dr. Melanie Wilson runs this one-woman show. The blogger behind Psychowith6.com and Fun to Learn Books, Melanie was a self-described "reluctant homeschooler" when she felt the calling from God to homeschool her three children at the time. She gave up her career to do so and admits that she struggled with various aspects of homeschooling – specifically getting organized. Eventually (with the initial help of FLYLady), she was able to get organized and create what she calls a saner homeschool life.
What's it about?
The Homeschool Sanity Show is all about helping homeschool parents with all of those worries we have. Melanie's goal with each podcast episode is that you walk away with the strength to homeschool another day.
Who should tune in?
This show seems like it has value to offer to homeschoolers from all backgrounds, whether you are a newbie or a veteran. It does have a slant towards married homeschoolers, but there is value there for single parent homeschoolers as well. Most of the content is for homeschoolers who struggle with the journey in some way- whether you have trouble getting organized, getting support, or dealing with your kids. In short, there's something here for just about everyone.

Must-listen episodes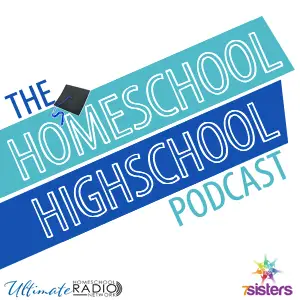 Who's the host?
This show is co-hosted by two veteran homeschool moms, Sabrina and Vicki who are two of the sisters behind 7sistershomeschool.com. Between the two of them, they have over 20 years of homeschool experience. Both have successfully homeschooled children all the way to graduation. They also serve the homeschool community at large. Sabrina is a literature teacher for local homeschool high schoolers.  Vicki helped found a homeschool umbrella school and serves as a teacher and an upperclassmen academic advisor in that community.
What's it about?
Their goal is to help listeners have the best homeschool high school experience ever. They share how-to's, encouragement, practical tips, and more to help you not only get your teens through high school, but prepare them for life after high school – whether they choose college or career.
Who should tune in?
If you have a homeschooler who is in or approaching high school, this one's for you! If your kids are not quite high school age, but you're worried about homeschooling high school, you can also gain value from it.
Must-listen episodes
A+ Parents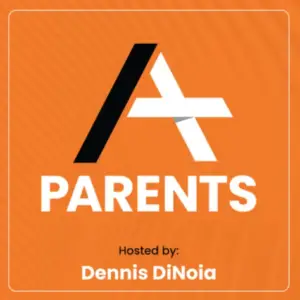 Who's the host?
Dennis DiNoia, founder of Mr. D Math homeschool curriculum and author of the book Teach, hosts this show. Dennis has over 30 years of education experience and loves helping students reach their full potential.
What's it about?
During his podcast, "Mr. D." chats with parents and homeschool influencers on the most effective ways to teach our kids how to learn. You'll hear proven tips and tricks you can use in your homeschool to help your kids grow in accountability, think for themselves, and display what they've learned by teaching others.
Who should tune in?
If self-directed learning and knowledge mastery are important skills you want to foster in your homeschool, you'll want to tune in!
Must-listen episodes (Spotify links)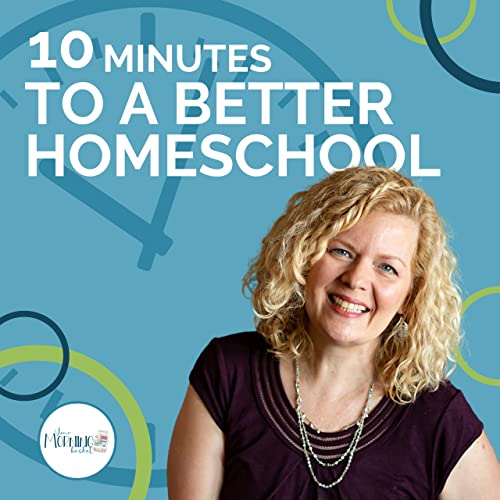 Who's the host?
Pam Barnhill is no stranger to the online homeschool community. Pam has written three books, hosts three podcasts, has her own blog, contributes to various publications, and speaks around the country on homeschool topics. You can learn more about her at Your Morning Basket.
What's it about?
In this podcast, Pam interviews homeschool veterans from all over America to find out how they handle various problems, face different challenges, and achieve homeschool success. It's a great way to get a sneak peek into what other homeschoolers do.  
Who should tune in?
You should tune in if you love hearing about how other homeschoolers make things work and if you need encouragement on your homeschool journey.
Must-listen episodes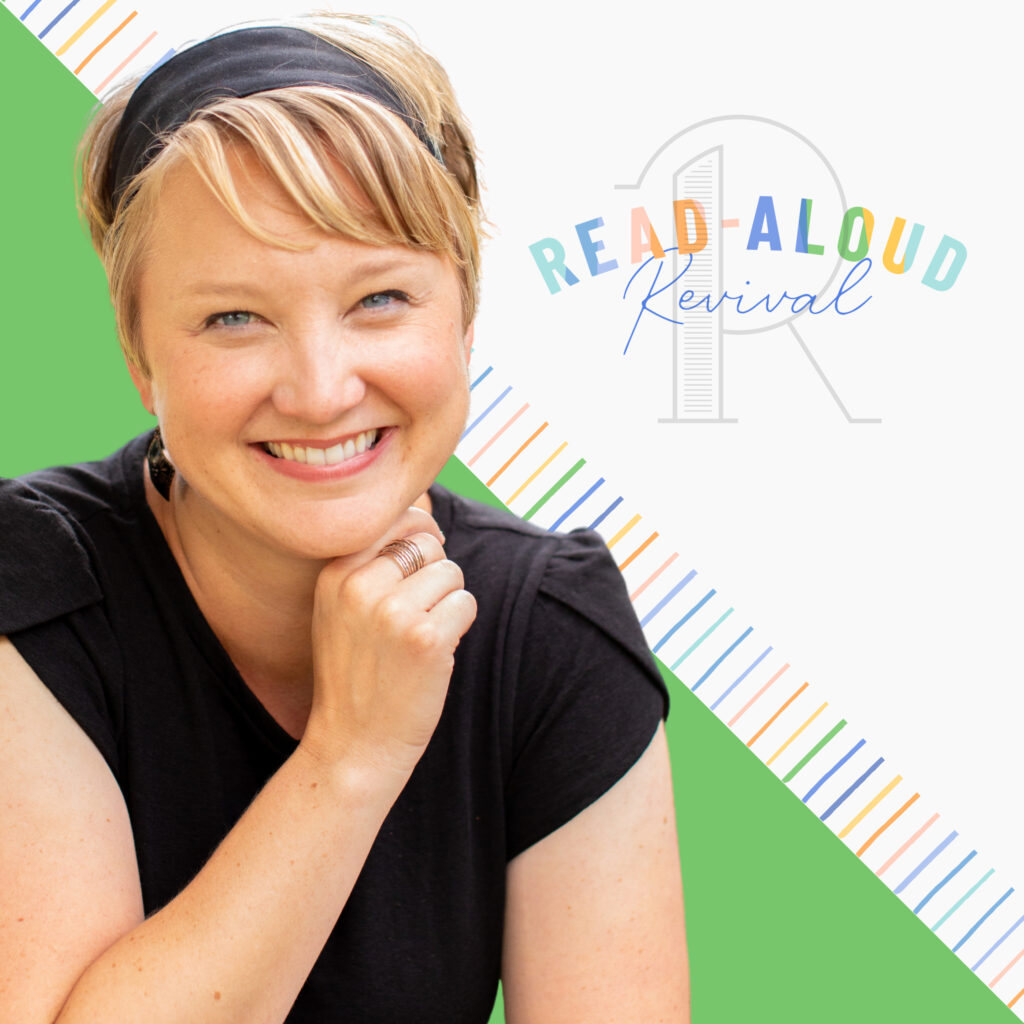 Who's the host?
Sarah MacKenzie, author of The Read Aloud Family and Teaching from Rest: A Homeschooler's Guide to Unshakeable Peace, takes the helm of this podcast. She and her husband homeschool their six children.
What's it About?
The tagline of the podcast is "Build your family culture around books" and Sarah and her guests help listeners do just that. On each episode, she interviews thought leaders, authors, and experts in the read-aloud movement and they chat about all the ways that we, as parents, can help our kids fall in love with reading.
Who should tune in?
If you have a strong desire to create good memories for your children and to help them develop a love of literature, this podcast can't be recommended highly enough.
Must-listen episodes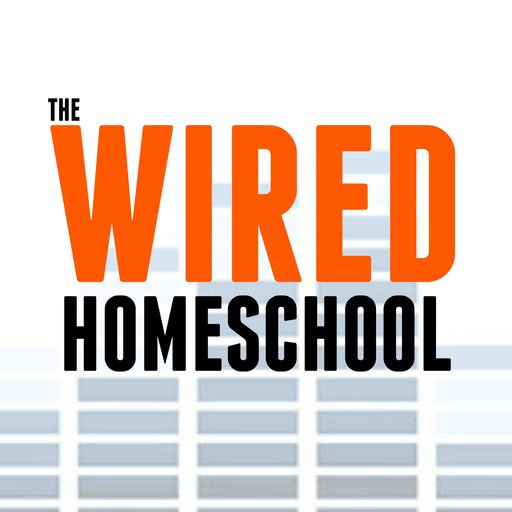 Who's the host?
The host, John Wilkerson, has over 20 years of professional experience in the tech industry as well as 17 years' experience homeschooling his children. He's the blogger behind the blog, The Wired Homeschool.
What's it about?
This podcast covers technology, tools, and tips for homeschooling children in this digital generation.
Who should tune in?
This is a must-listen for any home educators who want to learn about various ways that we can implement technology in our homeschool. The podcast is not being updated regularly anymore, but there are some great episodes in the archives to listen to!
Must-listen episodes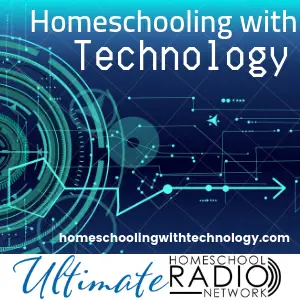 Who's the host?
Meryl van der Merwe leads the Homeschooling with Technology Podcast. She loved using technology while homeschooling her own children, and currently incorporates it into her online classes at Funda Funda Academy.
What's it about?
Meryl's goal is to help parents feel more comfortable about integrating technology into their homeschool. She knows its value, and packs tips, tricks, and encouragement into each episode!
Who should tune in?
This podcast is great for anyone who wants their kids to be prepared for an ever-changing world, and wants to learn more about up-to-date technology and how it could enhance their homeschooling.
Must-listen episodes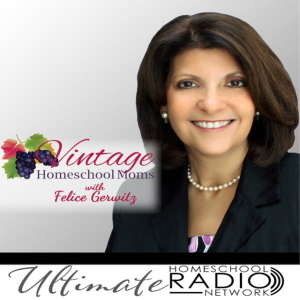 Who's the host?
This podcast is hosted by Felice Gerwitz, a Christian wife, mother, and educator-turned-homeschool-mom in 1986. She began homeschooling as a trial and never looked back.
What's it about?
Just for homeschool moms! Vintage Homeschool Moms preserves the best of the past while blessing future generations with the fruit that comes from putting God first and using experience as a teacher.
Who should tune in?
This podcast is for the homeschool mom who is looking for encouragement and practical guidance in homeschool and parenting from a veteran homeschooling mom.
Must-listen episodes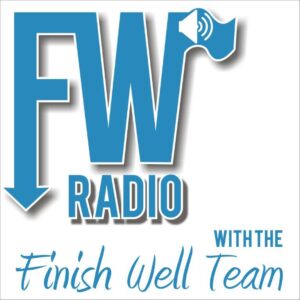 Who's the host?
Meredith Curtis hosts Finish Well with lots of friends and family who pop in to share their wisdom. Meredith and her husband Mike have been homeschooling since 1991 and graduated five. She and her friend Laura lead a homeschool co-op. She is the co-owner of Powerline Productions where curriculum, high school courses, units, and Bible studies are available for those who believe that learning should be fun!
What's it about?
Finish Well is geared to teens and their parents who want to finish their homeschooling adventure with excellence and make a difference right now in their world for the glory of God. Finish Well is a spin-off of our Finish Well Homeschooling High School conference.
Who should tune in?
Homeschooling Moms & Dads who homeschool high school, homeschooling teens and preteens, homeschooling Moms who are considering homeschooling and/or homeschooling high school, and families who want to grow in Christ and enjoy life!
Must-listen episodes
More Podcasts Recommended by Homeschool Moms
We've had some discussions about homeschool podcasts in the Techin' Your Homeschool Facebook group. Here are some great suggestions from other techie homeschool moms.
Podcast Sites and Apps
These are just a few of the homeschool podcasts out there. There are many more that I couldn't possibly cover in one post. I encourage you to check these out, but to also explore your other options. Below are a list of podcast sites and apps you can browse to find even more podcasts to listen to.  
Best Devices for Listening to Homeschool Podcasts
Connect to Podcast Apps with Echo Dot

Cast to Bluetooth Speaker from a Mobile Device with OontZ Angle 3 Portable Bluetooth Speaker

Listen On Your Own (Not Tied to Your Phone ) with GEJIN Bluetooth Wireless Earphones

Listen in Your Car (if not already Bluetooth-enabled) with Portable Wireless Audio Adapter

Tell me, what are your favorite homeschool podcasts that other moms will enjoy? Comment below!

Related Posts

Want some techie homeschooling tips and inspiration delivered to your inbox? Sign up here for weekly-ish emails from me.
Techie Homeschool Mom is a participant in the Amazon Services LLC Associates Program, an affiliate advertising program designed to provide a means for sites to earn advertising fees by advertising and linking to Amazon.com. You can read my full affiliate disclosure HERE.